In Stop Asking Jesus Into Your Heart: How to Know for Sure You Are Saved, J. D. Greear, lead pastor of The Summit Church in Raleigh, North Carolina, provides for the reader a balanced and theologically informed response to the "Sinner's Prayer" as well as pastoral wisdom and insight on the topic of assurance.
Greear's book consists of eight chapters and two appendices. "Baptized Four Times" (chapter 1) uncovers the problem of false assurance that can arise from "asking Jesus into your heart." "Does God Even Want Us to Have Assurance?" (chapter 2) answers with a resounding yes. "Jesus in My Place" (chapter 3) provides the rationale for God's righteousness imputed to sinners through Christ alone. "What Is Belief?" (chapter 4) sketches a brief New Testament description of true belief. "What Is Repentance?" (chapter 5) helpfully explains what true repentance is and is not. "If 'Once Saved, Always Saved,' Why Does the Bible Seem to Warn Us So Often about Losing Our Salvation?" (chapter 6) attempts to answer why such language isn't as helpful as it initially appears. "The Evidence You Have Believed" (chapter 7) demonstrates three fruits of salvation that should be present for assurance. Finally, "When You Continue to Doubt" (chapter 8) assists those who, when all is said and done, still doubt.
Past and Present
Greear is primarily concerned with those who place confidence in a "Sinner's Prayer" instead of looking to a current expression of trust in Christ, repentance from sin, and an enduring pursuit of gospel faith (8). Too many people, he fears, place their confidence in past action rather than present confession and pursuit of Christ. Past responses have often produced a spiritual confidence that stymies motivation for present holiness.
Greear's concern with the phrase "asking Jesus to come into your heart" isn't that it's wrong per se or void of biblical expression altogether (see Eph. 3:17; Col. 1:27-28; Gal. 2:20). Rather, his concern lies in the replacement of more theologically substantive words with this colloquial expression.
Ultimately, my concern is not on what words or actions we might use to express faith in Christ but that we don't substitute those words or actions for repentance and faith. "Praying the sinner's prayer" has become something like a Protestant ritual we have people go through to gain entry into heaven. As "gospel shorthand," it presents salvation as a transaction one conducts with Jesus and moves on from rather than the beginning of a posture we take toward the finished work of Christ and maintain for the rest of our lives. (9-10)
The "Sinner's Prayer" has often been the means of pressing for a decision in evangelism. This isn't a bad thing in itself. As Greear points out, the idea of pressing for a response isn't exclusively derived from the "Finney-Revivalist" tradition (10) but has been common within the Reformed heritage as well; one need look no further than Whitefield and Spurgeon (10–11). Indeed, "If we do not urge the hearer to respond personally to God's offer in Christ," Greear contends, "I do not believe we have fully preached the gospel" (10). He points to Peter in Acts 2, who summons the hearers to "repent and be baptized." Ananias calls for Paul's repentance (Acts 22:16). And Peter exhorts the crowd to "repent and turn" from their sins in response to his message (Acts 3:19). Demanding a response, then, isn't the problem. Any faithful proclamation of the gospel will call for a response, but it's a call to faith, repentance, and the difficult road of discipleship—not merely to a prayer.
Salvific Assurance
When attempting to counsel doubters, Greear gently redirects their focus from some past memory to their present spiritual state:
If at some point in the future you begin to doubt whether or not you really have put faith in Jesus, do you look backwards to try and remember that moment when you first hopped up into his arms? I suppose you could. Better, though, would be to look at where you are currently resting. (42)
Greear's discussion of "once saved, always saved" brims with biblical balance and pastoral discernment. He harmonizes clear "predestinarian" texts with other difficult—even seemingly contrary—ones. And he lucidly explains that "faith that fades, no matter how luscious its first fruits, is not saving faith. . . . The only faith that saves is the faith that endures to the end" (79, 81). Therefore, enduring confession of Christ (1 John 5:13), obedience to his commands (1 John 5:1-3), and continued abandonment of sin (2 Pet. 1:5-11) are vital components of assurance. As the author of Hebrews warns, "If we go on sinning deliberately after receiving the knowledge of the truth, there no longer remains a sacrifice for sins" (Heb. 10:26).
Greear unpacks the doctrine of assurance, showing that salvation is a posture we take to the promise of God in Christ, a posture that begins at a certain point and is maintained for the rest of our lives. He also answers the tough questions about assurance: What exactly is faith? What is repentance? Why are there so many warnings that seem to imply we can lose our salvation? Such issues are handled with respect to the theological rigors they require, but Greear never loses his pastoral sensitivity or a communication technique that makes this message teachable to a wide audience from teens to adults.
The discussion Greear raises might also address other problems, such as the manner in which the "Sinner's Prayer" can stifle spiritual growth by offering immediate assurance to the new convert. Moreover, the "Sinner's Prayer" can easily circumvent the careful call to suffering, heartache, and serious discipleship in its immediate demand for an answer. And it can have a potentially diluting effect on local congregations by welcoming unbelievers into membership, the waters of baptism, and the Lord's Supper.
As I read I kept finding myself rejoicing in the gospel and feeling eager to place this book in the hands of new believers. It's a book about the gospel, about assurance, and a clear call to move our confidence from a past experience to a present confession. I trust Stop Asking Jesus Into Your Heart will aid pastors and church leaders as they seek to carefully shepherd their sheep. It will certainly be added to my counseling arsenal.
Get a FREE eBook to strengthen your family discipleship!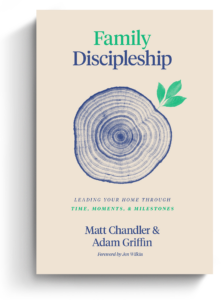 The back-to-school season is stressful for moms and dads. New rhythms of school, sports, and other extracurricular activities can quickly fill up a family's already busy calendar. Where do busy parents look for resources on discipling their family well? Aside from prioritizing church, what else can Christian parents do to instill healthy spiritual habits in their household?
Matt Chandler and Adam Griffin cover these questions and more in Family Discipleship: Leading Your Home through Time, Moments, and Milestones. And we're excited to offer this book to you for FREE as an eBook today.
Click on the link below to get instant access to your FREE Family Discipleship eBook now!