Let me begin this review of Sam Storms's latest book—Practicing the Power: Welcoming the Gifts of the Holy Spirit in Your Life—with a couple of relevant disclosures.
First, I know, love, and respect the author. In my cultural parlance, he's a "good man." The church he leads is part of Acts 29, and his contribution to our "diverse, global family" is invaluable. Matt Chandler, who wrote the foreword for the book, is a close friend and someone I respect and love deeply.
Second, although I'm not a cessationist—nor even a functional cessationist—I'm not and would not describe myself a charismatic. I say this simply to let you know where any prejudice in this review may lie.
So am I a suitable person to be reviewing this particular book?
I think so. Allow me to explain why.
One of the features of contemporary culture is the loss of creative dialogue and healthy debate. People no longer have convictions, just opinions. But among God's people, this ought not to be. We can hold opinions, but ought to do so without rancor toward brothers or sisters who don't share them. We should have convictions, but no matter how firmly convinced we are, we should always hold them with a pinch more love than certainty.
I want to engage with Practicing the Power at four levels.
1. Intent
This book wasn't written primarily for people like me, and Storms is clear about that at a number of points. He's writing for those persuaded by the reality of and need for the so-called miraculous gifts of the Spirit. This isn't the occasion to become all postmodern and disregard authorial intent. Storms addresses the convinced, with a view to help them apply their convictions in the life of their local churches. It's a noble intent.
It should always be possible to draw a straight line from our practice to our theology. There are many evangelicals convinced at a theoretical level of the continuationist position, but fearful when it comes to seeing the so-called supernatural gifts function. That apprehension is, in part, due to their commitment to the Bible as the Word of God. Practicing the Power is written to reassure and direct. From what I can tell, given Storms's intended audience, he does this in a way that will help many.
2. Process
Storms's commitment to show how practice needs to be firmly rooted in Scripture is clearly commendable throughout the book. At no point does he play fast and loose with the text—even at those points where I disagree with his handling of it. The process he adopts is clear, engaging, warm, honest, and humble.
I don't agree with quite a lot of what Storms says about the use of charismata, but I do honor his commitment to embedding everything he does and says in the Scriptures. Storms has a well-deserved reputation as a Bible-believing, gospel-preaching, unapologetic charismatic. This book only enhances that reputation.
3. Assumptions
For both Storms and me, this is the critical issue. The assumption of Practicing the Power is that the supernatural gifts cited in the New Testament are available today and ought to be operational in the life of the church. Put another way, their use is normative for biblical Christianity. It's vital to recognize the clarity of that conviction, and for a number of reasons. Space permits me to mention just two.
1. The critical issue is often presented as the focus given to the Spirit's person and work. I think this is a serious mistake. Both continuationists and cessationists understand the vital importance of the Holy Spirit, and cessationists not any less so. Yet Storms equates the use of the gifts in the manner he describes as being synonymous with and necessary for dependence on the Spirit. For example, he writes:
You are persuaded that merely knowing the truth, while essential, isn't enough, that God has made himself known in Christ to actually transform lives and to deepen our intimacy with him. (22)
He goes on to say that if that statement (among others) resonated with you, then Practicing the Power is for you. But that statement will resonate with any Bible-believing child of God in whom the Spirit is at work. It resonated with me, for sure; but as Storms points out, this book isn't for me. The assumption—implicit throughout and explicit at points—is that what Storms unpacks is the only authentic way to "keep in step with the Spirit."
How can Christians pursue and implement the miraculous gifts of the Spirit without falling into fanatical excess and splitting the church in the process? In Practicing the Power, pastor and author Sam Storms offers practical steps to understanding and exercising spiritual gifts that remains grounded in the word and centered in the gospel.
2. What I've often witnessed when listening or talking to those with this assumption about the supernatural gifts is a discrepancy between their experience and what's described in the New Testament. This is evident in Practicing the Power—particularly but unsurprisingly in the chapter on healing. Storms seems happy to accept a lower standard of "success" than I'm able to discern in my reading of the New Testament. Of course God can heal, and we should be bold and unashamed in asking him so to do.
Yet the process described in the section on healing prayer (75ff.) seems practical but biblically disconnected. Where in the New Testament do we find the intervening process? Where are we told to not be in a hurry but give time to "listen to the Holy Spirit"? To point this out is not mere pedantry. It reflects a wider weakness in the book. As we read of healings in the Gospels and Acts, it's clear the Spirit's intervention is immediate and effective. There's no process—described or prescribed. If the gifts are operative for today, then it seems reasonable to expect them to reflect what we see in the New Testament. It's by no means peculiar to Practicing the Power, but at this point there is an unhelpful accommodation of the biblical text to our experience.
4. Result
All my positive comments are sincere. Given Storms's convictions, audience, and intentions, this is as probably as good a book as you could get. I already have charismatics in mind who should read it! But this is where my most significant reservation lies. Practicing the Power reflects a form of the reductionism it critiques. It sets out to challenge its readers to faith and expectancy, yet it inadvertently encourages them to be satisfied with something less than the New Testament Christianity it claims to espouse. It's a form of revisionism. The reasoning goes something like this:
We see the gifts listed.
We see descriptions of some in operation.
We see no compelling textual reason for their removal.
We pursue them because we believe we're encouraged by Scripture to do so.
But when experience falls short of what happened in the New Testament, the cracks are papered over and the discrepancies dismissed.
Let me conclude with a final disclosure. I'd love to see the dead raised. I want to see cancers healed with thrilling frequency. I covet testimonies of multiple people having their hearts' secrets exposed so they acknowledge God is indeed among his people. But I don't. The anecdotal evidence cited by good friends is underwhelming. I can and do ask. I can and do expect. At times, I could even be accused of pestering my heavenly Father for these things.
But as I wait, the Lord continues to work powerfully by his Spirit in transforming lovers of self into lovers of God and others. I see many evidences of lives changed, and of sustaining grace. I hear God speak directly and pertinently through his Word as it's faithfully taught. So, brothers and sisters, press on with the daily task of following Jesus with joy, even amid sacrifice.
I'm sure that qualifies as practicing the power.
Get a FREE eBook to strengthen your family discipleship!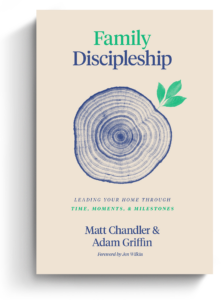 The back-to-school season is stressful for moms and dads. New rhythms of school, sports, and other extracurricular activities can quickly fill up a family's already busy calendar. Where do busy parents look for resources on discipling their family well? Aside from prioritizing church, what else can Christian parents do to instill healthy spiritual habits in their household?
Matt Chandler and Adam Griffin cover these questions and more in Family Discipleship: Leading Your Home through Time, Moments, and Milestones. And we're excited to offer this book to you for FREE as an eBook today.
Click on the link below to get instant access to your FREE Family Discipleship eBook now!