The Christian faith need not fear mystery or uncertainty. In the words of Anselm, ours is a faith seeking understanding. While our belief rests on the sure foundation of God's revelation in Christ supported by centuries of Christian witness, that settled acceptance—rather than hindering investigation—gives birth to inquiry, exploration, and reason. Christians are those who interrogate their doubts and search for genuine understanding.
In her book Pillars: How Muslim Friends Led Me Closer to Jesus, Rachel Pieh Jones explores her wrestling with the Christian faith, confronting the questions she's encountered while living as an evangelical in the Horn of Africa. Specifically, she asks if it's possible to respect the faith of Muslims without compromising our own (100).
With prose that is both visceral and vulnerable, Jones leads us down the dusty roads of Somaliland and Djibouti, through dangers, toils, and snares. Along the way, she introduces us to many Muslim friends, the ones she crossed the seas to convert. But as we find out, those same friends change her and—as Jones wants us to believe—move her closer to Jesus and deeper in faith.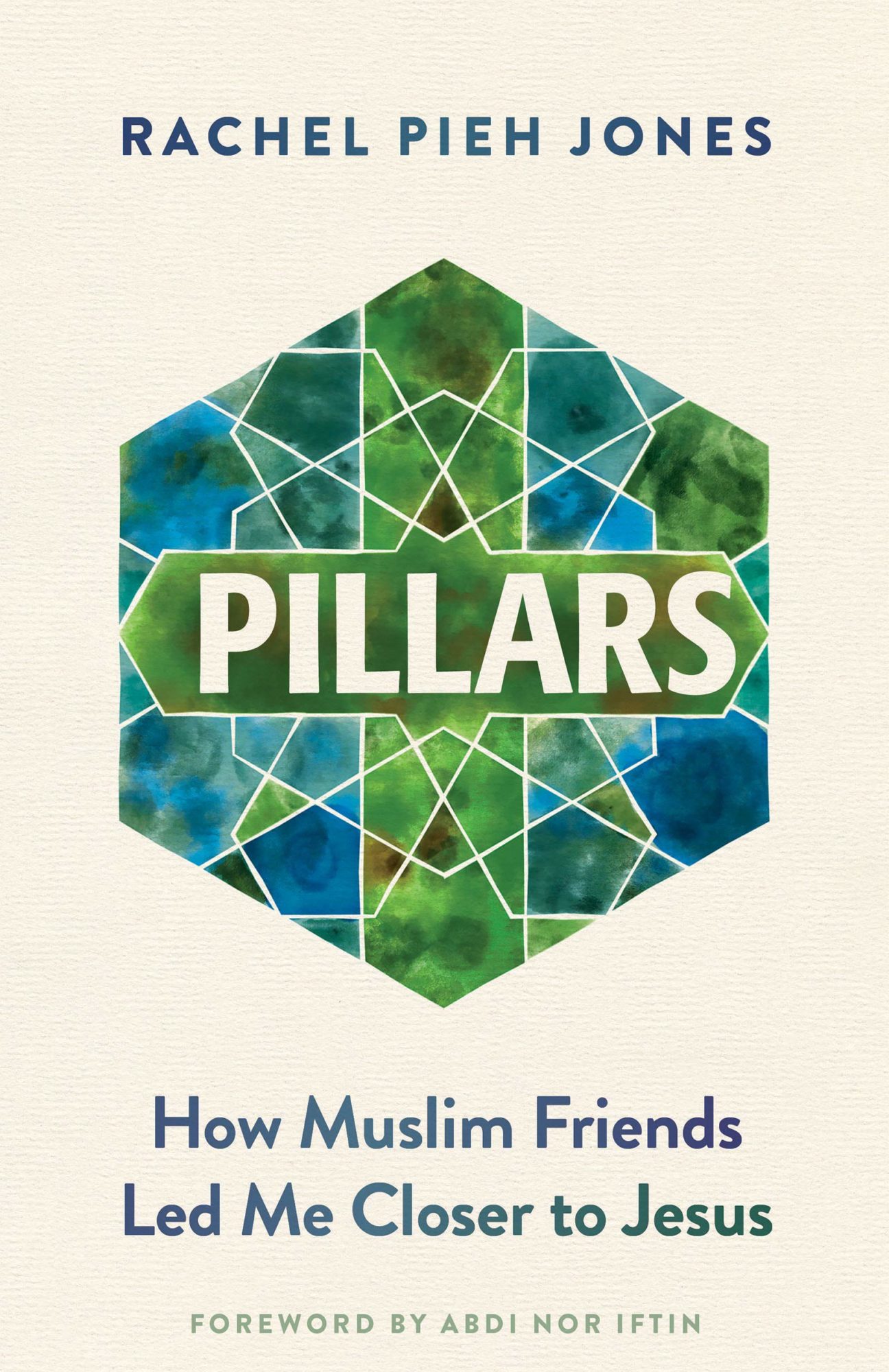 When Rachel Pieh Jones moved from Minnesota to rural Somalia with her husband and twin toddlers 18 years ago, she was secure in a faith that defined who was right and who was wrong, who was saved and who needed saving. She had been taught that Islam was evil, full of lies and darkness, and that the world would be better without it.
Jones recounts, often entertainingly, the personal encounters and growing friendships that gradually dismantle her unspoken fears and prejudices and deepen her appreciation for Islam. Unexpectedly, along the way she also gains a far different understanding of her own Christian faith. Grouping her stories around the five pillars of Islam—creed, prayer, fasting, giving, and pilgrimage—Jones shows how her Muslim friends' devotion to these pillars leads her to rediscover ancient Christian practices her own religious tradition has lost or neglected.
Deconstructing Pillars of Misunderstanding
Jones patterns her book after the pillars of Islam: confession, prayer, almsgiving, fasting, and pilgrimage. Chapters within each of these sections trace her personal experiences with Muslim friends and how those map onto the blueprint of Islamic faith. But as Jones discovers, the Muslim path has striking similarities to the way of Christ. After all, praying, fasting, giving, and confessing each have their place in the Christian's pilgrimage.
Christians are those who interrogate their doubts and search for genuine understanding.
We also might call it the Christian's religion. While Jones speaks more in terms of faith, she's clearly deconstructing some of the ways American evangelicals dichotomize religion. Christianity, we're often told, is internal, not external; spiritual, not physical. For many evangelicals, ideal worship is individual rather than collective, extemporaneous rather than ritualistic. Following Jesus is all about a relationship, not a religion.
But as we get to know Jones's Muslim friends, their faith undermines such simplistic dichotomies. For them, rote rituals can be richly meaningful. Islam is corporate and corporeal, yet can also be deeply personal and spiritual. Yes, Muslim worship has rigid and defined forms, but those external acts aren't necessarily divorced from internal feelings.
Discovering this was clearly jarring for Jones. She wasn't expecting Muslims to enjoy being Muslim. Instead, she subconsciously anticipated them "going through the motions of a faith system they didn't believe in and weren't enriched by" (99). Jones also slowly recognized that Muslim religious practice—their pillars—weren't so strange. While she grew up in a Christian tradition in which women didn't cover their heads, church members didn't fast for extended periods (such as Lent), and prayers (such as the Lord's Prayer) weren't recited, such are common practices throughout various cultures in much of church history. But as Jones admits, she set out for the mission field largely disconnected from the global church and historical Christianity (225). "My perspective was small," she admits, and that lack of perspective quickly became a source of disequilibrium (19).
Living in the Horn of Africa confronted more than Jones's personal unknowing. It also exposed the cultural and social blindspots of many Americans. As she was experiencing sincerity and hospitality in Africa, Jones's friends back home were often distrustful and fearful of Muslims. In her opinion, they were marked by Islamophobia and Christian nationalism more than a Christlike desire to understand and genuinely care. Along the way, Jones seems to conclude that her initial motivation to go to Africa was similarly wrongheaded. She left Minnesota arrogant and ignorant (130). Eventually, her personal quest as a missionary became one of trying to find the right road when you've left from the wrong start; hers is a pilgrimage of misunderstanding seeking faith.
Understandable Questions, Questionable Answers
I should note at this point that Rachel Jones is a personal acquaintance. We've collaborated at times and met once in person. For many years I've read and followed her work; she is a skilled writer and storyteller. I also value her insights, appreciate her cultural experience, and agree with many of her observations. For example, I can wholeheartedly affirm that Muslims in general are wonderfully welcoming, often peaceful, and sincere in faith. I also agree that Christians can learn from Muslims, having written how exposure to Muslim culture changed my personal practice of prayer.
But at many points Jones seems to go beyond that level of observation, appreciation, and adaptation. Though she asks understandable questions, she arrives at questionable answers.
Throughout the book, I felt that Jones consistently gave Islam the benefit of the doubt while reserving her most probing questions for Christianity. She pokes at logical inconsistencies. She mocks practical hypocrisies. She questions her spiritual sincerity. But when it comes to Islam, she sidesteps major potholes in the faith and practice of Muslims. Similarly, Jones comfortably interrogates traditional and widely accepted interpretations of the Bible, but at times gives uncritical credence to Qur'anic verses, accounts, or readings.
Nevertheless, Jones doesn't blindly accept everything in Islam. On occasion she questions her Muslim friends' superstitions, fear of jinn, and fascination with the supernatural (92, 109). Her pilgrimage, therefore, doesn't appear to completely lead her away from a Western preference toward naturalism. Nor does she eschew postmodern subjectivism. In fact, Jones seems content with unknowability—almost as if that's essential to genuine faith. "What if God is beyond knowing, full of surprises and inscrutability, yet also tangibly revealed in Jesus?" she queries (29).
Jones seems content with unknowability—almost as if that's essential to genuine faith.
While I appreciate and affirm a deep mystery in the Christian faith, there is also a deep irony in Pillars that, given her many unresolved musings, Jones does arrive at a place of "knowing." Throughout the book she supplies answers, answers that fundamentally redefine biblical faith, evangelism, conversion, and mission. For her, Christian witness is observing God at work in the world of other faiths (51); the new birth is personally recognizing our inherent goodness as God's image (52); Christian mission is partnering with our Muslim neighbors to work for a more peaceful world (48); and faith is a personal pilgrimage rather than defined credo. Such faith apparently flowers when the rigid soil of settledness and certainty erode, giving way to openness and exploration, when you can ask a friend, "What do you love about being a Muslim?" and celebrate her answer (185).
Neither Christianity Nor Islam
Despite her uncertainty, Jones is committed to evangelism. This book seems to be her attempt to get us to believe: to believe that Muslims are often good, that evangelicals are often wrong, and that you can find Jesus in other religions.
Jones acknowledges that the pilgrimage to her newfound faith has not been easy. Her conclusions haven't always been popular. Back home in Minnesota, they're not welcomed by some evangelicals. In her African home, they've occasionally been unsettling to her Muslim friends. They see her praying the salat or drinking Zamzam water and don't know how to respond. Some celebrate her participation in Islamic rituals; others find it confusing and disconcerting, as do I.
Throughout Pillars, Jones flirts with inclusivism and pluralism. At times, she ascribes authority to the Qur'an, hinting that believers might learn from and follow some of its teachings (50, 87, 90, 160). Jones appears to revere the Qur'an, reserving for it the highest place in her home and referring to it as one of her holy books (196). We're also told a story in which her husband, at the birth of their daughter, read prayers about God from both the Bible and the Qur'an in the presence of local friends (113). Jones even wonders if the church's practice of communion need be an exclusive rite; Christians and Muslims should be able to enjoy that shared meal together (191).
Such a perspective also permits Jones to participate in various Islamic forms. In fact, this memoir presents the pillars of Islam as more than similar to (much less counterfeits of) Christian practice; those Islamic pillars are actually viable structures to establish valid faith. Therefore, she suggests Muslims can have a deep and meaningful experience of God apart from repentance and trust in Jesus. She writes: "As we explore our own faith, in relationship with someone who thinks differently, each of us comes to experience God in richer, more intimate ways" (49).
Jones's journey arrives at a faith, but it's not the faith of our fathers and mothers. It's not orthodox Islam; neither is it historic Christianity. While she's trying to show appropriate respect to various traditions, I don't believe she's honored either religion. Instead, the reader is presented with a highly Western, postmodern, and personal faith that doesn't lead us closer to the Jesus of the Bible. Nor can I see how it leads us to take his gospel to our Muslim friends.
Jones's journey arrives at a faith, but it's not the faith of our fathers and mothers. It's not orthodox Islam; neither is it historic Christianity.
When Cultural Christianity Crumbles on the Mission Field
Jones writes that "studying Islam launched what became a free fall into darkness, into mystery, and ultimately into faith." As she was going through all this, she also found herself "on the other side of the world, surrounded by Muslims, trying to grasp the thread of my faith, not realizing how strong it had become through new threads I'd braided into it" (29).
Throughout my reading of Pillars, I consistently asked myself: Is this a missionary simply deconstructing the unhelpful pillars of cultural Christianity, or is this the story of someone on a pilgrimage away from biblical and historical Christianity? Is this another memoir of an exvangelical or the very worst missionary, or is it the story of someone truly coming closer to Jesus?
I'm not sure I have answers to all those questions, and Jones's journey is presumably not complete. But what I do know is that when the pillars of Christianity crumble in the earthquake of culture shock, we can't be sure what will remain. I've seen this story repeated in missionaries' lives around the world. If deconstruction and deconversion are on the rise in the West, we shouldn't be surprised when it happens among American evangelicals living in places that are hostile to the gospel.
Now, I suspect Jones would challenge the idea that Islam is hostile to Christ. And she would insist that she hasn't lost her faith; she's found Jesus. But it's up to the church to decide if that's true because the church is the "pillar and buttress of the truth" (1 Tim. 3:15). And while the church should welcome questions and never disparage doubting, the Christian faith "once for all delivered to the saints" has an immovable foundation (Jude 3). Built on the cornerstone of Christ and the apostolic writings (Eph. 2:20), its truth is both knowable and unshakable.