Tim Keller's book on work, creatively titled Every Good Endeavor: Connecting Your Work to God's Work, is yet another masterpiece from the pastor of Redeemer Presbyterian Church in New York City. It is a well-reasoned, comprehensive review of what God says in his Word about work and how to apply such teaching to our jobs in particular. As the subject of "faith and work" continues to receive increasing attention in a world where many struggle with how to view vocation in the context of life and faith, this volume is likely to be a key reference point.
Katherine Leary Alsdorf, a practitioner of business for years before becoming executive director for Redeemer's Center for Faith and Work, pens an excellent foreword that captures our attention and raises our curiosity. She describes wrestling with her "call to serve God in business" and her deliberation about the role of a Christian in the marketplace. Observing that many (if not most) churches are more concerned with helping marketplace workers serve inside the church rather than equipping them to serve in the world, Alsdorf sets the stage for the book, writing, "The answers will all hang on this essential theology: the knowledge of who God is, his relation to man, his plan for the world, and how the good news (or gospel) of Christ turns our lives and the way we work upside down."
Like all good sermons, Keller divides the book into three parts, underscoring how God designed work, our frustrations and distortions of work, and how the gospel can and should inform our attitudes toward and actions in our work. In section one, we come to understand God's design for work with rich teaching from Genesis, Ecclesiastes, and Esther, among others. Keller reminds us of our being made in the image of God and how God is the supreme worker yet has balance, perspective, and rest amid his work. We come to understand why work is a basic human need ("food for our soul") and why, without meaningful work, we sense inner loss and emptiness. However, like everything else in life, work must not become an idol. Keller develops the concept of the "masks" of God and how, in our work and in life, God cares for us, is present, and is active in bringing people to himself and redeeming the world even in modest jobs like plowing a field or digging a ditch.
Pearls of Wisdom
While the treatment of the subjects in Part One is typical, insightful, plainspoken Keller, the material is largely covered in other writings on the subject. In my judgment, it is Parts Two and Three where his insights into the subtleties of the human condition offer wonderful pearls of wisdom useful for application and attitude examination. We receive perspectives on how to deal with the issues of fruitlessness, pointlessness, and selfishness at work, as well as the temptations of making work an idol. We all inevitably experience "thorns and thistles" at the workplace involving pain, conflict, envy, and fatigue. Each of these stems from sinful human nature, as alienation from others often has its root in our imperfect relationship with God.
Tim Keller has taught and counseled students, young professionals, and senior leaders on the subject of work and calling for more than 20 years. Now he pulls his insights into a thoughtful and practical book for readers everywhere. With deep conviction and often surprising advice, Keller shows readers that biblical wisdom is immensely relevant to our questions about work today. In fact, the Christian view of work—that we work to serve others, not ourselves—can provide the foundation of a thriving professional and balanced personal life. Keller shows how excellence, integrity, discipline, creativity, and passion in the workplace can help others and even be considered acts of worship—not just of self-interest.
Part Three, titled "The Gospel at Work," is especially instructive in many ways. There is a great explanation of the Christian worldview and how work fits with practical realities and examples. Keller relates this gospel worldview of work to the fields of business, journalism, education, the arts, and medicine. He warns of a dualism that causes Christians to separate the secular and the sacred. The integration of faith and work is the opposite of such dualism. There is also a wonderful section explaining how common grace blesses all people so that Christians can benefit from and cooperate with non-Christians in the workplace. Among many other expert arguments, Keller provides a brief, but brilliant, treatment of sabbath rest in the context of our work.
Job or Vocation?
There are references throughout Every Good Endeavor to earlier writings on work and its role in life and godliness. While many of these references come from voices familiar to Reformed readers (e.g., Martin Luther and Abraham Kuyper), Keller does speak more broadly to the "many streams" of faith and vocation. We read of the cacophony of voices giving counsel on how to be a Christian at work. Might this just be an example of the variety of gifts, practices, and traditions—the rich tapestry—in the body of Christ? We read that there is no hierarchy of work or career in God's economy, with the result that "we no longer have any basis for condescension or superiority." Since we are body (the material world matters) and soul (our relationship to God is primary), "secular" work has no less dignity and nobility than the "sacred" work of ministry.
Moreover, Every Good Endeavor touches on calling (though I wish Keller would have developed this strain of thinking more completely) by arguing that a job is a vocation only if someone else (i.e., God) calls us to do it and we labor for him rather than for ourselves. The question is, "How with my existing obligations and opportunities can I be of greatest service to other people, knowing what I do of God's will and of human need?" Understanding the answers to the questions and the attitudes behind our behavior is the key to a biblical undertaking of work, and, to some extent, of life itself.
Like so many life issues for Christians, the word balance is instructive when it comes to work. Every Good Endeavor deftly explains how we can relish and enjoy our work while honoring God and serving others, all the while avoiding the extremes of negativity on the one hand and idolatry on the other. While the book never returns to the potential confusion from the "cacophony" of voices posited early on, Keller does articulate why our work is a primary way to please and magnify God. Our daily work is ultimately an act of worship to the God who called and equipped us to do it—no matter what kind of work it is. As a writer and pastor, Keller is a shining example of one who shows us how to "work . . . with all your heart, as working for the Lord, not for men, since you know that you will receive an inheritance from the Lord as a reward" (Col. 3:23-24).
Get a FREE eBook to strengthen your family discipleship!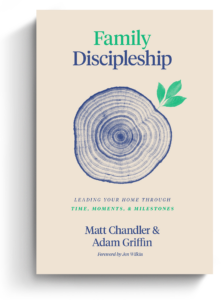 The back-to-school season is stressful for moms and dads. New rhythms of school, sports, and other extracurricular activities can quickly fill up a family's already busy calendar. Where do busy parents look for resources on discipling their family well? Aside from prioritizing church, what else can Christian parents do to instill healthy spiritual habits in their household?
Matt Chandler and Adam Griffin cover these questions and more in Family Discipleship: Leading Your Home through Time, Moments, and Milestones. And we're excited to offer this book to you for FREE as an eBook today.
Click on the link below to get instant access to your FREE Family Discipleship eBook now!