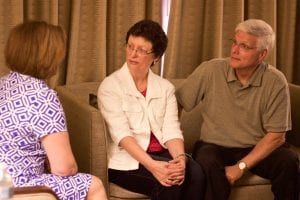 David and Sally Michael founded Children Desiring God in 1998 while serving children and families at Bethlehem Baptist Church in Minneapolis. Today the ministry is called Truth78 and is devoted to teaching the whole counsel of God to the next generation.
Truth78 provides all kinds of resources for teaching the Bible to kids—from the nursery to youth group—that seek to instruct the mind to engage the heart. "It is not enough to simply receive knowledge about God," the Michaels say. "The child who has memorized the most Bible verses in your class or is always first to find a passage, may have a heart far from the Lord. Genuine faith in Christ also involves the heart and will. To leave these unaddressed in our teaching is dangerous—eternally dangerous."
You'll hear in their voices the passion these two have for children and for God's Word, as they offer wisdom for recruiting, training, and supervising volunteers in ministry to children.
You can listen to our conversation here.
Editors' note:
Join us for our 2019 National Conference, April 1 to 3 in Indianapolis where Nancy Guthrie will be recording a live episode of Help Me Teach the Bible. You can browse the complete list of 74 speakers and 58 talks. Register soon!