Podcast Pick: This week's American Elections: Wicked Game recalls the last and largest landslide in modern American history: Reagan vs. Mondale in 1984.
Kindle Deal: The Reading Life: The Joy of Seeing New Worlds Through Others' Eyes by C. S. Lewis. $1.99.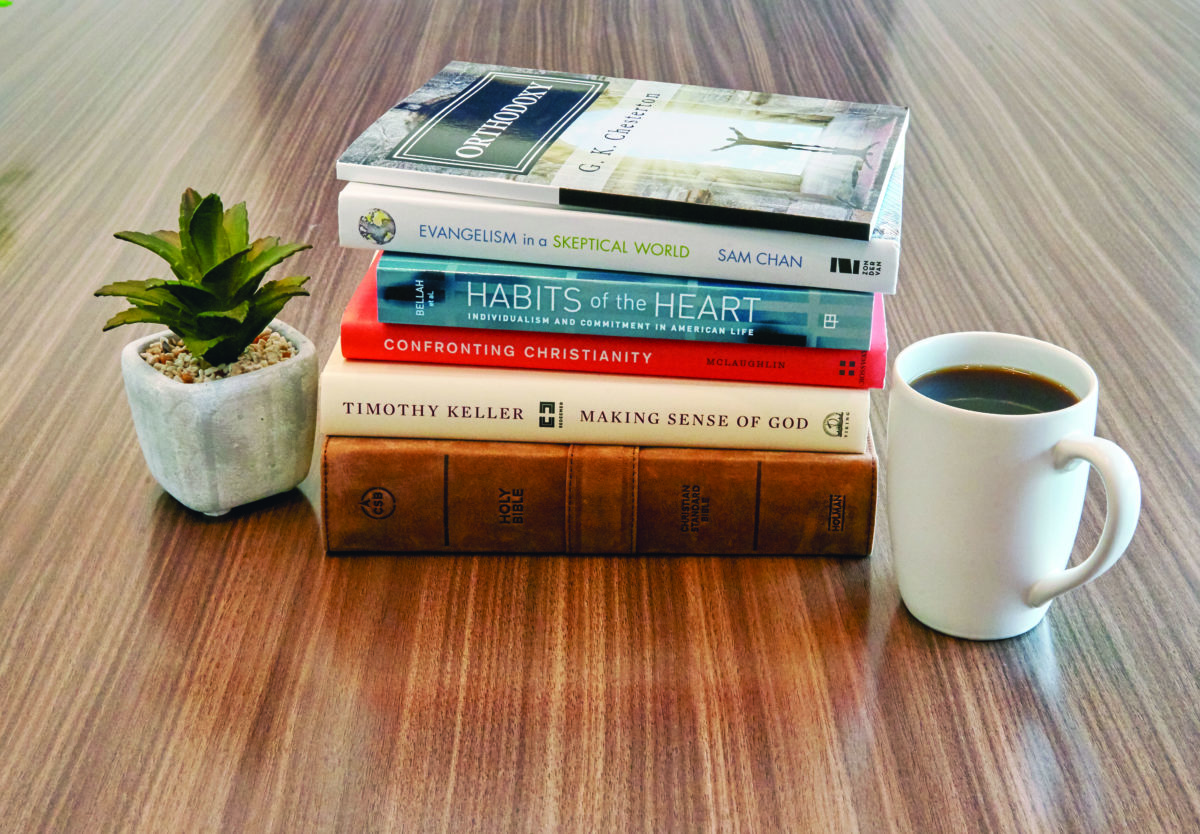 To celebrate the upcoming release of "Rethink Your Self," B&H Publishing Group is giving away this stack of five of my favorite books, plus a Christian Standard Bible Legacy Note-Taking edition to someone who preorders the book.
– Confronting Christianity by Rebecca McLaughlin
– Making Sense of God by Tim Keller
– Evangelism in a Skeptical World by Sam Chan
– Orthodoxy by G. K. Chesterton
– Habits of the Heart (by Robert Bellah…)
Here's how to enter to win. Preorder your copy of "Rethink Your Self" (anywhere available) and then enter the receipt information in this form. You'll also get immediate access to the eBook version of my book, so you can begin reading early!
Seven of the best articles I came across this week:
1. Ligonier Ministries – The State of Theology. The newest Ligonier Ministries and LifeWay Research study shows what Americans believe. Fascinating to look through the samples to see how the results differ by religious affiliation and (especially) frequency of church attendance which I comment on here. The following related articles provide additional insight:
2. Jonathan van Maren – C. S. Lewis and His Stepsons. The truth about David Gresham, C. S. Lewis' other stepson. David died several years ago in a secure Swiss mental hospital, and Douglas (his brother) has finally broken his silence about a hitherto unknown aspect of life at The Kilns.
3. Akino Yamashita – What the CDC Means By Describing COVID As the 'Only Cause' of 6 Percent of Patient Deaths. Don't take CDC report that COVID is the 'only cause' of 6 percent of patient deaths out of context. This is a helpful primer on how comorbidities work.
4. Dean Inserra – Will People Leave Your Church Over Politics? "Today's criticism is more focused on what the pastor is not. This usually takes form in two different outrages."
5. K. B. Hoyle – The Performers We've Lost and the Stories They Carried. "I think what people are most astonished by with Chadwick Boseman is the simple fact that we did not know. And we felt, for some reason, as though we should have. As a society, we take collective ownership of celebrities…"
6. Jill Lepore – Is Staying In Staying Safe? Intriguing article from Jill Lepore about the shift from being outdoors to indoors, how we're using/planning space, the benefits and drawbacks, etc.
7. Os Guinness – We're All Children of the Sixties. Os shows how many of the philosophical ideas being debated and discussed in the Sixties have become "common sense" in our world today.
If you would like my future articles sent to your email, please enter your address.