I always like to know a little something about an author before I sit down and open up his or her book. Today, I have the pleasure of sharing a sneak peek interview with Emily Jensen and Laura Wifler about their book, Risen Motherhood: Gospel Hope for Everyday Moments. With wisdom and insight, Jensen and Wifler help moms connect the storyline of Scripture to the daily realities of motherhood. Reading Risen Motherhood is like enjoying a long conversation with two girlfriends who will make you laugh out loud, comfort your tears, and faithfully speak life-giving words of truth to your soul. I'm excited to get to share this interview with two women I respect and enjoy so much!
---
Can you tell us a little bit about yourself?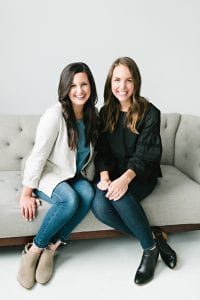 We're Emily Jensen and Laura Wifler. We're actually sister-in-laws! (Emily is married to Laura's brother.) We live about two miles apart in central Iowa, and about four years ago, we started the Risen Motherhood podcast together. Today it's expanded into a non-profit ministry that includes weekly articles, social media platforms, equipping tools, and recently, our new book, Risen Motherhood: Gospel Hope for Everyday Moments. Emily has five children and Laura has three, so most days you can find us juggling school drop-offs, making lunches, and squeezing in writing projects and podcasting where we can.
When did you first start writing?  What do you enjoy about it?
Laura: Like many young girls, I remember being given my first diary. At the time, I never wrote anything my parents didn't know, but I hid it between my mattress and boxspring anyway. I don't know how many journals I filled, but eventually I went electronic, launching a blog 2010. It was the cool thing to do, and I joined countless number of other people processing their thoughts for the world to see. And that's why I enjoy writing. Not because the world sees it (most of it they don't), but because it helps me process my thoughts. I write because I want to know. To understand. To take the jumbled mess in my brain and heart and sort it out through paragraphs and periods. And in my better moments, it's a form of worship—no matter the topic, writing somehow always ends up reminding me of God's goodness and plan.
Emily: Similar to Laura, my writing finds its root in journaling and eventually led to blogging. I not only appreciated the process of putting my feelings on paper, but in school, I enjoyed every type of writing project. In hindsight, what I liked about school papers and essay tests is the same thing I love about writing today—taking nebulous ideas, organizing them, and delivering them to the reader in a meaningful and persuasive way. Before putting my faith in Christ, this ability was limited to research reports on assigned topics. But now, I get to mine the depths of Scripture and display the riches of Christ to serve people searching for hope and truth.
Is writing ever difficult for you?  How so?
Laura: Absolutely! Everyday there are a host of things that tell me I shouldn't write (even in secret), like it's an honor I don't deserve. Self-judgment, self-criticism, and self-protection are all voices that clog my writing and make the process difficult. It's a constant battle for me to remember my role is to simply be faithful to the message God has laid on my heart and write from a place that remembers I can trust God to care for my words better than I ever could.
Emily: Like any craft, a writer can always improve. Where a painter approaches the canvas to put marks that the average bystander won't notice, the writer frets over the smallest word choice and punctuation mark. This "craft" mentality is good when it drives me to God's Word in humility, throwing me at the mercy of his help and motivating me to press on in faithfulness. But it can also be a hindrance when I become self-focused and ever-worried that my ideas could be more clear, more true, and more helpful. As Laura said, writing is an exercise in trusting the Lord.
Studies, online forums, articles, and even Facebook posts show that modern moms are stressed, tired, and overwhelmed. Through our own experiences and the greater Risen Motherhood ministry, we've seen how culture's mixed messages about what makes a "good mom" confuse and burden women as they try to sort out the truth.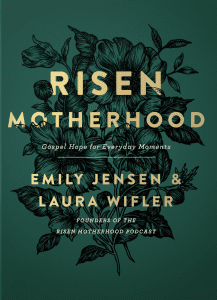 Our hope with this book is to continue the message we share through the ministry, showing moms that scripture provides timeless principles for their questions about motherhood—bringing worship, hope, and freedom to every moment of their day.
What's the central message you hope readers will take away from your book?
Our hope is for moms to understand the true gospel and be able to apply that truth in their own life. The good news of Jesus Christ is powerful. It transcends time, culture, method, and circumstance. When moms look to Christ repent and put their faith in Christ, they are a new creation. With the help of the Spirit, there is hope and freedom, even in the most mundane moment. We want moms to see that a gospel-life isn't limited to Sunday morning or the perfect quiet time—it's for every moment, and it's for them.
How has writing this book affected your own life?
We've learned so many things through the process of this book, but two things really stand out. First, believers never outgrow or move beyond our need for the gospel. As we grow in our knowledge and love of God, we also grow in our awareness of sin and brokenness. We need to continually rehearse these ancient but relevant truths to help us—when we despair on a Wednesday afternoon, when we're in the doctor's office or the school pick-up line, when we're awake in the middle of the night or we're facing a tough parenting decision. God wants us to look to him in the midst of all of it, remembering his grace and holding fast to his future promises.
Additionally, we've seen the paradox of the gospel. It's simple enough to share with a toddler, but deep enough for countless dissertations. For weary moms, this can be frustrating. We want an easy answer—something we don't need to think about so much. But at the same time, we love the idea of belonging to someone and something more epic than ourselves. God continually meets us with simple, consistent truth that requires us to come to him because we can't understand on our own.
For a sneak peak, here are some quotes from the book:
"Mom, don't underestimate what God is doing in this season. While you are busy washing tiny hands and feet in the bathtub, you can love God and become well-versed in his ways. While you are making snack plates and having picnics in the living room, you can expand your theology. While you are out on a run or playing ring-around-the-rosy, you can deepen in your love of Christ's work on the cross. While you are heading to work, you can apply the gospel to your circumstances. You don't have to wait for an easier season, when your kids are older or even out of the house. You don't have to become a 10,000-hour expert this year, but by God's grace, you can grow and you can change."
"It might be mundane to fold laundry, but it's extraordinary to do it patiently with joy and a heart of love. It might be mundane to sit on the couch and read another book to a whiny 4-year-old, but it's extraordinary to show kindness and mercy to an undeserving sinner. It might be mundane to fill the fridge with groceries, but it's extraordinary to praise God for his provision. Our everyday moments might be ordinary, but when we accomplish them while displaying the fruit of the Spirit, they reflect our extraordinary Savior."
Here's what others are saying about Risen Motherhood:
"Laura and Emily offer us a framework for motherhood that transcends time and culture but that also faithfully addresses us in the here and now. I'm thankful for this hope-filled book." — Jen Wilkin
"Risen Motherhood will inspire you towards Bible reading, rest in the Savior, and joy—shored up by gospel truth—for the little years." — Trillia Newbell
"The wisdom they have to offer in the pages of this book is seasoned and scriptural." — Nancy Guthrie
"I'm delighted to say that for as long as I've followed Emily's and Laura's work I have benefitted from it." — Tim Challies
---
Emily Jensen and Laura Wifler
are in the trenches of motherhood, right alongside their readers. With a combination of accessibility, relatability, and solid Biblical knowledge, Emily and Laura have a knack for simplifying complex Biblical truths, revealing how they relate and apply to everyday life. As the co-founders of the Risen Motherhood ministry, and co-hosts of the chart-topping podcast, God has consistently and powerfully used the voices of these two moms as a vehicle to captivate women around the world with the gospel. As sister-in-laws, Emily and Laura both live in central Iowa with their families.