I always like to know a little something about an author before I sit down to open up his or her book. Today, I'm excited to interview author Katie Faris about her upcoming book, God is Still Good: Gospel Hope and Comfort for the Unexpected Sorrows of Motherhood. I'm thankful for her insights on this difficult topic and found such wisdom in her words, "Motherhood doesn't always deliver what we hope, and it frequently delivers hurts we don't expect."
God Is Still Good releases on January 17, 2023. You can pre-order it today!
---
Can you tell us a little bit about yourself and your writing journey?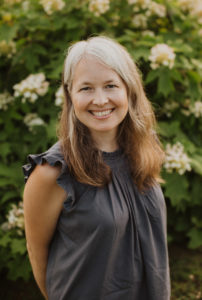 As a child, I wanted to be three things when I grew up: a mom, a missionary, and a writer. Four decades later, I love seeing how the Lord has blessed those desires and how they intertwine with one another!
Today I'm a mom of five children, ages 5 to 16. My husband Scott is a pastor, and it's a joy to serve together in ministry through our church. As an author, I write mostly for other moms, pointing them to Jesus and encouraging them with the gospel—but I try to do so with a mission mindset, writing in a way that is hopefully accessible even to the mom who is newer to Christianity.
Is writing ever difficult for you?  How so?
Writing can be difficult for a host of reasons, but writing God Is Still Good: Gospel Hope and Comfort for the Unexpected Sorrows of Motherhood brought particular challenges. The suffering of motherhood is a painful topic, and each mom's story is unique. I wanted to write with sensitivity and nuance, while also being real and honest about the hardships moms face. 
Sharing some of my personal motherhood sorrows also meant being vulnerable. Though I hope telling my story establishes trust with readers, doing so provokes lots of emotions. As grateful as I am for the opportunity to testify to God's goodness in the book, I still live in the middle of motherhood (with all its struggles), and as much as anybody else, I need the Holy Spirit's help to depend on the Lord and cling to the same hope and comfort that I offer readers.
What led you to write God Is Still Good: Gospel Hope and Comfort for the Unexpected Sorrows of Motherhood?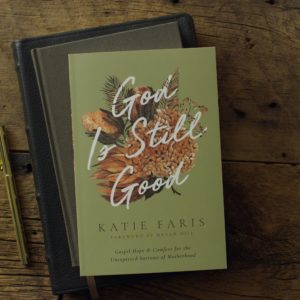 God met me in his word following the diagnosis of three of my children with Alpha-1 Antitrypsin Deficiency, a serious genetic condition that can impact the liver and lungs. My senior pastor's wife knew my story, and she asked if I would consider talking to some of the other moms in my church about trusting God in trials. I later turned that message, birthed with agonizing tears as I relived the painful parts of my story and recalled God's faithfulness, into an article about suffering in motherhood for The Gospel Coalition.
Those opportunities highlighted two things. First, I realized that there was so much more to say and write about this topic than could fit into a 40-minute talk or 1000-word article. Next, the heart-felt response from women showed how needed this message of gospel hope and comfort for the sorrows of motherhood really is. 
What's the central message you hope readers will take away from your book?
Through his word, God offers real hope and comfort even for the most heart-wrenching parts of motherhood.
Motherhood doesn't always deliver what we hope, and it frequently delivers hurts we don't expect.
Motherhood doesn't always deliver what we hope, and it frequently delivers hurts we don't expect. Whether you and I endure hardship in our own bodies or as moms caring for children facing difficulties, our afflictions are real and our pain is worthy of grief. 
But God is still good. He really is, no matter what. Even when circumstances look nothing like we imagined, God remains the same, and we can trust him. He is our true hope and comfort for the unexpected sorrows of motherhood, and his word provides a framework that both explains our suffering and helps us combat common temptations and lies that travel with it. 
How has writing this book affected your own life?
Walking through hard things with our kids can be consuming and isolating, and it's easy for lies about ourselves, our children, our circumstances, or even God to get stuck on repeat in our heads without even realizing it. In my rough motherhood seasons as well as the unremarkable ones, I need to remember what's true, and writing this book helped me to do that.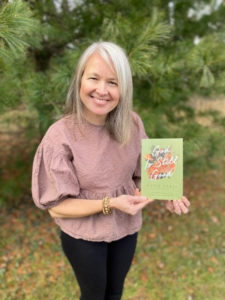 I'm excited to include a Lie and Truth chart that lists ten common lies that a hurting mom can be tempted to believe along with a list of biblical truths to combat them, and I hope this encourages moms to open their Bibles and discover truth to fight the lies they're tempted to believe.
For a sneak peek, here are some quotes:  
"I've learned for myself that motherhood is much more than suffering, but it's not less, and there's a particular kind of suffering that moms experience. Maybe you've been walking on a difficult path for a long time, or maybe you're just starting out. … Through his word, God offers real hope and comfort even for the most heart-wrenching parts of motherhood. This hope is more than wishful thinking because it is grounded in God's past, present, and future faithfulness and anchored in the gospel of Jesus Christ. Similarly, God's comfort is more than sympathy—it offers courage and strength to the afflicted." Pages 17-18
"Jesus is a Savior who is familiar with sorrow and 'acquainted with grief' (Isa. 53:3). He wants to walk with us—and he is able to help us persevere by faith, with grace—even on difficult paths we never would have chosen. When we walk with the Lord, these off-road trails aren't ends in themselves. They aren't just painful parts of our motherhood journey. They too are part of our journey heavenward." Page 27
"God is still good—for us—in our present challenges. Through Jesus, the Lord isn't far off but with us, in all his glorious goodness, in our kitchens and carpools and medical appointments. He doesn't go on vacation when our trials come; he's with us when we answer the phone calls that make our bodies shake. He isn't taking a nap or scrolling the internet when a child falls down the stairs, flips a bicycle, or crashes a car. He's right there with us, his hand holding ours (Ps. 139:10), when we wonder whether a child's mental health will improve or worsen. He is with us, and he is good." Page 91
Here's what others are saying: 
"This book is a lifeline for every mom who has ever felt alienated by the advice to 'savor the season' or defeated by the encouragement to 'enjoy every moment' of raising her kids—whether because of hard diagnoses, neurodiversity, complicated births, illness, loss, or just the average Tuesday. With gentleness and vulnerability, Katie Faris not only offers suffering mothers validation and permission to grieve their hardships but she also equips them to see their circumstances through the lens of Scripture, renewing their hope and confidence in God's goodness to them even and especially within the suffering with which they have been entrusted."
-Abbey Wedgeworth, mom of three; author, Held: 31 Biblical Reflections on God's Comfort and Care in the Sorrow of Miscarriage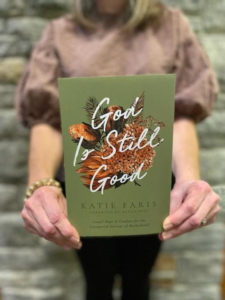 "Katie Faris shows us that parenting is not a pain-free experience, nor should that be our goal; it is a deep dependency on Christ. His strength is made perfect in weakness, and he is forming us through our grief and painful parenting experiences. Be encouraged: the gospel does indeed offer hope, comfort, and purpose in our journey."

-Julie E. Lowe, Counselor and Faculty Member, Christian Counseling & Educational Foundation
"God Is Still Good helps moms to remember what our sorrows can help us to forget: we're neither alone nor without hope in Christ. In this book, Katie Faris serves readers as a conduit of God's comfort—a sympathetic sister who, as a result of her own painful trials in motherhood, has learned to lean on sustaining grace in the midst of desperation, grief, and disappointment. If you're a weary mother in need of encouragement—wondering how you're going to make it through the troubles of today—then the practical wisdom in this book is especially for you."
-Christine Chappell, author, Help! My Teen Is Depressed and Help! I've Been Diagnosed with a Mental Disorder; Host, Hope + Help Podcast; certified biblical counselor
If you had an afternoon to do whatever you'd like, where would we find you?
Our family loves day trips to the Jersey shore. You'd find me walking on the beach or sitting by the water, wiggling my toes in the sand and reading a good book while my husband and children play nearby. 
---
Katie Faris is a pastor's wife and mother to five children—who also loves to write. She is the author of God Is Still Good: Gospel Hope and Comfort for the Unexpected Sorrows of Motherhood (TGC/Crossway, 2023), He Will Be Enough: How God Takes You by the Hand through Your Hardest Days (TGBC, 2022), and Loving My Children: Embracing Biblical Motherhood (2015). She worships at Sovereign Grace Church in Marlton, New Jersey. Learn more at katiefaris.com, or follow her on Facebook or Instagram.