I always like to know a little something about an author before I sit down to open up his or her book. Today, I'm excited to interview my friend and co-worker Joanna Kimbrel about her new book, The Greatest Hero: The Book of Romans releasing October 1, 2022.
Joanna Kimbrel's retelling of the book of Romans is done with the precision of a theologian and the understanding of a beloved school teacher. The Greatest Hero faithfully introduces children to the problem of sin and the hope of the gospel with a beautiful combination of truth and grace. This book is an excellent and needed explanation of the deep truths of Paul's letter to the Romans—it's insightful for both parents and children alike. You can pre-order a copy of The Greatest Hero here!
---
Can you tell us a little bit about yourself?
I live in Georgia with my husband, Chad, and our two girls, where I work from home as a content coordinator for The Gospel Coalition. I fell in love with God's Word in high school and have known I want to share it with others ever since. I'm a Bible teacher and author with a passion to share the beauty of Scripture with others. You can also find me cooking up fun dinners in my kitchen or singing loudly in my car.
When did you first start writing? What do you enjoy about it?
When I was in elementary school I wrote a fantasy novel (no, it was not good, and no, I don't still have it), but I really started writing in my early twenties. After a few years of teaching high school English and Bible, I started working from home writing Bible studies. I've been writing through various platforms ever since.
I love the written word, and it's often how I communicate most effectively. I appreciate how the nuance of a single word can change the meaning of an entire page—how it can express so much with so little. Through writing I have the opportunity to share what God has taught me, and by his grace, encourage others to turn to Jesus.
But instead of fighting against us, the greatest hero fights for us. He changes us from bad guys to good guys, from enemies to family.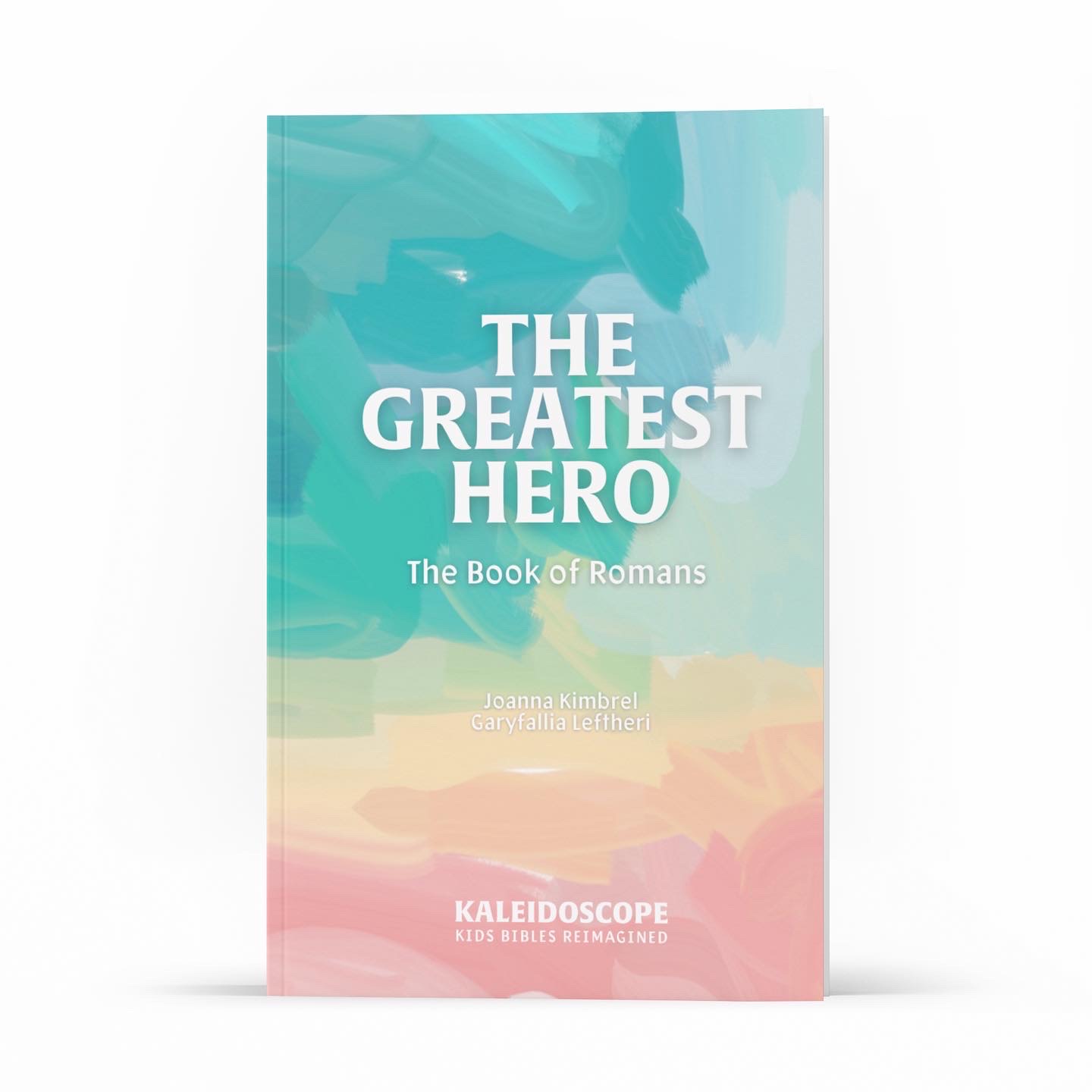 Is writing ever difficult for you? How so?
That's an easy YES! I love writing, but I can't tell you how many hours I've spent staring at a blank page, trying to write that one sentence that I can't seem to get out of my head and onto paper. Writing is both deeply creative and intellectually demanding. We pour ourselves out in our writing, and while some days it seems to flow freely, others it feels like shaking a few small drops from an empty bottle. I struggle with feeling like the words aren't quite right, and my perfectionist tendencies often keep me from writing down a sentence that isn't just how I want it. Writing is a gift, but it's also really, really hard.
What led you to write The Greatest Hero? 
The Greatest Hero is a retelling of the book of Romans in chapter book form for elementary grade kids. I've noticed a gap in the world of Christian children's literature for this age group, which is why Kaleidoscope produces these books that fall somewhere between a children's Bible storybook and a straight up Bible translation. The book of Romans is so rich, and offers Paul's most in-depth gospel presentation. The truths in this book are life-changing, and I want to come alongside parents, mentors, and children's ministry leaders to help them introduce these topics to children and deepen their discussion around them. My prayer is that kids and adults alike will look forward to each new chapter of this book and grow in their understanding of and love for the gospel of Jesus Christ.
What's the central message you hope readers will take away from your book?
In short, I want them to see the gospel. The book's title comes from the idea presented in Romans that Jesus is the greatest hero who comes to save us from our sin. All of us sin and are condemned to death. Our sin makes us enemies of God—the villains. But in God's amazing grace and kindness, he sent the most amazing hero the world has ever seen—his very own Son—to save the villains. When we believe in Jesus and trust in him to save us, we are declared righteous as God's children, and we will live forever with him. That's good news!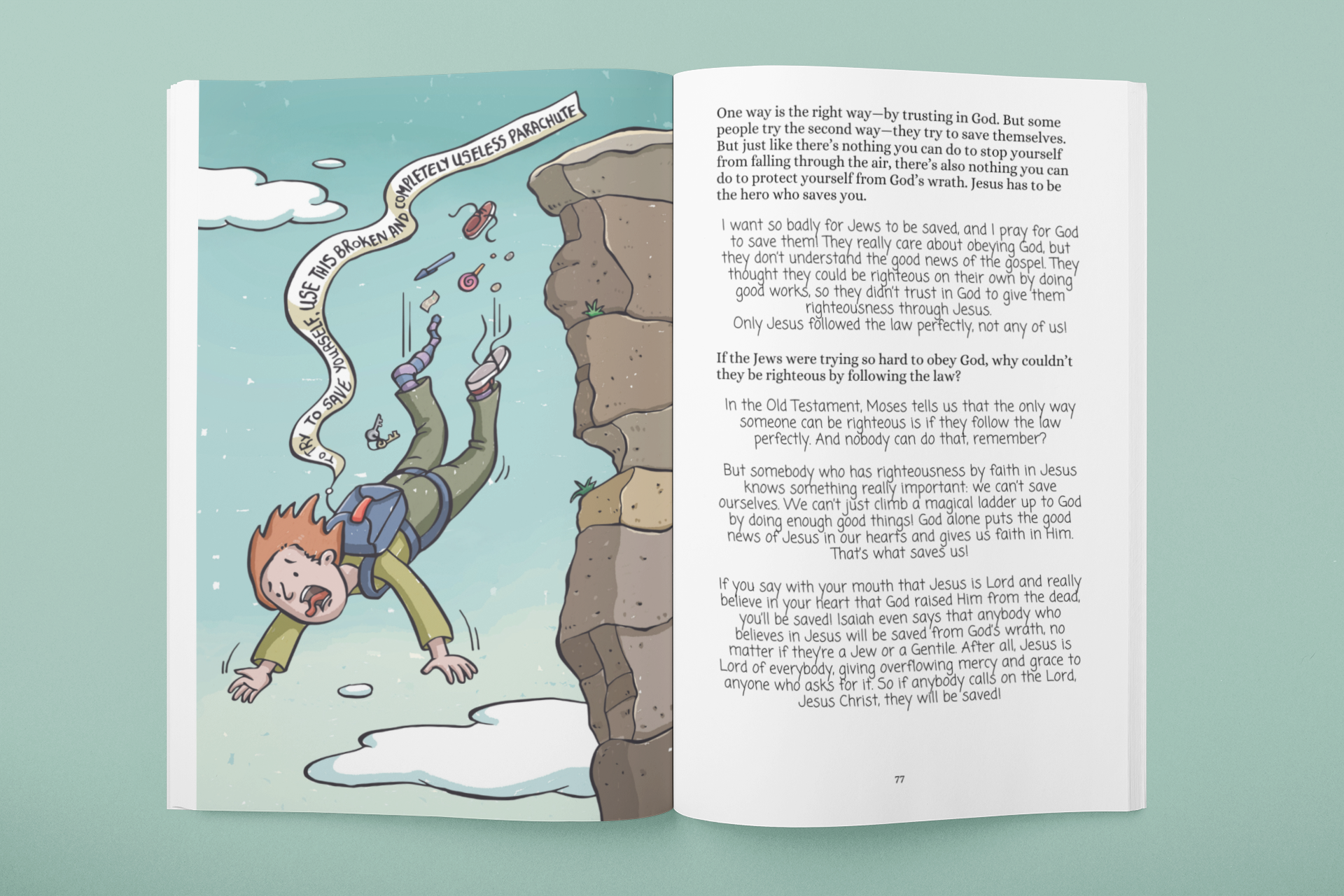 How has writing this book affected your own life?
Writing this book was an invitation for me to slow down and return to the simplest (and in some cases most complex) truths of the gospel. As I read, studied, and prayed through all 16 chapters of Romans, God revealed sin in my own heart, brought me to repentance, and caused me to rejoice in Christ's redemption in new and deeper ways. The gospel really is good news, and it really does change everything. The process also challenged me to put myself in the world of a child and learn to explain things in a way curious little minds can understand. That practice has had a big impact on the way I interact with my own kids.
Don't get lazy or stop caring—be excited to serve the Lord! Jump for joy because God gives you hope, be patient when life is hard, and never stop praying.
For a sneak peek, here are some quotes: 
"Think about the incredible things God made—all the planets and stars in outer space, the taste of warm chocolate chip cookies with ice-cold milk, dragonflies and deserts and dinosaurs—there had to be someone even more amazing to make all those amazing things! That somebody is God, and everybody knows it! God shows Himself in the things He made—it's undeniable!"
"So listen up, villains! (Yes, I'm talking to you—and me!) The greatest superhero of all time, Jesus Christ, came to save you. He is the real good guy, but He became like a bad guy—like you and me—so we can be called good guys if we have faith in Him. Do you believe that? Have you trusted Him to give you righteousness? To justify you? To save you? Can you believe the good news?" 
"We can't be saved by working hard enough. So what are we supposed to do? We need grace. Grace is when God gives us a good gift that we don't deserve. We deserve the opposite! We deserve wrath, but God gives us love. We deserve death, but God gives us life." 
"Many scary things can happen, but God is bigger, better, and stronger than them all. No matter what happens, nothing can take you away from God's love."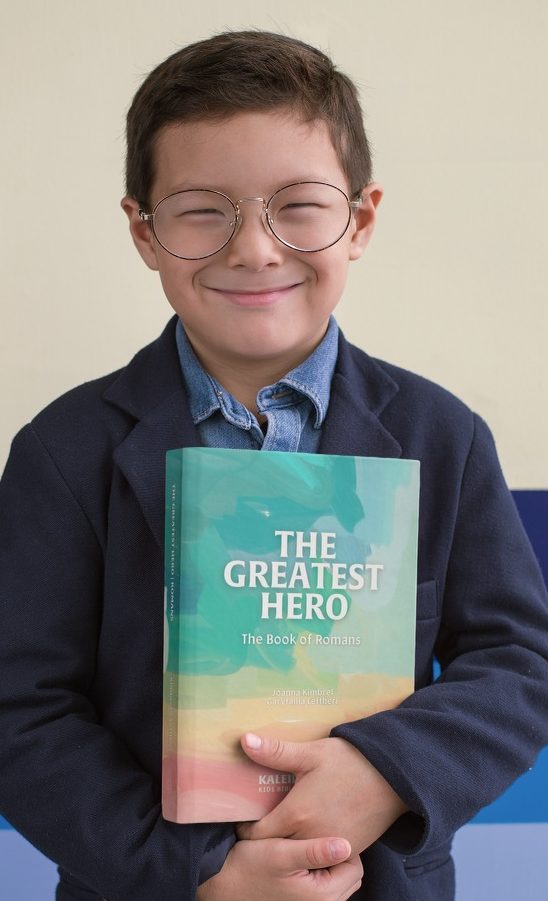 If you had an afternoon to do whatever you'd like, where would we find you?
In a rocking chair on the porch of a secluded cabin overlooking the mountains.  Temperatures in the sixties, some hot tea, and my Bible. 
---
Joanna Kimbrel serves as content coordinator for The Gospel Coalition. She is a Bible teacher and writer with a passion for sharing the beauty of God's Word with others. She is author of The Greatest Hero: The Book of Romans (Kaleidoscope, October 2022). Joanna and her husband Chad have two daughters and are members of Sojourn Community Church in Woodstock, Georgia. You can follow her on Instagram.