I'm always on the lookout for new books on a variety of topics. However, some of my favorite books were published decades (or centuries) ago. They don't get talked about on Twitter, and many of the authors aren't alive to give podcast interviews. However, their words helped grow my faith in numerous ways. I thought the same might be true for others, so I'm starting a new series called "Favorite Books" where I'm asking friends about books that affected them on a particular topic.
For today's topic, I've asked Courtney Reissig, Jasmine Holmes, Wendy Alsup, and Betsy Howard to share their answer to this question: What's your favorite Christian biography?
These are some of my favorite biographies as well. I hope you'll pick one up and be encouraged!
---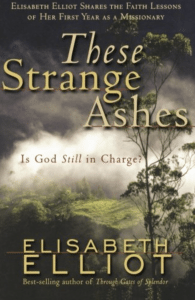 As a new believer I devoured everything Elisabeth Elliot wrote. As an aspiring writer I found a friend in Elisabeth Elliot, but I also found an older woman who had walked the hard road of suffering and come out more like Christ. While I initially read her books that tackled a variety of subjects, it was her more personal works that made her writing stick in my mind. I may have read her thoughts about suffering or loneliness, but it was only when I read of her own experiences with it that I was able to not only find a fellow writer, but a friend in my own disappointment and suffering.
These Strange Ashes was formative for me in that it showed me how the road a believer travels is not one of ease, but one of difficulty and suffering. But it also showed me that there is a great hope for the believer even when life doesn't make sense. Elliot set a foundation for me in my early years as a believer, when everything was fresh and exciting, so that when the realities of life set in as I grew in my faith and into adulthood I had a foundation (and a fellow sufferer to emulate) to fall back on.  — Courtney Reissig, author, Glory in the Ordinary and The Accidental Feminist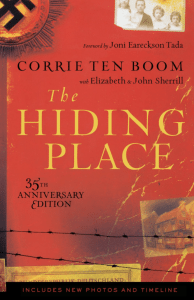 The Hiding Place has been my favorite book since I was 12 years old.
The first time I read it, it was merely a story of intrigue. A woman and her family banded together to save the lives of Jewish Hollanders during the Holocaust. The second time, it was a story of service. A single Christian woman who was an asset to her community both before the war—with hospitality, teaching, and craftsmanship—and during the war—with a bravery that I can hardly ever imagine, let alone possess. The third time, it was a story of forgiveness. A woman who had endured countless losses throughout her life (from her mother to her first love to her father and sister and years of life in prison) and not only forgave the Nazis who sinned against her, but also trusted a God who placed her in hard circumstances.
I'm sure it will be many other things as I read it again and again in years to come. And I plan to do just that. Corrie Ten Boom is an amazing example of what it means to trust God, not because we are perfect or capable, but because he is good. No matter the circumstances, and no matter the odds. — Jasmine Holmes, author and blogger.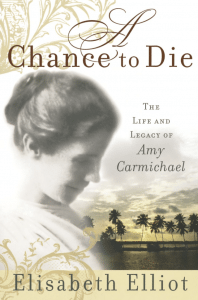 Though my sacrifices for Christ fall quite short compared to Amy Carmichael's, I nevertheless found solidarity and great encouragement as I read of her persistence and endurance in both personal faith and also confident hope in God's work around her. From Ireland to Japan to India, she earnestly sought Jesus's face and refused to give up hope in every trial. Even when dear co-workers in the ministry died unexpectedly (something that happened to her again and again) or Amy herself was permanently disabled stepping in a hole, she limped forward in faith, refusing to give up her hope in Christ or earnest expectation of God's work in her little compound in India. Whatever your struggle in life or sacrifice in obedience to God, Amy's story will encourage you to persevere, as she stands among the witnesses in Hebrews 12:1, cheering us on in our own trials and sufferings.  — Wendy Alsup, author, Is the Bible Good for Women? and Practical Theology for Women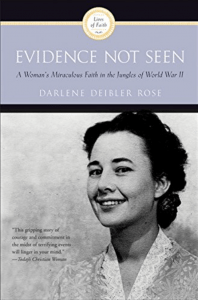 The Christian biography I read repeatedly and thrust on others is Evidence Not Seen by Darlene Deibler Rose.
The Deiblers set out as newlyweds to establish a mission station in the jungles of New Guinea in 1938. Life in the jungle was a battle to survive tropical disease, infection, and pestilence. The Deiblers faced physical suffering willingly to bring the gospel to the unreached. Yet another threat emerged in the form of war in the Pacific. Darlene and her husband, Russell, chose to stay. They were separated and taken to Japanese prisoner-of-war camps. Her captors inflicted physical and psychological suffering on her. Throughout the tortuous experience, she didn't know whether her husband was dead or alive, but she held fast to God.
One reason I've found this book so helpful is that it presents two different experiences of suffering. One is filled with assurance that God is near. In the other, he seems to have removed his presence altogether. Deibler Rose experiences both scenarios. This story presents a true-to-life example of what it means to walk by faith even when God hides his face.
The other reason I love Evidence Not Seen is that it makes me more courageous. Sometimes God calls us to do hard things. Sometimes God calls us to survive impossible circumstances. I've never faced anything like the suffering the Deiblers faced in New Guinea, but I cling to the same promises they trusted to fortify me in my own walk. — Betsy Childs Howard, Gospel Coalition editor, church planter's wife, and author of Seasons of Waiting
---
Other topics in this series: What book impacted your understanding of God?