In today's post I am interviewing Jeff McDonald about his new book, John Gerstner and the Renewal of Presbyterian and Reformed Evangelicalism in Modern America. McDonald is pastor of the Avery Presbyterian Church in Bellevue, Nebraska, and an affiliate professor of church history at Sioux Falls Seminary, Omaha campus. He earned his PhD in history at the University of Stirling in Scotland and was recently elected a fellow of the Royal Historical Society. 
[TK] For those who may not be familiar with him, tell us who John Gerstner was and why you decided to write about him.
[JM] John Gerstner (1914-1996) was a man of great passion, energy, and evangelical commitment. He was an evangelical Presbyterian church historian who taught church history at Pitt-Xenia Seminary (1950-1960) and at Pittsburgh Seminary (1960-1980). Gerstner was a strong advocate for evangelical theology and an early pioneer in the field of Jonathan Edwards studies. He was a Presbyterian, but also associated himself with the wider evangelical movement and became a contributing editor to Christianity Today when it started in 1956. He was also a mentor to the late R. C. Sproul and served for many years as a professor-at-large for Sproul's Ligonier Ministries. Moreover, he was known for his publications, but also for his impressive speaking abilities and his efforts in battling against theological liberalism in the mainline Presbyterian Church.
I decided to write on Gerstner because I was interested in writing on an evangelical Presbyterian historian and because I felt that Gerstner had become unjustly neglected in the field of Presbyterian history—two key volumes on the history of Pittsburgh Seminary barely mention his name. Too many PCUSA church historians marginalize or neglect evangelical Presbyterianism and UPCNA history, but my book tries to provide a corrective to this situation. I analyze the strengths and weaknesses of Gerstner and examine the resurgence of Presbyterian and Reformed evangelicalism—the movement Gerstner helped to support, develop, and propel into the future.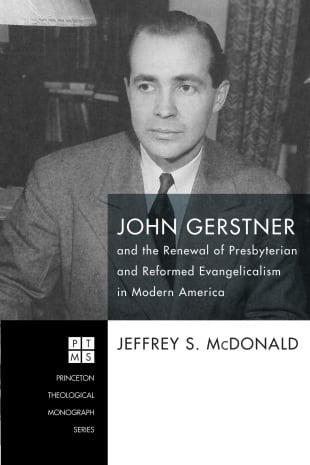 Gerstner was formed spiritually and intellectually in the United Presbyterian Church of North America (UPCNA), a significant Reformed denomination that is routinely neglected in scholarly literature on Presbyterians. Tell us about the UPCNA and Gerstner's connection to it.
Gerstner had no religious upbringing, and his parents were apathetic about faith. His first experiences with a church were as a teenager when his girlfriend took him to her UPCNA church in Philadelphia. The UPCNA was a denomination that had roots in both the Scottish Covenanter movement of the 17th century and also the Scottish Seceder tradition of the 18th century. The UPCNA had a largely evangelical Calvinist ethos, and the denomination made major contributions to the American evangelical movement in the 20th century. Gerstner attended a local UPCNA church, but Gerstner's conversion occurred after high school when he visited Philadelphia School of the Bible. Gerstner studied briefly at the PSB, but later attended Westminster College (Pa.), a UPCNA institution. There he fell under the spell of John Orr, a former student of B. B. Warfield and J. Gresham Machen. Orr, who lived to almost 100 years old, became Gerstner's long-term spiritual mentor.
Gerstner was ordained in the UPCNA, but became deeply troubled when the UPCNA merged with the PCUSA in 1958. My book seeks to show the importance of the UPCNA despite the almost complete neglect of the UPNCA by historians. The UPCNA is far more important to the history of American evangelicalism than has been previously realized.
Although Gerstner wrote widely on theology and church history, he is probably best known for his work on Jonathan Edwards. What was Gerstner's contribution to the understanding of Edwards? What was problematic about his writing on Edwards?
Gerstner was one of the first evangelical scholars to write a book on Edwards: Steps to Salvation: The Evangelistic Message of Jonathan Edwards (1959). Gerstner taught courses on Edwards from the beginning of his teaching career, and he promoted the colonial theologian until his death in 1996. He wrote widely on Edwards, but he also worked hard to promote Edwards among the laity. Part of evangelicals' fascination with Edwards can be traced to Gerstner's efforts.
In the last few years of Gerstner's life he published a massive three volume work on Edwards's theology. This trilogy provided rigorous analysis of Edwards theology from his sermons, but the volumes were not well edited, and various problems in Gerstner scholarship were revealed. Gerstner tended to view Edwards through the lens of Old Princeton theology, and this approach created idiosyncrasies in his scholarship. However, many Edwards scholars have commented that they appreciate Gerstner's work because he analyzed many unexplored regions of Edwards's thought. Gerald McDermott has even claimed that Gerstner "might have known more about Edwards than anyone—[Harvard scholar] Perry Miller included."
For many years Gerstner was the editor of the Yale volume on Edwards's sermons. However, he was ultimately removed from this position by the Yale Committee on Edwards's Works. This was a tremendous blow to Gerstner, and he never recovered from the harm this did to his professional reputation. Gerstner was in ways marginalized in the PCUSA and among Edwards scholars. However, he continued to advocate for Edwards in various ways.
In spite of Gerstner's objections, the UPCNA merged in the late 1950s with the PCUSA, placing him and his employer (the newly combined Pittsburgh Theological Seminary) in the context of mainline Presbyterianism. What challenges and opportunities did this present for Gerstner?
Unfortunately, the UPCNA tradition was largely lost when it merged with the larger and more theologically liberal PCUSA in 1958. The merger was devastating for Gerstner. Part of the stridency of Gerstner and Sproul is connected to their opposition to progressive PCUSA theology. The contentiousness that the PCUSA has experienced over the last 50 years is connected to the merger between the UPCNA and PCUSA.  This merger reintroduced the great Presbyterian controversies of the 1920s and 1930s into the mainline denomination. Gerstner was troubled by the liberal theological drift at Pittsburgh Seminary and in the merged denomination. He was a strong critic of the PCUSA's new confession of 1967 and the loosening of doctrinal standards.
On the positive side, Gerstner's presence in the larger denomination allowed him to spread his message to a wider audience. His involvement in several high-profile PCUSA controversies also raised his profile. The failed prosecution of PCUSA minister Mansfield Kaseman in the late 1970s and early 1980s led directly to the founding of the Evangelical Presbyterian Church in 1981. Gerstner's evangelical witness in the PCUSA provided him with an opportunity to spread evangelical theology to a greater number of Presbyterians.
What was the nature of Gerstner's impact on R. C. Sproul and Ligonier Ministries?
Gerstner was Sproul's main professor and mentor at Pittsburgh Theological Seminary. The two developed a long-term relationship, and Gerstner was involved in teaching at Ligonier Ministries for many years. Ligonier originally began as a study center near Pittsburgh, and classes were offered. Later, Ligonier moved to Florida, where the ministry exists today.
Gerstner influenced Sproul's apologetic views and the two wrote a book together on that topic. Ligonier expanded through its multimedia capabilities, and this allowed Gerstner's views to be spread via audiocassette and the internet. Sproul was also able to expand his influence with his radio show "Renewing Your Mind." Ligonier now has a Bible college and also offers DMin degrees through their Ligonier Academy. Chapter 7 in my book analyzes the growth of Ligonier and the wider Reformed evangelical movement.