As news broke last week about Ravi Zacharias's spiritual and sexual abuse of women, I read the various accounts with profound sadness for those most directly affected by his misconduct. The betrayal, loneliness, fear, and shame women experienced because of his sinful actions are in complete opposition to the tender shepherding care Jesus extended to women. Jesus bound up wounds, Zacharias inflicted them.
While it's abundantly clear how Zacharias's actions directly harmed these particular women, I also fear how his actions will affect women in churches all over the world as upright men seek to avoid following in his footsteps.
It is wise to give careful thought to our ways and commendable to be circumspect in our actions. However, I'm concerned that certain well-intentioned guardrails have the potential to harm women. Pastors and church leaders, whatever actions you take to fight for purity, it's important to remember: women are not the problem.
As you rightly prepare your minds for action (1 Pet. 1:13), here are a few truths to consider.
1. Draw near to God (don't withdraw from women).
James instructs, "Draw near to God, and he will draw near to you. Cleanse your hands, you sinners, and purify your hearts, you double-minded" (James 4:8). Fighting sin begins by setting our affections on God, spending time in his presence, meditating on his Word, and considering his character. This is daily work. This is heart work. This is hard work.
As the Puritan John Flavel explained,
Heart work is hard work indeed. To shuffle over religious duties with a loose and heedless spirit, will cost no great pains; but to set thyself before the Lord, and tie up thy loose and vain thoughts to a constant and serious attendance upon him; this will cost thee something.
Withdrawing from women isn't the solution. In fact, it's part of the problem. It wasn't good for Adam to be alone in the garden, and it's not good for men to be without women in the church. Men need mothers, sisters, and daughters in the faith, just as women need fathers, brothers, and sons. We are a family, a beautiful body made up of many parts. We're vitally connected to one another, and every part is essential for us to function properly. Avoidance isn't the remedy. Drawing near to God is.
Avoidance isn't the remedy. Drawing near to God is.
Begin each day with Jesus: Abide. Confess. Repent. Obey. Do soul work before you do ministry work. Wake up tomorrow with the same goal—abide, confess, repent, obey.
2. Know your enemy (it's not women).
The world (its advertising, influences, and sinful amusements), the flesh (our selfish and covetous desires), and the Devil (his lies and enticements to evil)—these are the enemies of our souls. The world allures us, the flesh invites us, and the Devil entraps us. Whatever temptations we encounter, though, we have a promise: "God is faithful, and he will not let you be tempted beyond your ability, but with the temptation he will also provide the way of escape, that you may be able to endure it" (1 Cor. 10:13).
If you're attracted to someone in an improper way, practice wisdom in your interactions. Flee all forms of sexual immorality (1 Cor. 6:18). Avoid the enticements of an adulteress (Prov. 7:5).
However, don't make blanket rules that prevent relationships or interactions with all women. Women are not your enemy. They traveled with Jesus and provided for him out of their means (Luke 8:1–3). Jesus loved Mary and Martha. He ate with them. He taught them. He wept with them (John 11:5–33). He welcomed and esteemed their ministry (Matt. 26:13). Women can encourage and bless your ministry.
3. Seek accountability (but not at the expense of women).
It's good to have accountability. Have people in your life who will ask you tough questions. Put protective software on your electronic devices. Avoid shows and songs that stir up wrong desires. Be careful, though, that you don't communicate to women that they are the problem.
A pastor once proudly told me his purity plan: "When I'm attracted to a woman, I treat her terribly." (I'm not making this up.) He enacted this misguided plan in his ministry; I witnessed the painful effects.
I also know some elders who practice a policy of always copying someone else on email correspondence with women. While you may be trying to communicate "I'm above reproach," it often communicates "You are dangerous."
If emailing women is a stumbling block, you may want to reconsider your ministry calling.
I'm all for being circumspect, but any electric correspondence has inherent accountability since it can easily be forwarded or copied. Email is a positive and proactive way to prayerfully support women and engage with them theologically (John Calvin regularly corresponded with women).
If emailing women in general about prayer requests, theological questions, or the next church picnic is a stumbling block, you may want to reconsider your ministry calling.
4. Shepherd the flock (which includes women).
If you're an elder or a minister of the flock of God, you are called to shepherd women. This isn't remote work. Jesus explained, "The sheep hear his voice, and he calls his own sheep by name and leads them out. When he has brought out all his own, he goes before them, and the sheep follow him, for they know his voice" (John 10:4–5).
It harms women to be distant in your care. Protect the women in your flock by interacting with them, not by avoiding them. Know their names and let them know your voice. Be interested in them. Ask how you can pray for them. Encourage their service. Support their ministry. A kind, encouraging word from an elder or pastor can spur on so much good. Don't make the mistake of thinking purity involves avoiding women. See them. Know them. Shepherd them.
Protect the women in your flock by interacting with them, not by avoiding them.
By God's grace may we seek to live lives worthy of the gospel. Yes, some men may use their power to harm women—and some women may wrongly entice men. But pastors and elders can also harm sisters by sins of omission. Let us not confuse the avoidance of evil with an avoidance of women.
Get a FREE eBook to strengthen your family discipleship!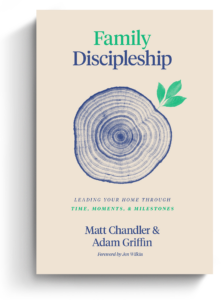 The back-to-school season is stressful for moms and dads. New rhythms of school, sports, and other extracurricular activities can quickly fill up a family's already busy calendar. Where do busy parents look for resources on discipling their family well? Aside from prioritizing church, what else can Christian parents do to instill healthy spiritual habits in their household?
Matt Chandler and Adam Griffin cover these questions and more in Family Discipleship: Leading Your Home through Time, Moments, and Milestones. And we're excited to offer this book to you for FREE as an eBook today.
Click on the link below to get instant access to your FREE Family Discipleship eBook now!