Where were you when Apollo 11 landed on the moon? If you were alive and old enough to process the events of July 20, 1969, you doubtless remember. The surreal "one small step for man, one giant leap for mankind" moment of Neil Armstrong stepping onto the lunar surface left an indelible impression upon everyone who watched it.
My dad was 20 at the time and remembers watching it on a hot, humid night in Elmhurst, Illinois. My mom was a touring violinist that summer and remembers watching it in Morristown, New Jersey. My uncle listened to it on the radio while driving on the Pacific Coast Highway in Southern California. My wife's parents were in New York City and watched the iconic moment in perhaps the most iconic setting possible: Times Square.
I have no memory of the event, of course (I was born in 1982). September 11 is my life's major "where were you?" moment. But I grew up hearing people describe the significance of the moon landing, a profound moment I would love to have been alive to witness.
Thankfully, a spellbinding new IMAX documentary, Apollo 11—released in time for the moon landing's 50th anniversary—offers viewers an immersive experience that brings that historic moment to life in the present. Watch the trailer below.
History Come to Life
One of cinema's greatest gifts is that it allows for time travel. Whether by dramatizing history or envisioning the future, movies transport us back and forth in time, allowing audiences to experience distant eras and occurrences otherwise inaccessible to them. Documentary cinema, using the real footage of history, can do this with particular power.
Peter Jackson's recent World War I documentary, They Shall Not Grow Old, takes viewers back in time by restoring century-old archival footage from the actual trenches. It's a haunting movie to watch, because it really does feel like you, a 21st-century person, are there with long-dead people from the early 20th century, seeing what they saw and hearing what they heard.
Movies transport us back and forth in time, allowing audiences to experience distant eras and occurrences otherwise inaccessible to them.
Apollo 11 does the same thing with history from a half-century ago. Edited, produced, and directed by Todd Douglas Miller, the film consists solely of primary-source footage surrounding the launch and mission of Apollo 11. Employing a "direct cinema" approach, the film has no talking-head commentators or narration. It simply assembles footage and audio from 1969 chronologically, in such a way that the events unfold as if you're watching them happen for the first time. Even the pulsating score from composter Matt Morton uses only instruments and effects (Moog modular synthesizers, Mellotron keyboard samplers, and so on) that existed in 1969. That's how committed the film is to presenting viewers with a direct-from-history experience.
The result is gripping and at times surreal (see it on IMAX if you can). Where did they find this footage? you will probably wonder, as I did. Much of it has never been seen—until it was unearthed by Miller, NASA historians, and archivists from the National Archives and Records Administration. The film draws from a treasure trove of unearthed 16mm, 35mm, and even 70mm reels, as well as vast amounts of previously uncatalogued audio from NASA's archives. The cinematic feel of the 70mm footage is especially dramatic, as it was recorded in a format (know as the Todd-AO process) used in the 1960s for such widescreen epics as The Sound of Music and Cleopatra.
Watching the 90-minute film (which will also air in museums in a shorter, 40-minute version later this year), I felt awe and gratitude at the God-given creativity that so characterizes mankind. It's a creativity that dreamed up the ability to record moving images and capture snapshots of historical moments. And it's a creativity that dreamed up, and accomplished, the mind-bogging task of traveling to and walking on the moon.
When We Were Bold
"We choose to go to the moon in this decade and do the other things, not because they are easy, but because they are hard," President John F. Kennedy said in his famous 1962 pitch for the Apollo program. He didn't live to see the mission accomplished, but his words fill our ears in the stirring climax of Apollo 11:
If I were to say, my fellow citizens, that we shall send to the moon, 240,000 miles away from the control station in Houston, a giant rocket more than 300 feet tall, the length of this football field, made of new metal alloys, some of which have not yet been invented, capable of standing heat and stresses several times more than have ever been experienced, fitted together with a precision better than the finest watch, carrying all the equipment needed for propulsion, guidance, control, communications, food, and survival, on an untried mission, to an unknown celestial body, and then return it safely to earth, re-entering the atmosphere at speeds of over 25,000 miles per hour, causing heat about half that of the temperature of the sun—almost as hot as it is here today—and do all this, and do it right, and do it first before this decade is out—then we must be bold.
Bold indeed. As we watch all of this unfold in Apollo 11, it's hard to not feel nostalgic for a time when audacious, seemingly impossible dreams came to fruition and united people around common cause; a time when we rallied together to do hard things. One of the jarring aspects of the film is how well it captures the unifying nature of Apollo 11. Thousands of people camped out at Cape Canaveral to watch the launch live, bearing with Floridian heat and humidity, 1960s mod sunglasses and binoculars in tow. Millions more across the world watched the eight-day mission unfold on television. It wasn't a disaster. It wasn't a famous person's death. It was a dream of humanity realized.
Do such moments happen today? What unites humanity in 2019? These are some of the questions that linger after watching Apollo 11. For Christians, another question is this: If humanity can be so compelled by sending man from earth to the heavens, shouldn't we be even more compelled by the Maker of the heavens becoming a man and coming to earth? How might we tap more often into awe and wonder in the way we share the gospel?
'Where Were You?'
A great moment in Apollo 11 is the famous phone call from President Richard Nixon to Neil Armstrong and Buzz Aldrin while they were still in space. "Because of what you have done," Nixon said, "the heavens have become a part of man's world. . . . For one priceless moment in the whole history of man, all the people on this Earth are truly one: one in their pride in what you have done, and one in our prayers that you will return safely to Earth."
But as much as this "priceless moment" was indeed (and rightfully) an occasion for universal pride in what man can accomplish, it was also an invitation to humility.
If humanity can be so compelled by sending man from earth to the heavens, shouldn't we be even more compelled by the Maker of the heavens becoming a man and coming to earth?
Not seen in the film (and also sadly not included in last year's First Man) is the moment when Buzz Aldrin read Psalm 8:3–4 (KJV) over a radio broadcast: "When I consider thy heavens, the work of thy fingers, the moon and the stars, which thou has ordained; What is man that thou art mindful of him? And the Son of Man, that thou visitest him?"
Seeing Earth's smallness as he traversed the vast expanses of space, Aldrin rightly noted the humility that accompanied this great triumph. For as great an achievement as it was to reach the moon, how much greater was God's achievement of creating the moon, and the stars, and the Earth, and the humans who could observe and explore it all? And in light of the vast expanses of the heavens, how awesome and humbling that God would be mindful of us, even taking on our flesh to redeem and be with us.
"Where were you?" is a question we ask ourselves of moments like the moon landing. It is also a question God asks us (Job 38:4); a question we do well to remember, especially in moments when we achieve something great: "Where were you when I laid the foundation of the earth?"
Answer: We weren't there. But God created us with the ability to see the evidence of his creativity, to study and ponder it, to enjoy and explore it, and to worship him because of it. When we are stirred by 90-minute documentaries of amazing feats like landing on moons or free-soloing El Capitan, we should be reminded that the whole world and its entire history are actually one massive documentary—an ongoing record of God's inexhaustible glory.
Get a FREE eBook to strengthen your family discipleship!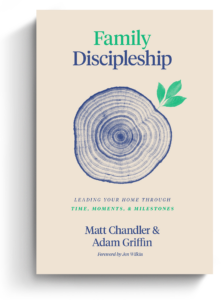 The back-to-school season is stressful for moms and dads. New rhythms of school, sports, and other extracurricular activities can quickly fill up a family's already busy calendar. Where do busy parents look for resources on discipling their family well? Aside from prioritizing church, what else can Christian parents do to instill healthy spiritual habits in their household?
Matt Chandler and Adam Griffin cover these questions and more in Family Discipleship: Leading Your Home through Time, Moments, and Milestones. And we're excited to offer this book to you for FREE as an eBook today.
Click on the link below to get instant access to your FREE Family Discipleship eBook now!