As I listened to my husband preach on Sunday, I attempted to hold back the flood of mixed emotions rushing over the internal dam I'd thrown up. I was stunned, reeling from self-reflection. I came to the conclusion, doubtless with the help of the Spirit, that I'd been scared, frightened, terrified of God.
Suffering and affliction are no strangers to my life. Most of us will suffer to varying degrees in this broken world. Being in ministry as a pastor's wife, and in counseling for many of those years, I've experienced plenty of circumstances that have led to my own suffering or crises of faith.
Past Pain, Future Fears
About 10 years ago, I endured what some call a "dark night of the soul." Throughout that ominous year I was under a dark cloud that wouldn't lift. The lack of an obvious circumstance to which I could attach my emotions made it all the more confusing.
I did everything I knew to do to change my heart. I read Scripture voraciously. I searched my heart thoroughly for "hidden sins" that may have brought this on. The hardest part about that year was that I daily, desperately cried out for God to come to my aid and lift me out of the pit. I felt like I was asking for bread and getting stones, though my faith and my Bible told me otherwise (Luke 11:11).
I knew enough about life and the Lord to know there was nowhere else to go, and no one else to turn to, but him. I worshiped Sunday after Sunday—in faith. I prayed day after day—in faith. Slowly, over time, the darkness lifted, but the affliction changed me forever. My wrestling with God left me with a limp.
I can now look back and see God's wisdom in allowing such a difficult season. It produced changes in me that were indispensable, as I'd later be called to walk through dark days with others. But then, every day felt like a battle to keep moving forward. The possibility of walking through a season like this again terrifies me.
Presently my family and I are facing something dreadful. My brother has a life-threatening disease. We've had the privilege of walking through this with him since his diagnosis five years ago at 31 years old. It's been a brutal—and beautiful—journey together. Last month, a doctor's appointment revealed that we have reached the frightful place we've been preparing for. I find myself feeling panicky and terrified about what may lie ahead.
God's Sovereignty Over Suffering
Scripture doesn't hide the fact that bad things sometimes happen to God's people by God's design. Job stands in blazing contradiction to the myth that if you do good, only good will result (or if you do bad, only bad will ensue). Such was the faulty "wisdom" of Job's "miserable comforters" (Job 16:2). The Bible doesn't promote karma. Job was a good guy, and bad things happened to him. In fact, Jesus was the best of the good guys, and the worst of the bad things happened to him. Scripture unflinchingly affirms that in God's sovereign wisdom he may purposely ordain the things we most fear.
To be sure, there are always good purposes in trials for those who belong to him. Yes, suffering produces in his saints endurance, godly character, and hope (Rom. 5:3). God causes all things to work together for good for those who love him (Rom. 8:28). I heartily affirm these precious, anchoring truths. But if I'm honest, the things God might use to bring about this promised good can sometimes frighten me. Will he give me another dark year to sanctify me? Part of my current situation feels frighteningly familiar. Could he take someone from me I love fiercely? I have to admit I've been deeply afraid of what he might allow.
Facing my Heart
So with past reflections and future fears swirling streams of confusion in my heart that Sunday morning, I wrestled with thoughts about God's goodness and love. My clandestine fears had apparently given way to cruel doubts concerning his character. The words about Aslan from the Chronicles of Narnia began ringing in my ears:
"Safe?" said Mr. Beaver, "Course he isn't safe. But he's good. He's the King, I tell you."
It took some time to come to terms with the fact I'd been living in (the wrong sort of) fear of God. I wanted to justify it, excuse it, deny it. I felt exposed, embarrassed, and ashamed of my unbelief. But though this revelation was difficult to admit, my honest confession to God that Sunday morning left me feeling liberated, lightened, and loved.
The sermon ended with the gospel, as it always should. The stabilizing good news brought clarity and peace to my chaotic heart.
Suffering Sovereign
Scripture reveals God as the loving King who ordains and oversees all suffering. If he were only portrayed as sovereign, we might be tempted to shrink back from him in fear. But because he's also shown to be our suffering God, who willingly stepped into unthinkable affliction on our behalf, we can be assured of his goodness and move toward him in love.
Our God understands suffering and loss. At great cost to himself, Jesus volunteered to empty himself of heavenly glory to become a humble servant (Phil. 2:6-8). Out of love for us he died the death we deserved. On the cross, Jesus lost his Father's tender intimacy in exchange for the fury of his fierce wrath. Jesus was afflicted and forsaken by his Father to ensure that we'd never be alone or forsaken in our afflictions.
Likewise, the Father didn't spare his own Son but gave him up for us all (Rom. 8:32). He endured the ache of turning away from the Son he'd eternally loved so he'd never have to turn away from us. Though they both felt otherworldly grief, they chose this death and loss in order to ultimately defeat the suffering that comes from sin, death, and loss for us. What love! When we feel like God is distant, indifferent, or uncaring toward us in our suffering, the cross stands as compelling evidence that he's not.
Yes, our sovereign God may wisely allow what we most fear, but our suffering God convinces us of his deep love as we face these things. The powerful hands that uphold all things are the hands that were pierced for us. Freshly seeing God as God—the suffering, sovereign One—is freeing me from fear to trust again.
Get your FREE 7-day devotional!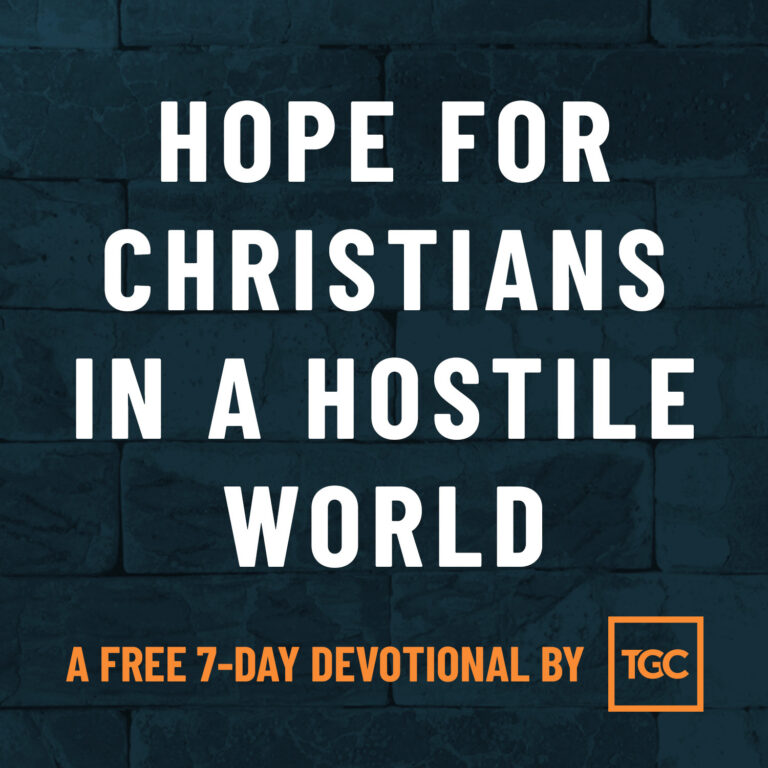 God's people have always been strangers and sojourners in this world. Do you feel that way, too?
You're not alone. Since the church's beginnings, Christians have often felt ostracized. And the Bible offers great encouragement for how to live with hope.
If you're feeling the weight of cultural exile today, our new 7-day devotional, Hope for Christians in a Hostile World, will encourage you.
If you sign up for this FREE resource, we'll send you an email each day for a week with a daily devotional featuring Bible readings and reflections written by TGC staff and friends.