Recently, I've been studying the lives of famous missionaries like John G. Paton, Amy Carmichael, and Hudson Taylor. It's difficult to look at Carmichael, who was rescuing orphaned children out of temple prostitution at my age, or at Paton in the New Hebrides evangelizing cannibalistic tribesmen, and not wonder if I'm wasting my life.
Whether you're a pastor, a missionary, or a layperson, do you ever feel like you're stuck in a ministry holding pattern? Perhaps you can remember a time when you felt a sense of momentum—as though God were preparing you for some great endeavor. Maybe it was mission work, or some arduous but rewarding ministry career, or marriage and kids.
But somewhere along the way, things stalled out.
In moments of quiet honesty, your desires haven't changed. Your heart still aches with the same longing: I want God to use me. Why won't he? And what am I to do while I'm waiting? I don't pretend to know God's future plans for my life or yours. But I can think of at least three things we can be doing in the meantime.
1. Be Holy
Earlier this year we were without a dishwasher for four months. It's frustrating to reach for a dish only to realize it's dirty. Paul encourages his young protégé to be a clean dish: "If anyone cleanses himself from what is dishonorable, he will be a vessel for honorable use, set apart as holy, useful to the master of the house, ready for every good work" (2 Tim. 2:21).
If we want to be used by God, we ought to be ready when he grabs us off the shelf. Holiness is readiness.
What ways are you seeking to grow in sanctification today that will prepare you for the work God has for you tomorrow? What sin needs to be mortified? What godliness needs to be cultivated? Have you kept yourself set apart for God's holy purposes, or have you become "entangled in civilian pursuits" during a war (2 Tim. 2:4)?
In Spiritual Disciplines for the Christian Life, Donald Whitney raises the right question: "How then shall we pursue holiness? How can we be like Jesus Christ?" His answer: "The spiritual disciplines are the God-given means we are to use in the Spirit-filled pursuit of godliness."
A season of dull sameness is fertile soil for cultivating spiritual disciplines like devotional Bible reading, prayer, stewardship, and evangelism. There is a direct link between personal holiness and a spiritual discipline like Scripture memorization: "I have stored up your word in my heart, that I might not sin against you" (Ps. 119:11).
By God's grace, let us "strive for peace with everyone, and for the holiness without which no one will see the Lord" (Heb. 12:14).
2. Be Faithful
Sometimes we feel unused because the responsibilities entrusted to us seem small, trifling, or unimportant.
A pastor looks at his small flock and wonders when God will finally give him a sizable church.
A mother of two looks at another mom who seems to juggle four children, a pending adoption, and volunteering at the nearby pregnancy-resource center—all while leading the church women's ministry. Jealousy sets in. Why do have one talent while this sister has five?
In the parable of the talents, there's an important detail we might skip over: "To one [the master] gave five talents, to another two, to another one, to each according to his ability" (Matt. 25:15). Paul elaborates on this principle. Explaining we are all members of Christ's body, he hammers home the point of Christ's parable: "Having gifts that differ according to the grace given to us, let us use them" (Rom. 12:6).
Each of us has been entrusted with responsibilities today. Each has been granted spiritual gifts by God's grace. It's not for us to question how much or how little has been entrusted to us; the question is, Am I being faithful?
Christian, what kind of a church member are you? Fathers, how are you serving your family? Students, are you diligent in your studies? Can we be faithful in what seems mundane and commonplace? The master didn't expect the servant with two talents to gather the same return as the servant entrusted with five. The reward for both is based on one standard: "Well done, good and faithful servant" (Matt. 25:21, 23).
There is virtue in endurance, even in staying put: "Continue in the faith, stable and steadfast, not shifting from the hope of the gospel that you heard" (Col. 1:23). So be faithful in the little things, and trust God to reward you as he sees fit.
3. Be Encouraged
Hindsight is 20/20, and when it comes to understanding God's plan, and we often don't realize he's used us until it's already happened. It's easy for us to look back at historical world-changers and marvel at the mighty deeds God accomplished through them. But at the time many of them had no idea what was happening.
David Brainerd (1718–1747) died of tuberculosis at 29 after four years as a missionary to Native Americans and only a handful of converts to show for the work. After Brainerd's death, Jonathan Edwards compiled and published Brainerd's private journals and diary. It became the bestselling religious work of the 19th century and a source of spiritual vitality to giants like William Carey, John Wesley, Adoniram Judson, Robert Murray M'Cheyne, and Jim Elliot.
Whether you pastor God's people or oversee the nursery, be encouraged. In God's economy, things are seldom as they appear.
Get a FREE eBook to strengthen your family discipleship!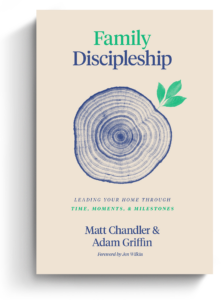 The back-to-school season is stressful for moms and dads. New rhythms of school, sports, and other extracurricular activities can quickly fill up a family's already busy calendar. Where do busy parents look for resources on discipling their family well? Aside from prioritizing church, what else can Christian parents do to instill healthy spiritual habits in their household?
Matt Chandler and Adam Griffin cover these questions and more in Family Discipleship: Leading Your Home through Time, Moments, and Milestones. And we're excited to offer this book to you for FREE as an eBook today.
Click on the link below to get instant access to your FREE Family Discipleship eBook now!