"I'm having a really hard time breathing."
One day earlier, our oldest daughter had stayed home from work because of a low-grade fever. By the time Hannah called us from her apartment, the fever had refused to recede, and she was struggling to breathe. 
"Drive yourself to the emergency room," my wife told her, "and see what they say." They said "pneumonia," but it quickly became clear they were treating Hannah for something worse. And her condition wasn't improving. 
Two days after the hospital admitted Hannah, a physician called to let us know that her lungs weren't delivering sufficient oxygen to her body. If the medical team didn't place her on a ventilator before the end of the day, cardiac arrest seemed the most likely outcome. Based on the condition of her lungs, the doctor had concluded that the cause was COVID-19. When I asked a nurse if my wife and I could visit Hannah in the intensive-care unit, the nurse replied, "You don't want us to call you to visit. If we ask you to come see her, it's because the doctor doesn't think she's going to make it to the next day."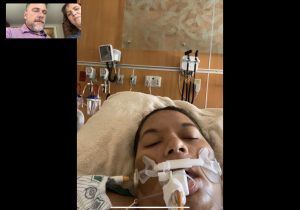 A 23-year-old on a ventilator was nothing we could have anticipated 17 years ago when God worked through the foster-care system to place Hannah in our lives. The first couple days on the ventilator, Hannah was sufficiently coherent to video conference through her phone, even though she couldn't speak. But then it became necessary for the medical team to sedate her, and the distance between us grew silent and dim.
Trusting My Father's Hand
The haunting terror of the coronavirus pandemic isn't limited to the possible loss of our own life or the life of someone we love. This terror is entangled with the chilling prospect of not being present with our loved ones in their time of pain. This yearning to be with those we love when they suffer isn't convenient and it isn't efficient, but it is inescapable. Even on our best days, we need community; on our worst days, we need it even more.
This terror is entangled with the chilling prospect of not being present with our loved ones in their time of pain.
During those days of distance, I remembered when Hannah first came into our home as a 7-year-old. The process of adopting her was already underway, and I began the habit of slipping into her dark room each morning to wake her when it was time to get up. For months, each morning followed an identical pattern. When I touched her shoulder, her body stiffened, and her eyes flashed open. She looked frightfully around the room and then stared into my face. In those moments, she didn't seem certain at first where she was or who I might be. It was no wonder she felt this way. Thus far in her brief life, she had already lived with at least a half-dozen different families.
"It's ok," I whispered. "It's me. You're home now."
A similar routine continued for almost three months. Each morning, she woke with a start—stiff-armed, wide-eyed, and fearful.
And then, one Saturday morning, something different happened. She didn't stiffen or glance wildly around the room when I touched her. She didn't even open her eyes. Instead, she simply rolled into my arms with her eyes closed and whispered, "Good morning, Daddy. Love you." 
She had learned to trust my touch even when she couldn't see my face.
That's how we're called to trust our heavenly Father. And it's what I kept remembering anew during those long, silent days when my daughter's body required a ventilator to battle a deadly virus. 
All I could do was to trust my Father's hand even when I couldn't see my Father's face.
Praying in Jesus's Name
I don't know what God was doing in allowing my daughter to contract COVID-19. Nor do I claim to understand what God is doing around the globe as millions of others face this same disease. I do know this: nothing is outside our heavenly Father's control, and we can trust his hand even when we cannot see his face. 
Nothing is outside our heavenly Father's control, and we can trust his hand even when we cannot see his face.
This is, of course, true in every moment of our lives. And yet, it's easy to embrace the delusion that we turn the rudder of our own lives when we're surrounded by those who love us and our lives seem to be proceeding generally according to our plans. But when we face circumstances that none of our efforts can change, such delusions are stripped away. We're left to trust in the mercies of a God who may have a plan quite different from ours.
And so, we prayed for Hannah's healing, and such prayers are good and right. Many nights as Hannah lay in the hospital, I repeated the words that Jairus the synagogue leader spoke to Jesus: "My little daughter is dying. Please come and lay your hands on her" (Mark 5:23). But I also prayed these prayers "in Jesus's name." These words are not a mere tagline we add to upgrade our petitions to first class or to increase the likelihood that God will do exactly what we ask. To pray in the name of Jesus is to surrender our requests to a plan that's greater than our own. When I pray "in Jesus's name," I am asking God to do whatever will point most clearly to the glory and majesty of Jesus, even if that answer brings suffering and pain. 
Healing doesn't always take place in this life. Some healings will only happen in the life to come. But we don't trust in the healing itself; we trust in the Healer. 
It's not wrong to pray for healing in this life. But we don't trust in the healing itself; we trust in the Healer.
Perhaps the supreme expression of this pattern can be heard in the words of our dying Christ: "Father, into your hands I commit my spirit" (Luke 23:46). This prayer didn't save him from suffering and death, and neither will such trust prevent pain or loss in my life or yours. But this prayer recognizes that we serve a God who has a plan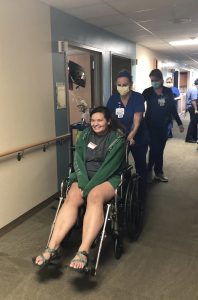 that reaches beyond our pain. The story we inhabit now is not the only story. There is a story yet to come—an unending story in which, in C. S. Lewis's words, "every chapter is better than the one before."
Still Good
After three long weeks in the hospital and 11 days on a ventilator, Hannah came home. The physicians didn't expect this outcome during her first few days in intensive care. I'm thankful beyond words for the ways God worked through medical interventions to save her life.
But I also know this: God is no less good when his healing happens in the next life than he is when healing happens in this one. Even when we cannot glimpse the contours of our Father's plan, he is still good. We can trust his hand even in those moments when we cannot see his face.
Get a FREE eBook to strengthen your family discipleship!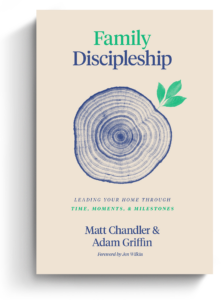 The back-to-school season is stressful for moms and dads. New rhythms of school, sports, and other extracurricular activities can quickly fill up a family's already busy calendar. Where do busy parents look for resources on discipling their family well? Aside from prioritizing church, what else can Christian parents do to instill healthy spiritual habits in their household?
Matt Chandler and Adam Griffin cover these questions and more in Family Discipleship: Leading Your Home through Time, Moments, and Milestones. And we're excited to offer this book to you for FREE as an eBook today.
Click on the link below to get instant access to your FREE Family Discipleship eBook now!