Also in TGC's series on the Reformation's five solas:
---
There may seem to be something about soli Deo gloria that works less well than the other four as a motto summarizing Reformation theology. Teachers of Reformation theology, trying to be fair and accurate, often remind their students that medieval Christianity and 16th century Roman Catholicism did not deny the importance of Scripture, faith, grace, and Christ.
Theologians spoke of them often and would have eagerly affirmed that there is no salvation without them.
But if we could press the matter further and ask these theologians about the little word alone, we would soon find genuine disagreement.
While the Reformers claimed that Scripture alone is the authority for faith and life, Roman Catholics professed reverence for Scripture but insisted the church's tradition and the Pope stood alongside Scripture to interpret it infallibly and to augment its teaching.
When the reformers asserted that justification comes by faith alone, Roman Catholics responded that justification does indeed come by faith, but also by works alongside faith. They had similar exchanges about grace and Christ.
Glorious Glue
Claims about Scripture alone, faith alone, grace alone, and Christ alone concerned the two chief points of debate between Rome and the Reformation: religious authority and the doctrine of salvation. Soli Deo gloria thus appears to be a bit of an outlier. When the reformers proclaimed that glory belongs to God alone, did Roman Catholics really respond that glory in fact belongs equally to God and something or someone else? Does the principle of soli Deo gloria, magnificent as it is, really have much to do with the Reformation itself?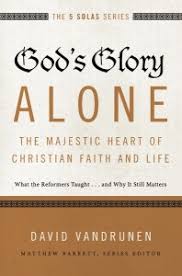 Indeed, it does, even if Rome never directly denounced the idea of glory to God alone as it denounced the ideas of Scripture alone and faith alone. Soli Deo gloria can be understood as the glue that holds the other solas in place, or the center that draws the other solas into a grand, unified whole. Recent writers, including John D. Hannah and numerous others suggest the same idea when they speak of soli Deo gloria as "the logical implication of the other four points" or as the motto that "subsumes all the others."
What justifies such strong claims? Simply put, the fact that salvation is by faith alone, grace alone, and Christ alone, without any meritorious contribution on our part, ensures that all glory is God's and not our own. Likewise, the fact that Scripture alone is our final authority, without any ecclesiastical tradition, magisterium, or Pope supplementing or overruling it, protects the glory of God against every human conceit. Rome, of course, would never admit to usurping God's glory.
Even meritorious human works, it says, are accomplished by divine grace infused through the sacraments. The church's traditions grow organically from the practice of the apostles, Rome adds, and the Pope is the servant of servants. But the Reformers came to understand how such claims, though perennially attractive, ultimately reveal the deceit of the human heart.
Perfect Word and Work
We like to think there's something for us to add to the satisfaction and obedience of Christ or to the inspired Word of the prophets and apostles, and even that God is wonderfully honored by our contribution. But the Reformers perceived that the perfect Word and work of Christ—precisely because they are perfect—need nothing to supplement them. Anything that tries to supplement them, in fact, challenges their perfection and dishonors God's Word and work in Christ.
If the Roman Catholic doctrine of authority and doctrine of salvation are true, all glory thus does not belong to God alone. And God, Scripture tells us, will share his glory with no other (Isa. 42:8).
We might think of it in another way. By holding forth soli Deo gloria as the lifeblood of the solas, we remind ourselves that the biblical religion recaptured by the Reformation is not ultimately about ourselves, but about God. Our focus so easily becomes self-centered, even when we ask the same important questions that occupied the Reformers: Where can I find God's authoritative revelation? How can I escape the wrath of God? What must I do to be saved?
The other four solas provide necessary and life-changing answers to such questions, but soli Deo gloria puts them in proper perspective: the highest purpose of God's plan of salvation in Christ, made known in Scripture, is not our own beatitude, wonderful as that is. The highest purpose is God's own glory. God glorifies himself through the abundant blessings he bestows upon us.
Not to Us, but to Him Alone
The reformers established a trajectory that will surely not lead us astray. Against the perennial temptation to elevate our own words above God's and to pursue everlasting life by our own deeds, the reformers called the church back to Scripture alone, to faith alone, to grace alone, and to Christ alone, and by so doing they reminded us that all glory belongs to God and not to ourselves.
Approaching this God and knowing him truly requires us to humble ourselves and to seek him in the lowliness of the cross. Yet far from debasing us, humbling ourselves by faith in Christ crucified reconciles us to God and enables us to become the sort of creatures God made us to be. God grants us the privilege of reflecting his own glory as we grow in holiness and ascribe him glory in our worship, and by one day joining him in the glory of the new creation—which Scripture wonderfully calls our glorification.
God draws supreme glory to himself, in part, by glorifying us. The Reformation theme of soli Deo gloria is indeed a beautiful aspect of the good news of the gospel, one that binds all the other glorious aspects together.
---
Editors' note: This is an adapted excerpt from David VanDrunen's book God's Glory Alone: The Majestic Heart of Christian Faith and Life (Zondervan, 2015) [review]. It is one of five volumes in The 5 Solas Series.
Get a FREE eBook to strengthen your family discipleship!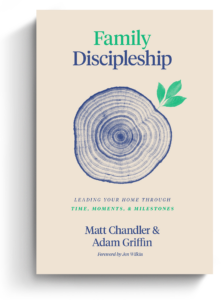 The back-to-school season is stressful for moms and dads. New rhythms of school, sports, and other extracurricular activities can quickly fill up a family's already busy calendar. Where do busy parents look for resources on discipling their family well? Aside from prioritizing church, what else can Christian parents do to instill healthy spiritual habits in their household?
Matt Chandler and Adam Griffin cover these questions and more in Family Discipleship: Leading Your Home through Time, Moments, and Milestones. And we're excited to offer this book to you for FREE as an eBook today.
Click on the link below to get instant access to your FREE Family Discipleship eBook now!