Where's the turning point in the parable of the two sons (
Luke

15:11

–32
)?
Is it the moment when the young rebel "comes to himself" in the pigsty?
That's certainly the way the story gets preached. We are encouraged to put ourselves in the sandals of the wretch and, likewise, to resolve to make good. In this kind of preaching the prodigal is his own savior, and the listener is urged to follow suit: Clean up your act, prepare your sorry spiel, return to the Father's service. Here is the gospel as pigsty plan.
True Turning Point
But is that really the turning point of the story? I'm not talking in terms of literary devices. I'm asking, What actually determines the prodigal's fate? What is the decisive moment for his life? Is it "coming to himself" in the pigsty?
No. Of course not. He could have devised the greatest repentance plan known to man and still been rightly shunned by his father. The key moment is the father's embrace.
The real change in the prodigal—both his change of status and of heart—happens in the arms of the father. That's where repentance occurs.
Imagine yourself in those arms. You may have been sorry before, but now you loathe yourself—yet you can't escape his love. You had thought you stank in the sty, now you feel your stench to the core—yet you are held close. You had composed a repentance speech, now your awareness of sin overwhelms—but you're enfolded in grace.
True repentance occurs in the Father's embrace. And this is where our ongoing repentance happens.
Sinning in Our Father's Arms
When we sin, do we put ourselves in the pigsty with the long journey home stretching ahead of us? Or do we consider ourselves in the Father's arms? There's a big difference.
I remember speaking with a Christian man about his extramarital affair from years earlier. After he spoke about the horror of his infidelity, I said, "Do you realize that, in the midst of that evil, Jesus was rejoicing over you as a bridegroom rejoices over his bride?" He paused for a long time and said, "That makes it a hundred times worse!" I said, "Yes it does. A thousand times worse." We think we manage to sin away in a corner somewhere. No. Just read 1 Corinthians 6:15–20 to see that we are very much united to Christ in our sin.
We stink of pig in the Father's arms. That's a thousand times worse than stinking in the sty. But it's a million times better, too. Because if he loves us at our worst then we really are secure.
Not a Pigsty Plan
How do we preach to prodigals? Certainly they must repent. Must. Sinners need a whole new life—the old one stinks. But where will they find this new life. Not in their resolve; only in the Father's arms. The gospel is not a pigsty plan, telling rebels how to make restitution. It's the announcement of one "who welcomes sinners and eats with them." He is our focus.
How do we preach to ourselves? As Christians we might imagine that we yo-yo in and out of the Father's house according to our performance, but that's a lie. When we sin we are not alone in the sty. We are there in his arms—reeking and held fast. It's a thousand times worse. A million times better.
Get a FREE eBook to strengthen your family discipleship!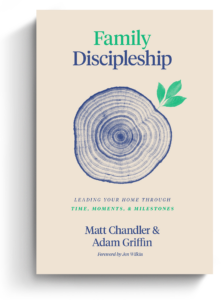 The back-to-school season is stressful for moms and dads. New rhythms of school, sports, and other extracurricular activities can quickly fill up a family's already busy calendar. Where do busy parents look for resources on discipling their family well? Aside from prioritizing church, what else can Christian parents do to instill healthy spiritual habits in their household?
Matt Chandler and Adam Griffin cover these questions and more in Family Discipleship: Leading Your Home through Time, Moments, and Milestones. And we're excited to offer this book to you for FREE as an eBook today.
Click on the link below to get instant access to your FREE Family Discipleship eBook now!