"We are still a Trinitarian denomination," United Church of Christ spokesman Bennett Guess says. You may be in trouble if you find yourself explaining that you're still trinitarian. After six years of debate, the UCC has resolved to revise their bylaws and constitution to replace every instance of "Heavenly Father" with "Triune God."
Here's how the UCC explains the change:
This was not a theological document. It was a restructuring from five boards to one. And in doing this, we dealt with bylaws written decades ago, before the denomination's commitment to using inclusive and expansive imagery for God.
We no longer use exclusively male language to refer to God. We haven't for a long time.
On the bright side you might conclude of this progressive denomination, "Well, at least they're sticking with the Trinity." And that's how some have defended the UCC against charges of "sawing off one leg of Christianity's Holy Trinity." USA Today's Cathy Lynn Grossman rather sardonically comes to the defense of the UCC, says that this change in language will not, in fact, cause the 1 million-member denomination to "rebuff Christ and God by slashing a reference to God as 'Heavenly Father.'"
Maybe not. But the problem is that you're not trinitarian just by calling yourself trinitarian. The Bible doesn't allow for us to worship the Trinity as God A, God A, and Holy God A and still call ourselves Christian.
We can learn a lesson from the Arians, a popular but heretical faction in the early church. They didn't want use the name "Father" either. But their motives were a little more explicitly mischievous. They didn't think the Son was equal with God, so eternally speaking, God was not a Father since the Son didn't eternally exist. Searching for a name to describe this view of God, they came up with "Unoriginate."
Isn't it interesting that when we try to clear God of his trinitarian nature and then try to describe who he is, we only have impersonal terms?
Athanasius didn't like the term "Unoriginate," and not just because it sounded like a poorly named professional wrestler. He rejected the title because it didn't explain who God is fundamentally. By calling God the "Unoriginate," we are defining him by what is in contrast, the "originate"—that is, creation. And God is not dependent upon the existence of creation, nor is he defined by it. So we must do better than "Unoriginate."
But, as Athanasius pointed out, if we call God "Father," we immediately contemplate the Son. And here we have something that is fundamental and eternal to both of them: The Father is the Father of the Son; the Son is the Son of the Father. To know God, we must know God as the Father of our Lord Jesus Christ, the eternal Son of God. Otherwise we are grasping for totems of our own imaginations.
And now back to the curious case of the UCC. The problem isn't only their sensitivity to gender-exclusivity in God or their modern sensibilities trumping the Bible. As we saw with the Arians, if you don't have a Heavenly Father, then you don't have a Son. And if you don't have a Son, you've lost Jesus.
As evangelicals concerned with the centrality of the gospel, we must speak carefully and biblically about who God is and how he has revealed himself to us. Like taking an ax to a trunk of a tree, if we speak loosely about God and his nature, the gospel will come tumbling down with it.
As creatures, we depend on God to reveal knowledge of himself to us. Who are we to give him his name? He is Father, Son, and Holy Spirit. He has told us so.
Get your FREE 7-day devotional!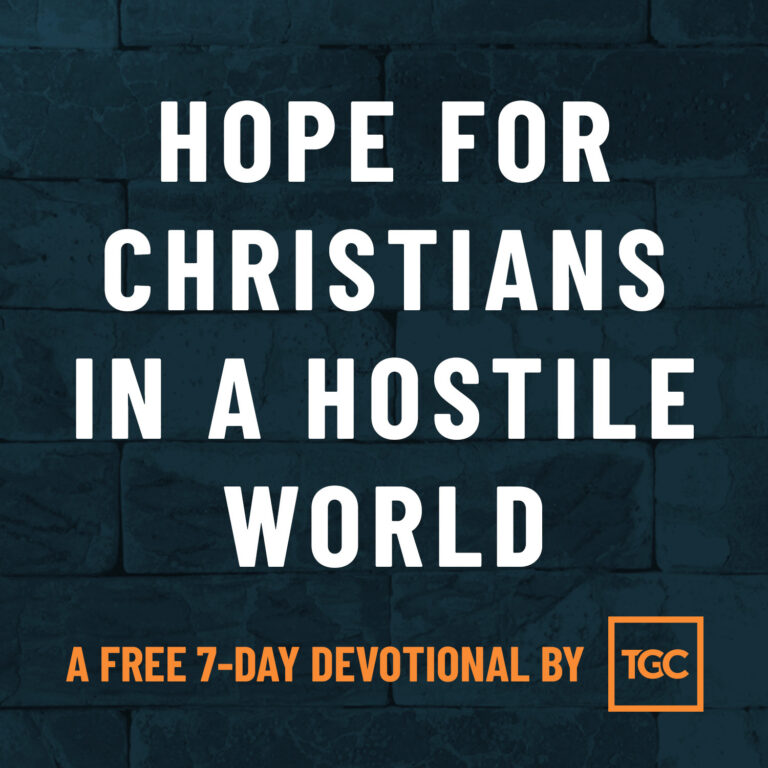 God's people have always been strangers and sojourners in this world. Do you feel that way, too?
You're not alone. Since the church's beginnings, Christians have often felt ostracized. And the Bible offers great encouragement for how to live with hope.
If you're feeling the weight of cultural exile today, our new 7-day devotional, Hope for Christians in a Hostile World, will encourage you.
If you sign up for this FREE resource, we'll send you an email each day for a week with a daily devotional featuring Bible readings and reflections written by TGC staff and friends.