Season three of The Crown removed any doubt that the Netflix show—which explores the life and reign of Britain's Queen Elizabeth II—is one of television's best. Certain episodes from this season (like "Aberfan" or "Tywysog Cymru") are as good as any Oscar-nominated movie this year. 
The best season-three episode, however, is arguably "Moondust," a Prince Philip–focused narrative set in summer 1969. The episode is more than just top-notch drama, though. It is one of the most insightful explorations of faith I've ever seen on TV. In 56 minutes, the episode manages to show both why religious belief is easily sidelined in a secular age, and why—in spite of everything—people struggle to fully abandon it.
Same Old Faith vs. Novel Spectacle
The episode opens by juxtaposing two viewing experiences of Philip (Tobias Menzies). As he watches a press conference on television featuring the Apollo 11 astronauts (Neil Armstrong, Buzz Aldrin, Michael Collins), the Duke of Edinburgh is utterly transfixed. "Extraordinary," he says with gleaming eyes as he later watches Apollo 11 lift off at Cape Canaveral. "What men. What courage." As he sits in front of the TV, the energy in his eyes says it all.
The episode is one of the most insightful explorations of faith I've ever seen on TV.
This is in stark contrast to Philip sitting in church, bored out of his mind. Walking into Sunday service with the Queen (Olivia Colman), he asks, "Why do we do this, week in, week out? Like lemmings." As the aging dean preaches his sermon, Philip leans over to the Queen and says, "It's not a sermon. It's a general anesthetic."
The juxtaposition sets in motion the episode's central conflict—Philip's loss of faith and accompanying midlife crisis, against the backdrop of the dramatic lunar landing. But it also reveals much about the broader dynamics of faith in our modern, secular age. 
It's no surprise that the secular shift accelerated in the 20th century, when mass media reshaped the world into one of constant spectacle and mediation (see Aldous Huxley's Brave New World and Neil Postman's Amusing Ourselves to Death, among others). With so many diversionary options, and the opening up of the world—indeed, the universe—through television, films, and eventually the internet, how does something like church compete? What's so amazing about centuries-old faith rituals in a new world of rockets and Moon landings? What's compelling about the same old Bible stories in a world where scintillating novelty is our daily bread? As one character in the episode notes of the lunar landing that wowed the world, it was "500 million people getting from televisions what they used to get from the church: a sense of coming together, a sense of community, of awe, of wonder."
It's easy to see why the rapidly expanding options in the 20th and 21st centuries—in both what to believe and how to be entertained—coincided with rising secularism. Rather than something assumed, Christian faith became just one among many options in an ever-expanding landscape of pluralistic paths (what Charles Taylor calls the Nova Effect in his book, A Secular Age). And once Christian faith is relegated to the same categorical plane as "things to do with your time and attention" in an entertainment-saturated world, church becomes defined by the logic of consumerism. The congregation becomes an audience. The preacher becomes a salesman. The expectation is amusement. The competition is fierce.
Philip's critique of church is that he's not amused by its stale repetition. It's the same old thing, week after week after week. How boring! Like many others in our secular age, boredom is the starting point for unbelief. And yet as the episode unfolds, we see how the "boring" nature of church is actually an asset. The insatiable hunger for spectacle and fleeting amusement, after all, leaves us lost and cold. Insofar as the church sets itself apart from that rigamarole—as something categorically different from amusing spectacle—it remains an essential haven for the overstimulated prodigals of pop-culture fatigue. 
Insofar as the church sets itself apart as something categorically different from amusing spectacle, it remains an essential haven for the overstimulated prodigals of pop-culture fatigue.
Boring Belief vs. Invigorating Action
Another aspect of Philip's critique of church is that it fails to do anything productive. It's an inert, lifeless relic in a world moving rapidly around it. As he tells the Queen, "From now on, on Sunday, while you lot are in here, I'm going to spend this hour doing something useful."
Elizabeth responds by hiring a new, younger dean to breathe fresh life into the Windsor Castle church. Yet Dean Robin Woods (Tim McMullan) fails to impress Philip with his proposal to create a retreat center where discouraged, mid-career priests can recharge by talking and thinking. "You don't raise your game by talking or thinking," Philip harrumphs. "You raise your game through action."
Philip begrudgingly attends a meeting at the new center—which he calls "a concentration camp for spiritual defectives"—where he proceeds to let loose on the poor assembly of defeated priests, who lament that people are increasingly looking outside the church for spiritual fulfillment. "What you lot need to do is to get off your backsides, get out into the world, and bloody well do something," Philip tells them. "Action is what defines us. Action, not suffering."
These comments reveal another god competing for souls in a secular age: pragmatism. 
In a world where time is compressed, space is flattened, and we all have access to news and knowledge of problems in every corner of the globe, productivity seems much more practical than prayer. The world and its complexities confront and implicate us with a sense of urgency that renders the practices of faith quaint and out of touch. Why spend time mouthing hymns and enduring sermons when injustices everywhere persist? Why sit in church when you could be out solving problems? 
This is another dynamic of what undermines faith in our secular age. Church feels superfluous. But again, this quality turns out to be an asset. For insofar as the church refuses to justify itself in terms of immediate pragmatism or usefulness—but insists on worshiping the eternal God, preaching a timeless gospel, fostering long obedience, and steadfastly loving neighbors—it persists as an outpost of lasting relevance in a world of ever-shifting concerns. 
Frailty and Faith
A third component of Philip's frustration with Christianity is that it seems to dignify, even pursue, weakness. He's disgusted by what he perceives as the "self-piteous nonsense" of the priests in Woods's retreat center. Their "talking and thinking" is cowardly compared to the remarkable bravery of the Apollo 11 astronauts, whom Philip idolizes as gods among men. 
And yet when Philip eventually meets Armstrong, Aldrin, and Collins in person, his hallowed esteem crumbles. Turns out they are rather vanilla and uninspiring: pale-faced men with colds and little capacity for thoughtful conversation. Ironically, they are more impressed with Philip and his royal life than he is with them.
It's a wakeup call for Philip, who had placed all his spiritual eggs in the basket of human achievement. Even the greatest humans are fragile, mortal creatures. Every human gets colds. They all disappoint. They all die. They can't carry the burden of ultimate meaning or existential justification. They are dust, and to dust—or should we say "moondust"—they will return.
Even the greatest humans are fragile, mortal creatures. Every human gets colds. They all disappoint. They all die. They can't carry the burden of ultimate meaning or existential justification.
A humbled Philip returns for a second meeting with the clergy he previously dismissed. Having admitted to himself his own weakness—grieving the death of his mother and his loss of faith—he confesses to the priests, "I now find myself full of respect and admiration and not a small part of desperation as I come to say help. Help me."
Glory and Gravity
Philip sees what every works-driven striver must eventually learn: it's never enough. We can't save ourselves. Man's glory is not in his achievements, but in his relationship with God and acceptance of his grace. "The solution to our problems, I think, is not in the ingenuity of the rocket, or the science or the technology or even the bravery," Philip says in the end. No, the solution is faith. 
And here is another reason why Christian faith endures in a secular age. It embraces suffering, but with hope. It worships a God whose glory is the shame of a bloody cross—a God who can relate to us in our darkest pain, but who conquered the grave. When our tireless strivings fail us, as they inevitably will, Jesus says "Come . . . I will give you rest" (Matt. 11:28). When we reach the end of our rope and our weakness wins, Jesus says, "My grace is sufficient for you, for my power is made perfect in weakness" (2 Cor. 12:9).
"Moondust" shows us the paradox of Christianity in a secular age: sometimes what repels moderns about faith is what eventually draws them back. Like the rising and lowering ocean tides caused by the Moon's gravitational pull, faith ebbs and flows in history—receding and returning by the dictates of God's gravity, and his grace.
Get a FREE eBook to strengthen your family discipleship!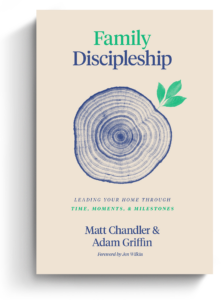 The back-to-school season is stressful for moms and dads. New rhythms of school, sports, and other extracurricular activities can quickly fill up a family's already busy calendar. Where do busy parents look for resources on discipling their family well? Aside from prioritizing church, what else can Christian parents do to instill healthy spiritual habits in their household?
Matt Chandler and Adam Griffin cover these questions and more in Family Discipleship: Leading Your Home through Time, Moments, and Milestones. And we're excited to offer this book to you for FREE as an eBook today.
Click on the link below to get instant access to your FREE Family Discipleship eBook now!