"Take the fruit, and you will be like God," the Serpent whispers in Eve's ear. But Eve was already like God—humans uniquely reflect and represent God's image. Though Adam and Eve were created like God, this wasn't enough for them. They were consumed by a desire to extend the boundaries of their God-likeness, leading them to bite the fruit that the Serpent promised would make them even more like God.
The Serpent was telling both the truth and a lie. The fruit opened Adam's and Eve's eyes, allowing them to access knowledge that previously only God held—and yet taking the fruit on their own terms twisted the image in them, making them less like God than before.
The information age's digital revolution parallels the Serpent's deceptive promises in the garden. Google allows anyone to access, with a few keystrokes, almost any knowledge possessed by mankind. Alexa enables us to illuminate our homes with a word. Social media grants us the ability to be present to everyone all the time. And now with the proliferation of ChatGPT and other AI applications, the upper limits of human productivity have never been so high. You might even say technology makes us gods.
While often used for God-honoring ends, might these expanded abilities be like the Serpent's temptation in the garden? Do these technologies reduce the gap between God's abilities and our own while simultaneously widening the gap between God's character and our own? As technology makes us more like God, his image becomes less clear in us. God desires that we resemble him, but we desire to rival God.
Technology's Deforming Power
We don't only act on the world with our technology—our technology ends up acting on us. It's never neutral.
When Adam and Eve took the forbidden fruit to become like God, they were deformed away from his likeness. Technology likewise has the power to distort the image of God in our character. Using the lens of Galatians 5:22–23, let's consider six ways digital technology may be deforming us.
1. Deformed Love and Kindness: Polarization, Anger, and Outrage
God's love and kindness are displayed through his disposition and actions toward sinful man (Titus 3:4–5), which demonstrate warmth and compassion for the "other." But digital media and social media's algorithms neither favor kind content nor form love in our souls.
We don't only act on the world with our technology—our technology ends up acting on us.
During a 2021 Senate hearing on social media algorithms, a former Google design ethicist stated the company's "business model is to create a society that is addicted, outraged, polarized, performative, and disinformed." Facebook has been called "one of the world's most polarizing corporations," whose platform is "optimized to keep people scrolling their Facebook feeds, amplifying divisive and inflammatory content and exaggerating political divisions in society."
This has contributed to the polarization of the United States, which is marked by less trust and reduced democratic norms. Our moral outrage is stoked, and we've become ruder and angrier. Digital media creates an ecosystem where trolling, conspiracy theories, and antagonism can flourish.
The websites we use and the media we consume every day have the capacity to deform our kindness and love and generate the fruit of polarization, anger, and outrage.
2. Deformed Joy and Peace: Depression and Anxiety
Numerous studies have connected high digital technology use with the manifestation of depression and anxiety. Rates of unhappiness, depression, and suicide are strongly tied to high digital technology use, as are insomnia, stress, and low self-esteem.
One study found excessive internet use during the COVID-19 pandemic and the exposure to misinformation that came with it were significant causes of depression. Expansive evidence exists in the literature that social media use is correlated with anxiety and contributes to the fear of missing out.
Digital technology can benefit its users, but left unchecked, it can rob us of joy and form us into anxious and empty people.
3. Deformed Patience: Impatience and Compulsion
We all remember the impatience rising in our chests as we heard the modem beeps while AOL loaded at a snail's pace in the early 2000s. We might expect that with modern computer speeds, impatience would never have the chance to well up inside us. Yet we find the opposite. This increased impatience expresses itself in using cell phones to "provide for [our] needs as soon as possible," which can result in increased irritability and unwise spending.
The root of our impatience may be linked with deeper neurological changes facilitated by increased digital media consumption. Microsoft found that between 2000 and 2013, the human attention span had dwindled from 12 seconds to 8 seconds (as a reference, the attention span of a goldfish is 9 seconds). Mark Ellingsen writes, "The division of attention demanded by the internet strains our cognitive abilities and diminishes our learning and understanding."
God is patient, long-suffering, and committed for the long haul. The instant gratification and distraction cultivated by digital media distort this aspect of God's image in us at a neurological level.
4. Deformed Gentleness: Violence
If God's gentleness toward his image-bearers is marked by dealing with us in a nonharmful way, then the opposite manifestation in human character would be intentionally trying to harm someone. Emotional violence in the form of cyberbullying is one manifestation in digital media users. With increased internet use comes increased moral disengagement (see the next point) and a greater likelihood of engaging in cyberbullying.
This online aggression can spill over to real-world violence. A Public Religion Research Institute poll found 15 percent of Americans (or 50 million people) believe that "because things have gotten so far off track, true American patriots may have to resort to violence in order to save our country." Online forums contributed to the radicalization of domestic terrorists such as Dylan Roof and Payton Gendron.
Not everyone who uses the internet will commit acts of violence, but the animosity it creates pulls people in that direction and creates safe havens for violent fantasies to fester.
5. Deformed Goodness and Faithfulness: Moral Ambiguity
The inverse of goodness and faithfulness could be categorized as "moral ambiguity." If goodness is concerned with knowing and loving what's true and good, then faithfulness is acting in accord with what's true and good.
God is patient, long-suffering, and committed for the long haul. The instant gratification and distraction cultivated by digital media distort this aspect of God's image in us.
Many of the previous categories overlap with this section. The anger, hostility, and violence directed at fellow image-bearers are anything but good and faithful. Moral disengagement is defined as "a cognitive predisposition that individuals reinterpret their immoral behaviors" and has been linked with compulsive internet use and violent video game use. Online anonymity and the perceived lack of consequences create an atmosphere that facilitates disinhibition and cyberaggression.
Just as with the formation of every other bad fruit, digital technology use doesn't automatically distort one's sense of goodness and faithfulness to these moral standards. But it does provide the environment where the dark desires of the heart can bloom.
6. Deformed Self-Control: Addiction
God never makes a rash decision, says anything he later regrets, or takes any action outside of his control. Humans reflect this aspect of God through manifesting self-control. One rotten fruit of digital technology is addiction: the inability to control its use or consumption. Uninhibited technological use takes control out of our hands and begins controlling us.
The dark reality is that addiction is a feature, not a bug: tech companies "encourage behavioral addiction [through] intermittent positive reinforcement and the drive for social approval" and actively develop addictive features to enslave people to their devices to increase their bottom line. Once an addiction has been formed, getting free is difficult. Quitting the internet causes withdrawal effects "similar to those noted after termination of many depressant substances such as alcohol, cannabis, and opiate-based drugs."
One Question We Must Ask
Study after study has demonstrated the deforming power of digital technology. Technology can deform us, but it's not the only power at work. In conjunction with the psychological effects of long-term digital technology use, our fallen desires can bend us inward, as did Adam and Eve's desire for the fruit.
The question becomes whether we should avoid digital technology altogether, and if not, how we might set boundaries to ensure we master our tools— not the other way around.
Editors' note:
This article is adapted from "Technology and Its Fruits: Digital Technology's
Imago Dei
Deformation and Sabbath as Re-Formation" by Josh Rothschild, which appears in
Themelios
48, no. 2 (August 2023). Access the
full journal online
.
Get a FREE eBook to strengthen your family discipleship!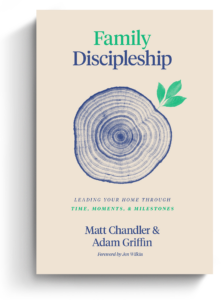 The back-to-school season is stressful for moms and dads. New rhythms of school, sports, and other extracurricular activities can quickly fill up a family's already busy calendar. Where do busy parents look for resources on discipling their family well? Aside from prioritizing church, what else can Christian parents do to instill healthy spiritual habits in their household?
Matt Chandler and Adam Griffin cover these questions and more in Family Discipleship: Leading Your Home through Time, Moments, and Milestones. And we're excited to offer this book to you for FREE as an eBook today.
Click on the link below to get instant access to your FREE Family Discipleship eBook now!