Do you think I am trying to weave a spell? Perhaps I am; but remember your fairy tales. Spells are used for breaking enchantments as well as for inducing them. And you and I have need of the strongest spell that can be found to wake us from [our] evil enchantment. — C. S. Lewis, "The Weight of Glory"
I've returned to the question again and again: What I am doing when I preach? What is this thing we call preaching? Is it teaching doctrine to renew the mind? Providing inspiration to rekindle the emotions? Offering moral instruction to refortify the will?
As the years have passed, sermons zipping by like weekly mileposts along a highway, I've come to wonder if preaching is something else altogether—both none of these things and yet all of them at the same time. But I could never quite sort it out in my mind; it just dangled like a loose thread. And then, three largely unrelated moments brought me face to face with a surprising insight that pulled these threads together into a meaningful whole.
And the interesting thing was, each insight had something to do with the imagination.
Steal Past the Dragons
The first insight came when I stumbled on an old article C. S. Lewis wrote for The New York Times Book Review, dated November 18, 1956. This was right around the time The Last Battle was published, completing Lewis's celebrated Chronicles of Narnia series. The article, "Sometimes Fairy Stories May Say Best What's to Be Said," was Lewis's explanation for why he wrote fairy tales. Here's the quote that stood out:
I wrote fairy tales because the Fairy Tale seemed the ideal Form for the stuff I had to say. . . . I thought I saw how stories of this kind could steal past a certain inhibition which had paralyzed much of my own religion in childhood. Why did one find it so hard to feel as one was told one ought to feel about God or about the sufferings of Christ? I thought the chief reason was that one was told one ought to. An obligation to feel can freeze feelings. . . . But supposing that by casting all these things into an imaginary world, stripping them of their stained-glass and Sunday school associations, one could make them for the first time appear in their real potency? Could one not thus steal past those watchful dragons? I thought one could.
For Lewis, through the imagination one can "steal past the watchful dragons" of someone's resistance or negative associations with the Christian faith. The imagination can slip under the guards erected by listeners who have found the preachiness of preaching tiresome and uninspiring. But even after you've gotten past the watchful dragons, Lewis believed the imagination could be enlisted again to summon these faded truths to "appear in their real potency."
Now if that's true, then wouldn't a great way to awaken those who've lost connection with the faith of their childhood be to preach to their imagination? Even the most eloquently reasoned arguments, and the most emotionally inspiring delivery, try to attack the dragons head on, often with disastrous consequences. But what if the imagination allows us to steal by? I filed that thought in my mind under "Hmm, interesting" and moved on.
Step through the Looking Glass
Second, just a few weeks later, I saw David John Seel's observation that reason works within frames, but the imagination works between them. In other words, though logic plays a critical role within a frame to establish and reinforce its internal coherence, it is not—however airtight—what moves someone between frames. It's not what typically sparks paradigms shifts. The imagination does that. That was the arresting insight for me.
Unbelievers need to see, however briefly, the curtain getting pulled back on the world they've been inhabiting and see an entirely new possibility open up in the gospel of Jesus Christ.
What does this mean for preaching? It says what many of us have already come to know—that we cannot argue anyone into the kingdom of God. Instead, in our preaching, unbelievers need to see, however briefly, the curtain getting pulled back on the world they've been inhabiting and see an entirely new possibility open up in the gospel of Jesus Christ. They need to be able to step into an entirely new frame, even for a moment, to take a look around, try it on for size, and see what kind of world this world becomes when they step inside the looking glass of God's kingdom. Their imaginations must be stirred in such a way that they might think to themselves, as Tim Keller often says, I don't know if this is true, but I sure wish it were. The imagination transports people from one frame into another.
Journey to the Heart of Darkness
My third experience was perhaps the most unexpected. It happened far from the safety of a book, amid the vulnerability of a counseling session. For several years I had been seeing a counselor to help me better understand and manage my depression.
My counselor said something along these lines:
Abe, you're quite good at trying to understand your past experiences and how they shape your emotional life today. All of that is really good and healthy. But in the end, healing is not a left-brained process. It's a right-brained one. It's not about reasoning about your feelings or trying to analyze your past experiences. In fact, all that thinking can sometimes be an extra layer that stands between you and your healing. We need to get into the wound, and for that you need to feel and imagine and experience things directly. The goal is not to better understand what happened; it's to experience what happened differently, because Jesus's presence with you in love changes everything.
I stared at him blankly, lost as to what any of that even meant. I'm not sure how the rest of the session went, but I did walk away with a new thought on preaching!
What wounded people need is an engagement with the imagination that enables them to experience Christ's love precisely in the place of their pain. And if we're honest enough to admit there are watchful dragons, and fragmented frames, and wounded souls in all of us, then we all need in preaching an engagement with the imagination that brings us into a personal and a life-changing encounter with Jesus. Our imagination takes what is true of us in Christ and pulls it into the field of our sensory experience. It takes what's true of us and makes it real to us.
Discover the Enchanted Door
Now, none of this is to discount the notions about preaching we began with. Preaching sound doctrine to the mind is vital. Rekindling desire in the emotions is essential. Instructing the will on the life created by the gospel is a must. But perhaps the forgotten, hidden door that transports you into the hall that opens up to all three of these chambers—the mind, the emotions, and the will—is the enchanted door of the imagination. Perhaps we have so believed we inhabit a disenchanted world, that we have inadvertently disenchanted our preaching, too.
In a lesser-known essay titled "Bluspels and Flalansferes," Lewis further reflects on the place of the imagination in our knowing. He writes, "For me, reason is the natural organ of truth; but imagination is the organ of meaning. Imagination, producing new metaphors or revivifying old, is not the cause of truth, but its condition."
Imagination is the "condition" of truth, not because it creates the truth, but because it provides the conceptual world in which a truth becomes intelligible. After all, the heart of the Christian faith is not simply the truth that Jesus of Nazareth lived, died, and rose again. It's that Jesus of Nazareth lived, died, and rose again for you.
To understand the meaning of that statement requires an imagination that even angels long to look into.
Get a FREE eBook to strengthen your family discipleship!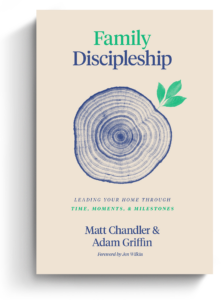 The back-to-school season is stressful for moms and dads. New rhythms of school, sports, and other extracurricular activities can quickly fill up a family's already busy calendar. Where do busy parents look for resources on discipling their family well? Aside from prioritizing church, what else can Christian parents do to instill healthy spiritual habits in their household?
Matt Chandler and Adam Griffin cover these questions and more in Family Discipleship: Leading Your Home through Time, Moments, and Milestones. And we're excited to offer this book to you for FREE as an eBook today.
Click on the link below to get instant access to your FREE Family Discipleship eBook now!