On My Shelf helps you get to know various writers through a behind-the-scenes glimpse into their lives as readers.
I asked Mark Tooley—president of the Institute on Religion and Democracy (IRD) and author of The Peace That Almost Was and Methodism and the Politics of the 20th Century—about what's on his nightstand, the last great book he read, books that have most influenced his thinking about religion in the public square, and more.
---
What books are on your nightstand?
Macaulay's History of England Volume I by Thomas Babington Macaulay (1868). It's a wonderful walk through the struggle for liberty that defines the Anglo-American tradition.
A Christian Manifesto by Edwin Lewis (1934). Lewis was a Methodist theologian, originally of the Boston Personalist school, who renounced his own modernism in favor of orthodoxy and was a Wesleyan counterpart to J. Gresham Machen.
The Washingtons by Flora Fraser (2015). Martha Washington is here shown to be the essential partner to America's chief founding father.
Historic Christianity and the New Theology by Harold Paul Sloan (1922). Sloan was a Methodist theologian who fought modernism politically and through scholarship, losing the denominational battle but sustaining the faith through dark days.
The Fragility of Freedom: Tocqueville on Religion, Democracy, and the American Future by Joshua Mitchell (1995). Mitchell articulates Tocqueville's appreciation for Christianity's central role in creating and perpetuating American democracy.
Just American Wars by Eric Patterson (2018). Patterson applies the Just War tradition to all of America's major wars.
The Challenge of Human Rights: Charles Malik and the Universal Declaration by Habib Malik (2000). Charles Malik was a Lebanese Christian statesman and philosopher of human rights. This book is by his philosopher son.
The China Mission: George Marshall's Unfinished War 1945–1947 by Daniel Kurtz-Phelan (2018). President Truman dispatched General Marshall to negotiate peace in the Chinese Civil War, a mission that tragically failed.
Safe Passage: The Transition from British to American Hegemony by Kori Schake (2018). Here we learn how America, with Britain's cooperation, first arose as the chief global power and expositor of democratic values.
American Power and Liberal Order: A Conservative Internationalist Grand Strategy by Paul Miller (2016). Miller offers a realist and values-laden perspective on America's role in maintaining peace and democracy.
Separate: The Story of Plessy v. Ferguson, and America's Journey from Slavery to Segregation by Steve Luxenberg (2019). Here's a fascinating overview of the major characters behind the 1896 Supreme Court case that tragically affirmed racial segregation, focusing chiefly on the lawyer who fought it and the dissenting justice he persuaded.
What are your favorite fiction books?
Unashamedly I haven't read fiction for more than 30 years, since college! Not enough time. During college I most enjoyed William Faulkner. In my boyhood and youth I enjoyed John LeCarre spy novels like Tinker, Tailor, Soldier, Spy, Frederick Foysyth's international thrillers like Day of the Jackal, and political dramas by Fletcher Knebel (like Seven Days in May) and Allen Drury (like Advise and Consent). I also enjoyed classics like Count of Monte Christo by Alexandre Dumas, Les Miserables by Victor Hugo, The Scarlet Letter by Nathaniel Hawthorne, and Last of the Mohicans by James Fenimore Cooper.
What books have most influenced your thinking about religion in the public square?
In college during the 1980s I read Michael Novak's Spirit of Democratic Capitalism, which made the then-bracing Christian case for democracy and free markets against statism and liberation theology. Later I took a course with Novak, and then I joined the staff of the Institute on Religion and Democracy, which he helped found. He sat on the board from the beginning until my presidency. So he shaped both my thinking and also my vocation. Another IRD founder, Richard Neuhaus, whom I was also privileged to know, was a big influence. His last book, American Babylon: Notes of a Christian Exile, explaining his duel loyalties as Christian and American, was my favorite.
What's the last great book you read?
Politics in the Order of Salvation: Transforming Wesleyan Political Ethics by Theodore Weber (2001) is a unique explanation of Methodist political theology. It's unique because Methodists are by nature doers and not theorists. Weber outlines John Wesley's understanding that each person carries God's political image, which was corrupted but not erased by the fall. This political image divinely authorizes each individual to participate in politics, ideally seeking political orders that imitate divine justice and love. It explains centuries of Methodist reform-minded political witness.
When I recently reread it, I was struck by its coherent beauty, and I realized how I had intuitively shared this Wesleyan political understanding nearly my whole life as a Methodist without having heard the theory explicitly explained. It naturally flows from Wesley's emphasis on divine grace's universal availability, which I believe is intrinsically democratizing and socially ennobling.
Is there a page from a book that changed your life?
Yes, and it's a very un-Methodist story. In college I became more serious about Christian faith through my own reading and under the influence of a revivalistic preacher. I wondered if I were truly saved. Roaming through the Georgetown University Library I randomly, or providentially, pulled Calvin's Institutes from the shelf, and opened to a reassuring passage. He said someone who struggles with salvation has largely won the battle, as the lost person would be indifferent. For me then the question was answered and settled.
What's one book you wish every pastor read?
The Burning Heart: John Wesley: Evangelist by A. Skevington Wood (1978) is an excellent introduction to Wesley's passion for saving souls and transforming society.
What are you learning about life and following Jesus?
I'm always seeking to learn more about what serving Christ means politically and what God intends for government. Amid contemporary partisan differences, Christians should be able to identify timeless principles about statecraft that are rooted deeply in historic Christian teaching. The late Peter Berger warned that to distort the church's political witness is to distort the public face of Christ, which is a somber warning indeed.
Get a FREE eBook to strengthen your family discipleship!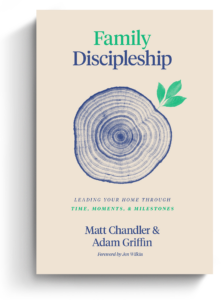 The back-to-school season is stressful for moms and dads. New rhythms of school, sports, and other extracurricular activities can quickly fill up a family's already busy calendar. Where do busy parents look for resources on discipling their family well? Aside from prioritizing church, what else can Christian parents do to instill healthy spiritual habits in their household?
Matt Chandler and Adam Griffin cover these questions and more in Family Discipleship: Leading Your Home through Time, Moments, and Milestones. And we're excited to offer this book to you for FREE as an eBook today.
Click on the link below to get instant access to your FREE Family Discipleship eBook now!