Books, conferences, support groups, accountability software—there is no shortage of resources designed to help Christians struggling with lust. Is there really a need, then, for another book on the topic?
Heath Lambert's Finally Free: Fighting for Purity with the Power of Grace (Zondervan) may not be unique in aim, but it is in approach. How does the good news of Jesus practically speak to the problem of porn? Lambert identifies eight gospel-grounded strategies that give those caught in porn's grip both the fuel and also the roadmap for change. Biblically informed, grace-saturated, and practical throughout, Finally Free meets weary sinners where they are and offers hope for change. Few books truly deserve the designation "must read." This is probably an exception.
I corresponded with Lambert, assistant professor of biblical counseling at Southern Seminary and author of The Biblical Counseling Movement after Adams (Crossway, 2011) and Counseling the Hard Cases (B&H, 2012) [interview], about what he's after in this book, why porn feels more enslaving than other sins, and more.
---
There are a lot of books out there on sexual purity. What's unique about Finally Free?
There are three things that separate Finally Free from the rest of the pack.
First, it is gospel-centered. So many of the books about sexual purity say they're centered on the gospel, but when you read them you don't hear the gospel. You hear secular theories about felt needs, moralism, or guilt-motivation instead. None of these is ultimately helpful because none offers the power of God to change found in the gospel of Jesus (Rom. 1:16). I was determined in Finally Free to provide a clear presentation of how the gospel empowers people to change, from the first page to the last.
Second, it is practical. After you throw out the books that aren't gospel-centered, you're left with a few truly faithful books that point people to God's grace as the key to change. In each of those books, however, I usually found they weren't as practical as they needed to be. Guys fighting for purity will feel hopeless if you talk about grace but fail to show how that grace gets up and walks around in their struggle. In my ministry I needed a resource that was as practical as it was grace-saturated. I pray Finally Free is that resource.
Finally, the book is free of immoral and crude language. Some of the bestselling books on pornography and purity are actually full of shocking material. I know dozens of men who got introduced to more pornography because they found out about it in those books. Finally Free is a frank discussion about sexuality and porn, but I avoid impure or crass speech.
Why does porn tend to feel so much more enslaving than other sins?
All "life dominating" difficulties feel enslaving to the people who struggle with them. Women who cut themselves or make themselves throw up feel enslaved to the problem. Guys who struggle with homosexual temptation feel enslaved to a problem they don't know how to combat.
Struggles with pornography are like these and many others. But porn is unique because it is, I suspect, much more prevalent. For guys struggling with porn, the enslaving elements are found in two areas. First, sexual sins have a unique ability to enslave (for biblical-theological reasons I don't have space to unpack here). Second, porn hides in the dark. When you combine the sexuality and the secrecy of porn you have an enslaving combination. This means one of the most important things guys can do to break its enslaving power is the one thing they often sense they cannot do—expose the darkness to the light. This is hard, but Jesus will empower you to do it when you ask him for his help.
You write, "Some of you [are] so submerged in a pornographic lifestyle that the gospel teaching at the beginning [of the book] will best take root after you have taken some steps to remove porn from your life." What are some of these radical measures you suggest?
I go into a lot of detail about this in the book, but we need to take radical measures in three basic areas.
First, we need to take radical measures to remove the anonymity of porn. That means we need to be honest with someone of the same sex about our problem, and everything about it. We need to be honest about how much of a problem it is, and how regularly we look at it. We need to invite their intervention in our life to eradicate it.
Second, we need to take radical measures to remove the availability of porn. One of the first things people need to do is make it as hard as possible to view porn. There are tons of options these days, from password protections on TVs, computers, and phones to blocking and filtering devices.
Third, we need to take radical measures to remove our appetite for porn. This is the big one. Ultimately we can bypass the previous measures if we really want to. If we truly desire to be different then we must work—over time, and by grace—to end our desire for pornography. The only way to do this is to grow in our passion and zeal for Jesus. This is one of the things I labor carefully to explain in the book.
If you were given two minutes to address every young Christian man in the world today on this topic, what would you say? 
Two things.
First, you can change. I want to tell you this, because if you've had any kind of struggle with porn for any length of time then you likely wonder if this is true. You must believe, however, that you can change. Jesus did not come merely to get us into heaven. He came to make us like himself. Jesus has given you his Holy Spirit to make you holy. This isn't usually easy or quick, but it is real. You must believe you're not stuck in a struggle you're bound to lose, but that freedom from this sin is possible.
Second, you need help. There is one thing standing between you and the change I just mentioned: whether you will reach out for help. Reach out for help right now. Ask Jesus to help you, to forgive you, and to give you power to be different. When you draw near to him in faith he will never turn you away. After that, reach out to another person of the same sex who has some wisdom. Pick up the phone or send a text and say you need to talk as soon as possible. Though that step can seem hard, making it is the first step towards the purity for which you long.
Get a FREE eBook to strengthen your family discipleship!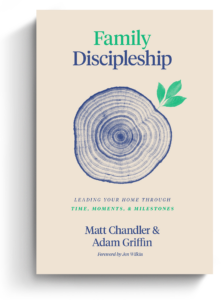 The back-to-school season is stressful for moms and dads. New rhythms of school, sports, and other extracurricular activities can quickly fill up a family's already busy calendar. Where do busy parents look for resources on discipling their family well? Aside from prioritizing church, what else can Christian parents do to instill healthy spiritual habits in their household?
Matt Chandler and Adam Griffin cover these questions and more in Family Discipleship: Leading Your Home through Time, Moments, and Milestones. And we're excited to offer this book to you for FREE as an eBook today.
Click on the link below to get instant access to your FREE Family Discipleship eBook now!