Editors' note: This article was adapted from a new book published by Crossway under the TGC imprint, 15 Things Seminary Couldn't Teach Me, edited by Collin Hansen and Jeff Robinson. Order your copy today.
Previously:
---
You might think a seminary president would be the last person to contribute to a book on what a seminary didn't provide for pastors.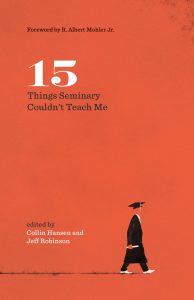 Actually, I welcome the opportunity. I have committed my life to the education of pastors through The Southern Baptist Theological Seminary, and after nearly 25 years of leading it, I am more convinced than ever of the value of a seminary education.
But seminaries do not call pastors. God does. And seminaries do not make pastors. Churches do. Keeping that straight is important.
A good seminary can add immeasurably to a pastor's ministry, and the rigorous study involved in a quality seminary education should be expected of any preacher of the Word of God. The theological disciplines are of crucial importance, and though a faithful pastor will be more than a scholar, the church learned long ago the necessity of a learned ministry. The most faithful seminary envisions itself as a servant of the churches, assisting them in making pastors. The seminary serves the church; the church does not serve the seminary.
Analysis vs. Experience
So we should not be surprised that experienced pastors would be able to detail and document the lessons of ministry that were not learned at seminary. In some cases, this may reflect poorly on the seminary, but in most cases it points profoundly to the centrality of the local church and to the lessons of ministry that can be learned only through ministry to a congregation.
Seminaries do not call pastors. God does. And seminaries do not make pastors. Churches do.
The structure of theological education has developed into a fairly standard pattern—three years of courses separated into biblical, theological, and ministry studies. There is a wealth of wisdom in that structure, which explains why almost every seminary finds its way into the pattern.
The weakest component has always been ministry studies. This is not due to a failure of the faculty, and most pastors look back on those courses as very helpful.
So, what explains the weakness?
It's the important distinction between analysis and experience. I didn't identify the problem as theory as opposed to practice. Ministry studies in the seminary are not merely theoretical. But there is no teacher of ministry like the local church. The preacher should learn a great deal about preaching in the seminary, but he will become a true preacher only through the call and experience of preaching the Word to a congregation. In the best context, this means a senior pastor taking younger pastors under his care and teaching—the congregation invested fully in the perpetuation of a gospel ministry.
War Is Learned at War
There are ample analogies. The United States Military Academy at West Point exists for good reason, but officers are made by leading troops and fighting battles. I wouldn't want to have surgery at the hands of a physician who had not graduated (with high honors) from a good medical school. But I'd also want to know the surgeon had trained with the best doctors in residency and had performed the procedure many times. You get the point.
I would actually be interested in reading a book of essays by veteran army generals on what they did not learn at West Point. It might be that West Point would gain some important information from such a book and take it to heart. My guess is that most of those essays would look back to West Point with deep appreciation and affection, while understanding that some lessons have always been learned only in the crucible of war. I'll also bet that those generals would be incredibly glad they didn't go to battle without that West Point education.
And so it is with the Christian ministry.
Urgent Lessons
Though a faithful pastor needs an education in exegesis, he is made in the preparation and delivery of sermons to the people of God. He needs the theological studies gained in seminary, but that theology is eventually hammered out when the pastor is called to preach the funeral of a child. A background in hermeneutics and homiletics is vital, but the preacher discovers his real method of interpretation and his real understanding of preaching when deciding how to preach a specific text to a specific people—and then preaching to the same congregation again and again and again.
I would read the What West Point Couldn't Teach Me book with genuine interest. You will read 15 Things Seminary Couldn't Teach Me with nothing less than urgency. Don't miss a single lesson to be learned—but keep in mind that every pastor learns the most important lessons only through years of ministry. At the same time, learn as much as you can before you hit the battlefield. It matters.