Editors' note:
The Bible calls Christians to always be prepared to give an answer to those who ask for the reason of the hope within us (1 Peter 3:15). And so, from the very beginning of church history, Christians have publicly and privately labored to show the reasonableness of our faith against the objections of skeptics.
In the last century, Christians debating the relationship between reason and faith have divided into sometimes warring camps of classical, evidential, and presuppositional apologetics. If you're wondering how these views relate, then this week's series of five articles is for you. The Gospel Coalition welcomes apologists and pastors who will define, critique, and defend particular methods commonly used among Christians. But we don't want to stop at method, as if apologetics were just meant for the lab. We also hope to provide resources to not only firm up your grasp of the debates, but also to put apologetics into practice in preaching and evangelism.
While a philosophy and divinity student at Trinity Evangelical Divinity School, I organized and moderated a debate between two of my professors—-philosopher Stuart Hackett and theologian Carl F. H. Henry. Hackett, a self-proclaimed "rational empiricist," argued that we can, in principle, evaluate the truth or falsity of worldview claims by certain neutral criteria. Henry, a presuppositionalist, claimed his epistemological starting point is the Bible; we need a sure Word rather than the mere probabilities of theistic arguments.
Presuppositionalism is common in Reformed circles. Cornelius Van Til, called the "fountainhead of presuppositionalism," argued that one must begin with biblical revelation; otherwise, "logic" and "evidence" will become distorted to accommodate the suppression of truth in unrighteousness. Others like Gordon Clark, Greg Bahnsen, and John Frame have generally followed Van Til's methodology—-although in variegated fashion (which makes a brief assessment of presuppositionalism difficult). For example, Frame asks: "Are we not still forced to say, 'God exists (presupposition), therefore God exists (conclusion), and isn't that argument circular?'" He answers, "Yes, in a way."
Elsewhere he says, "If Scripture is the ultimate justification for all human knowledge, how should we justify our belief in Scripture itself? By Scripture, of course!"
Frame argues that we all have presuppositions, and if we assume that reason can be used to assess worldviews, then we are operating by rationalism, which itself begs the question (i.e., is circular). Since there is no presupposition-free zone, one can legitimately "presuppose" the Christian faith to make sense of reality and engage with alternative worldviews.
As I see it, presuppositionalism has the following strengths: its emphasis on (a) the noetic influence of sin (sin's effect on the mind); (b) the non-neutrality of worldviews (they are heart-commitments); and (c) the need for the Spirit's work for faith to take root in one's heart. I would also disagree with presuppositionalism at certain points.
First, it engages in question-begging—-assuming what one wants to prove. It begins with the assumption that God exists, and then concludes that God exists. Such reasoning would get you an "F" in any logic class worthy of the name! [Note: For a broader critique of Frame's starting points, see Harold A. Netland, "Apologetics, Worldviews, and the Problem of Neutral Criteria," Trinity Journal 12/1 (Spring 1991): 39-58.]
While we begin our worldview examination from somewhere, universal logical laws like the law of non-contradiction or excluded middle are inescapable for assessing and critiquing worldviews. In his debate with Henry, Hackett said that without some set of "neutral criteria" that are logically prior to consent or commitment to a particular worldview, "there is no way to show that one worldview perspective is more plausible than another" since both parties are "starting from totally different assumptions." Indeed, the statements of Scripture themselves presuppose the validity of logical laws of non-contradiction and excluded middle; they also appeal to criteria beyond Scripture—-the court of appeals of historical evidence for Jesus' resurrection (1 Cor. 15:1-19)—-things that were not done in a corner (Acts 26:26).
Second, Christians share common ground with unbelievers, who are likewise made in God's image, which is not erased by the fall. Someone has said, "A person who believes in total depravity can't be all that bad!" Yet in some Reformed circles, the doctrine of total depravity seems to leave no trace of the imago Dei. The Scriptures affirm otherwise (Gen. 9:6), and God can and does speak to unbelievers through reason, beauty, moral failure, and the existence of evil. As a cloud of apologetical witnesses can testify, God has used philosophical arguments for his existence, scientific supports for the universe's beginning (Big Bang) and its fine-tuning, and historical evidences for the resurrection of Jesus to assist people in embracing Christ—-just as God uses the preaching of the gospel (Romans 1:16) or the loving character of a Christian community (John 13:35). These are all part of the holistic witness to the reality of God and the gospel, all of which the Spirit of God can use to lead unbelievers to embracing Jesus Christ.
Third, some (not all) presuppostionalists seem inconsistent about natural theology. Philosopher Alvin Plantinga  describes the attitude of Reformed theologians toward theistic arguments as ranging from "indifference, through suspicion and hostility, to outright accusations of blasphemy."
Typically, these presuppositionalists (e.g., Bahnsen) avoid traditional cosmological (causal), teleological (design), and moral arguments, but they enthusiastically endorse the transcendental argument for God (TAG)—-the argument to show that God is the inevitable ground for all rational thought. This strikes me as a distinction without a difference: why couldn't God use TAG just as he uses other natural theological arguments? Furthermore, why the Christian God and not the God of the Qur'an as the ground for rational thought?
Fourth, it is important to distinguish between the confident ground of our knowledge of God and the highly probable public case for the Christian faith. The witness of the Spirit—-not a host of intellectual arguments—-is what ultimately gives us confident knowledge that we belong to God (Rom. 8:15-16; Gal. 4:6-7; 1 Jn. 2:20), yet this does not exclude the Spirit's using highly probable or plausible public evidences for God's existence or for the resurrection of Jesus. Knowledge in one area does not exclude knowledge in another. Having warrant for belief (by the Spirit) is not the same as showing my belief is warranted (using evidence and reason).
Christian philosopher Mortimer Adler exemplifies having a sufficient intellectual knowledge that the Christian faith is true, but he did not yet put his trust in Christ for his salvation. By God's grace, however, he moved from the conclusion of "a merely philosophical theology to a religious belief in a God that has revealed himself as a loving, just and merciful Creator of the cosmos, a God to be loved, worshiped and prayed to."
Arguments for God and the Christian faith were important groundwork in Adler's pilgrimage, opening the door for embracing Christ at a later stage.
These then are my concerns with presuppositionalism. Though it gives us important insights, it falls short at a number of points as a viable apologetical methodology.
Get a FREE eBook to strengthen your family discipleship!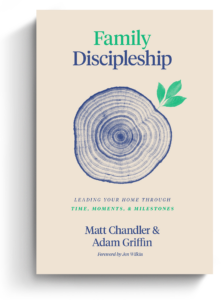 The back-to-school season is stressful for moms and dads. New rhythms of school, sports, and other extracurricular activities can quickly fill up a family's already busy calendar. Where do busy parents look for resources on discipling their family well? Aside from prioritizing church, what else can Christian parents do to instill healthy spiritual habits in their household?
Matt Chandler and Adam Griffin cover these questions and more in Family Discipleship: Leading Your Home through Time, Moments, and Milestones. And we're excited to offer this book to you for FREE as an eBook today.
Click on the link below to get instant access to your FREE Family Discipleship eBook now!