It was probably because David Fugoyo finished at the top of his class.
So it wasn't hard to see his potential—a bright, studious kid from the wrong side of Sudan who had scrambled his way up through private high school and was making his way through Bible college in Khartoum.
"When we were getting to our last semester, there was a couple who came from California to teach," he said. "I already had in my heart I really wanted to study to do a masters, because I wanted more knowledge so I could be in a better position to teach in a church one day."
Dennis and Trevecca Okholm were teaching at Nile Theological College (NTC) short-term; Dennis was employed by Azusa Pacific University and Trevecca by a PC(USA) church in California.
One day, after dismissing the students for a short break, Trevecca called Fugoyo back. "She said, 'My husband and I were discussing you last evening. We have seen in you the ability [to get a graduate degree]."
She told him about Nairobi Evangelical Graduate School of Theology (NEGST), which had been founded in Kenya in 1983. The Okholms had also told Fugoyo about a graduate student who had lived with them in Illinois while he attended graduate school at Wheaton College. (Both Dennis and Trevecca have degrees from Wheaton, and Dennis taught theology there for 14 years.)
Immediately, Fugoyo embraced the idea of studying in Kenya rather than traveling to the United States.
"I want to go to Nairobi Evangelical Graduate School of Theology (NEGST), because the masters classes there are taught from an African perspective, and I know I'm going to work among Africans," he told her. "I need something really relevant to Africa."
"She looked in my eyes and said, 'David, now I understand God is calling you, because so many people want to go to the United States for any reason. But you said no, so it must be God.'"
"I think so," he told her.
Today, Fugoyo leads a growing Ugandan university focused on educating Christian leaders in sub-Saharan Africa. But his ambition is even bigger: to bring Christian higher education to South Sudan, site of one of the world's worst humanitarian crises.
Growing Up
Fugoyo was born in what is now South Sudan, growing up in Yambio, a town a little more than 20 miles from the Democratic Republic of the Congo. In the 1980s, the area was undeveloped—there were no good roads or electricity, and Fugoyo and his four siblings had to haul water from a nearby stream.
The lack of development wasn't an accident. Before 2011, the southern third of Sudan was inhabited mostly by poor Christians of African ancestry, ignored or harshly treated by the government concentrated in the top of the country, which was wealthier, Arab, and Muslim.
The two sides of the country had been fighting almost constantly ever since it gained independence from British-Egyptian rule in 1956. Two civil wars—one more than three decades long—drained resources and killed thousands, leaving the south in even worse shape.
But Fugoyo's father was hard-working and ambitious. He knew what the future would hold for his five children if they didn't get out of the war zone and into school. So in 1988, he took his family to Khartoum.
At least, that's what he tried to do.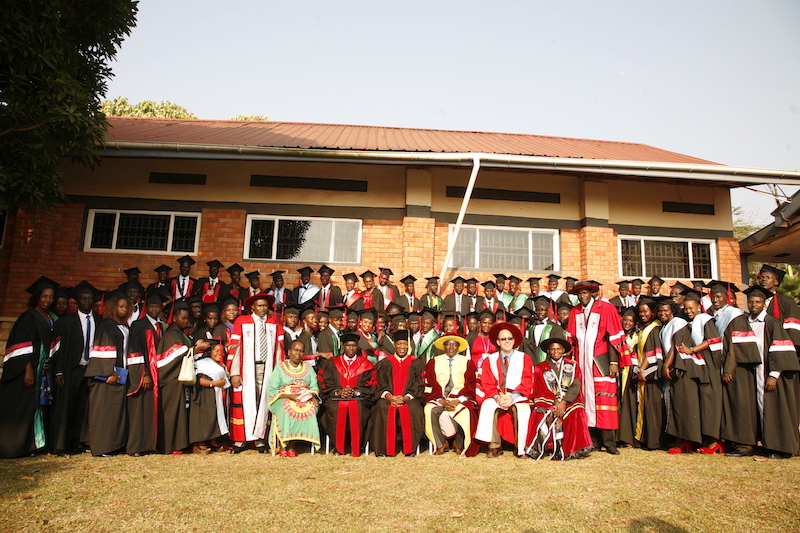 Left Behind
After working for several years to prepare a place, Fugoyo's father returned to southern Sudan to pack up his family. The roads were dangerous with both rebels and the government militia, which stole, raped, and killed their way across southern Sudan from 1983 to 2005.
To escape, the Fugoyo family would take a military caravan to Juba, then a cargo plane to Khartoum.
But Fugoyo's mother, Margaret, wasn't quite ready. She worked in a local hospital, training nurses and midwives, and had a few more things to take care of. She told his father to take the kids and go ahead; she'd be along in a few days.
But a few days passed and she didn't come. And then a few more. And then the news came over the radio—rebels had taken Yambio.
With the roads closed, there was no way for the family to return for Margaret. It would be months before they'd hear through the Red Cross that she had fled to a refugee camp in Central African Republic (CAR). Two years later, in an auto accident, she would die there.
Khartoum
"Only God, who is able to heal, helped us through," Fugoyo said of his mother's death. "Nothing else."
The family settled into the capital city, which felt like a foreign land.
"Everything was in Arabic," said Fugoyo, who didn't yet even know the Arabic alphabet. "In southern Sudan, almost everyone was a Christian, but in northern Sudan, everyone I knew was a Muslim. There were mosques everywhere. It felt like a different country."
But slowly, he adjusted. He figured out how to work the faucet, and how to plug things in. He learned how to cross the street without being run over, and joined a youth group at a church.
Originally, Fugoyo wanted to get into medicine, but gradually theology turned his head. "I really wanted to serve God," he said. "I wanted to understand God's Word so I could teach others."
Instead of enrolling at Wheaton, Fugoyo signed up for classes at NEGST (now Africa International University) in Nairobi, Kenya. He earned a masters and a doctorate there, paid for by a combination of the Okholms' church, scholarships, and John Stott's Langham Scholars.
"I am not studying for the sake of studying," Fugoyo told Langham in his request for funding. "I am here in Uganda for a few years, but I have a vision of opening a Christian college in South Sudan to train church leaders."
South Sudan
While Fugoyo was away at graduate school, his country was born.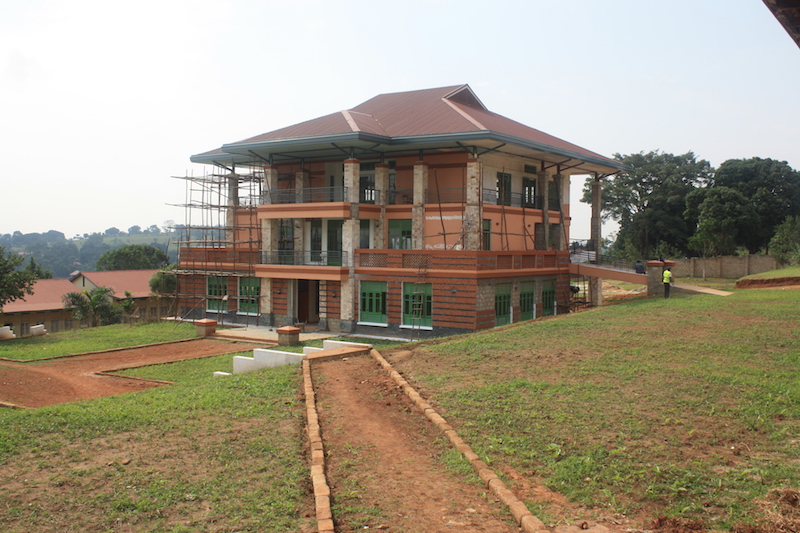 In 2011, the South Sudanese—with assistance from the United Nations—cut themselves loose from Sudan. On their independence day—July 9—the celebrations started at midnight, with dancing and crying and screams of joy. After decades of fighting and negotiating, they were free. The primarily Christian nation was starting a new life, finally safe from the persecution and neglect of the majority-Muslim Sudan.
But just five weeks after Independence Day, the peace began to unravel. Ethnic fighting destroyed seven villages and killed 600 people. Five months later, 100,000 fled, escaping still more warring clans. The decades of war with Sudan had left the brand-new country overrun with weapons and men returning from battle, looking for the means to survive and start a family. Setting up a new government put power up for grab. Conflict was inevitable.
Without a common culture or a vision beyond opposition to Sudan, the country had no identity or purpose to unite it.
Over the past three and a half years, warring parties have raped and killed tens of thousands. More than 3 million—nearly 70 percent of them children—have fled their homes, making South Sudan the world's fastest-growing refugee crisis, according to UNICEF. Oil production has dropped off steeply, and farming has been disrupted. Famine has already been declared in two of South Sudan's northern counties.
"Left to its present trajectory of displacement and famine," Payton Knopf, former coordinator of the UN Panel of Experts on South Sudan, wrote in May, "roughly half of South Sudan's population will have died of starvation or fled the country by the war's fourth anniversary in December—an occurrence nearly unprecedented in modern history."
Africa Renewal University
With the new country in turmoil, Fugoyo delayed his plans to return. But he did move closer.
While Fugoyo was earning his doctorate, one of his friends asked him to teach a short summer course at the Gaba Bible Institute—then Africa Renewal Christian College (ARCC)—in Kampala, Uganda.
Only three years old, ARCC was led by American Jeff Atherstone. A missionary from Francis Chan's Cornerstone Community Church, Atherstone came to Uganda to train pastors, and began by moving from village to village all week long, teaching the same lesson to different groups.
"It was a lot of time traveling and not a lot of time establishing relationships or discipling—just teaching, teaching, teaching," Atherstone said. So when the brand-new Gaba Bible Institute asked him to be their academic dean, he jumped on board. Two years later, he became the president—or, in local parlance, "vice chancellor."
The school began to grow, and in 2010 it connected with John Piper's Desiring God ministry and The Gospel Coalition. (In the past five years, it has partnered with TGC to distribute around 8,000 books to Ugandan church leaders through the Theological Famine Relief effort.) Eventually, the university adopted TGC's confessional statement as its own.
Atherstone took the school to full accreditation, adding bachelors degrees—in areas such as child development, community health, business administration—and renaming the whole thing Africa Renewal University (ARU). The number of students soared from 35 in 2007 to about 70 in 2010 to close to 550 today. This summer, the school graduated its first class to earn bachelors degrees.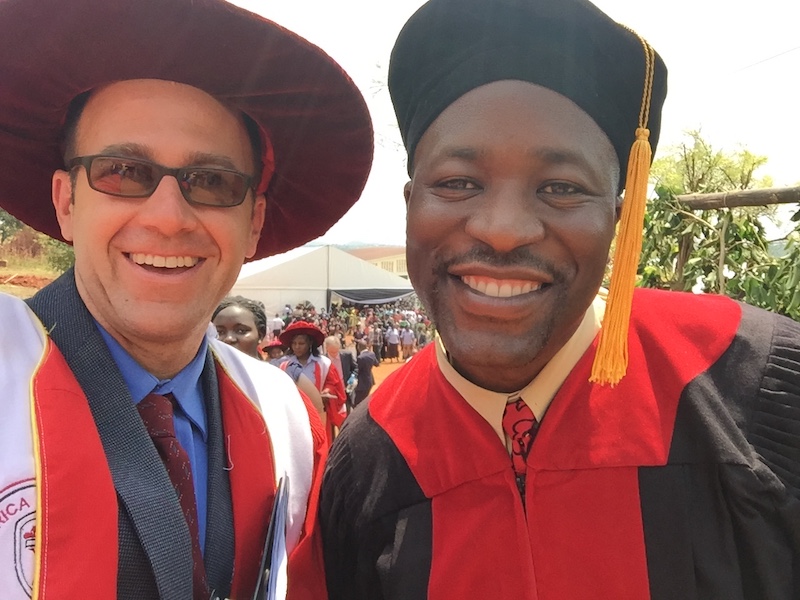 The curriculum for every class—from business to disabilities studies to social work—was written from a Christian perspective. Atherstone was also hiring up all the Christian PhDs he could find, which, in Uganda, wasn't many.
So he was thrilled when Fugoyo accepted a position leading the theology department at ARU. The next year, Fugoyo was promoted to deputy vice chancellor. And in 2015, when Atherstone had to return to the United States for his wife's health, Fugoyo took over as vice chancellor.
"There are so many challenges, with staffing and finances and construction," he said. "It's a struggle, but I am loving it because I am learning a lot."
Looking Toward Home
Fugoyo still has his eye on South Sudan, where his siblings live, and where his father is a senior government official for Yambio county. After his five-year contract at ARU runs out, he would love to finally start his school there.
Atherstone is looking that way, too.
"After a civil war, after a disaster, how does a country rebuild?" he said. "Christians should be the first ones in."
If South Sudan can stabilize the violence, then its openness to Christianity and its geography—as part of the "tension belt" between the primarily Christian sub-Saharan and the majority-Muslim north—make it strategic for gospel work, Atherstone said.
Until then, Fugoyo and ARU are educating any South Sudanese students who can afford to come. And despite the atrocities that aren't slowing down in his home country, he has hope.
"Every day, I tell myself, God is in all this," he said. "It is him who designed it."
---
Editors' note: TGC International Outreach is working to provide 100,000 free gospel-centered resources for English-speaking African church leaders through its Theological Famine Relief initiative. Learn more and consider making a donation to this important project. The first $25,000 will be matched dollar for dollar.