One of the things that keeps us from praying is simply this: we fail to recognize how utterly desperately we need God's help.
As Paul Miller, the author of A Praying Life, points out, if you are not praying it may well be because "you are quietly confident that time, money, and talent are all you need in life to overcome."
Of course, we don't verbalize it in those brazen terms. It would sound weird and wrong if we actually said it out loud. But when we're honest, that's often what we believe in our hearts. We excuse our prayerlessness by saying we are too tired or too busy. And we let ourselves off the hook with that because, in our heart of hearts, we don't think we actually need to pray. Enough time, money, and talent, and you can sort things out.
Until something in your life reveals that you can't.
Parenting Humbled Me
For me, the area of life that exploded my DIY approach was parenting. When I first became a parent 17 years ago, I read every possible book on parenting I could get my hands on. My philosophy was this: if I can become an expert at Christian parenting, then I will be able to guarantee that my kids will turn out right. (Parents, I can hear you laughing from here.)
We excuse our prayerlessness by saying we are too tired or too busy. We don't think we actually need to pray.
The book that crushed this philosophy was called Give Them Grace by Elyse Fitzpatrick. She points out that most books on Christian parenting have the philosophy of giving you the principles and saying (usually implicitly and sometimes explicitly), if you do A, B, and C, then your kids will turn out well. I was thinking, Exactly. That's exactly what I'm looking for, Elyse. Give me A, B, and C. Shoot, I'm ready for the next-level stuff, so if you've got D and E, lay 'em on me.
But then she points out the problem with this approach. God is a perfect Father. Yet one-third of the angels he made rebelled (Rev. 12:4). The only two humans he directly created both rebelled. And she asks whether I, the reader, think I can out-technique, out-principle, out-parent God.
She contends that the really dangerous problem with this kind of thinking—that we can DIY Christian parenting—is that it keeps us from the one thing we most desperately need, and that is to daily cast ourselves down at the feet of Jesus, looking to him for his mercy in our kids' lives to do what we cannot do. She concludes, "I did my best parenting by prayer."
The Bible tells us that "cursed is the man who trusts in man and makes flesh his strength" (Jer. 17:5). Ironically, one of the ways we can "trust in man" is by thinking that mastering biblical wisdom guarantees a healthy spiritual life. But Jesus did not save us by teaching us principles; he saved us by offering us resurrection power.
Jesus did not come down to impart a manual for us to live by, but a Spirit to live in and through us. It is a tragedy to master the principles and then forget the relationship that gives them life. The apostle Paul said that this is "a form of godliness that lacks the power thereof" (2 Tim. 3:5, KJV).
Our Only Hope: God's Grace
Do principles matter? Of course; learn them. But most of all, cast yourself on the mercy of God in prayer.
Our only hope—for ourselves, for our families, for our churches, for our communities—lies in God's grace. Not in our efforts or abilities. Not in our techniques or our biblical principles. You're likely nodding along to that. But do you believe that?
Because if you do, you will pray, and you will keep praying.
Your prayers will have a tone of desperation, because you know that what you most want, you cannot do. This realization has done more to drive me and my wife, Veronica, to pray together for our kids than any set of principles or disciplines. For years, we struggled to pray together consistently. Now we've got four kids, three of whom are teenagers. We pray together all the time. It's not discipline; it's desperation. I call my teenagers my "North Korean leaders"—smart enough to make nuclear bombs but not mature enough to handle them. Prayer is our only hope.
So consider your need of God. Consider it until you are desperate. That will get you praying, and praying regularly.
Get your FREE 7-day devotional!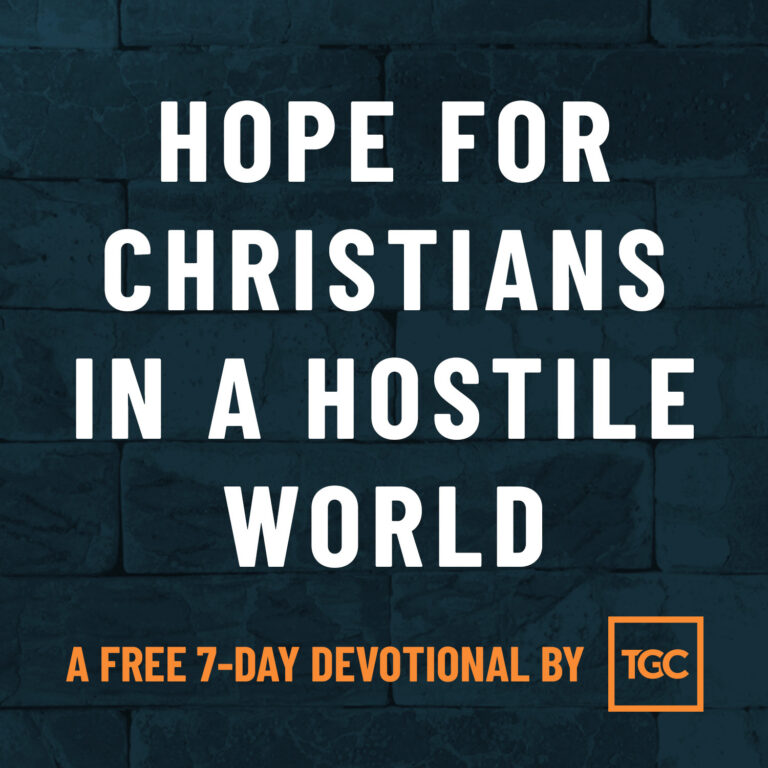 God's people have always been strangers and sojourners in this world. Do you feel that way, too?
You're not alone. Since the church's beginnings, Christians have often felt ostracized. And the Bible offers great encouragement for how to live with hope.
If you're feeling the weight of cultural exile today, our new 7-day devotional, Hope for Christians in a Hostile World, will encourage you.
If you sign up for this FREE resource, we'll send you an email each day for a week with a daily devotional featuring Bible readings and reflections written by TGC staff and friends.