Is it always God's will to heal the sick? Some argue that everything necessary for the healing of our bodies was achieved by Christ on the cross. God's already done everything he'll ever do to make it possible for you to experience physical healing. If you're not healed, it's not because God doesn't will it, but because you don't believe it. Healing has been secured for us in the atonement—and is ours to either ignore or lay hold of in faith.
The primary biblical passage cited in this regard is Isaiah 53:4–5, which is quoted in Matthew 8:16–17 and applied to physical healing:
Surely he has borne our griefs and carried our sorrows; yet we esteemed him stricken, smitten by God, and afflicted. But he was wounded for our transgressions; he was crushed for our iniquities; upon him was the chastisement that brought us peace, and with his stripes we are healed. (Isa. 53:4–5)
So how does the atonement relate to sickness, and how does sickness relate to sin?
Sickness and Sin
Certain authors insist that in some sense God not only made Christ to be sin for us, but also made him to be sick for us. Christ vicariously endured our diseases as well as our iniquities. Simply put, Christ bore our sickness in the very same way that he bore our sins.
But there is no guilt in disease or sickness. Having diabetes or a head cold is not sinful. Scripture tells us to pray "forgive us our trespasses" and urges us to "confess our sins," but nowhere does it say we should pray "forgive us our arthritis" or "Lord, I confess that I have the flu." Sickness is not sin. And if sickness is not a sin, how can it incur a penalty?
If sickness is not a sin, how can it incur a penalty?'
Of course, ultimately all sickness is a result of sin, in that Adam's fall introduced corruption and death into the human race. But that doesn't mean every time we fall ill, it's because of a specific sin we've committed. But it does mean that had Adam not sinned, there would be no sickness.
Isaiah 53 uses a figure of speech called "metonymy," in which the effect is shorthand for the cause. Sin is the ultimate cause, of which illness is one among many effects. Jesus bore our sickness in the sense that he was punished for the sin that causes sickness. He carried our pains, not in the sense of personally experiencing stomach viruses and ulcers and earaches and gallstones as he hung on Calvary's tree, but by enduring God's wrath against willful human wickedness which is the ultimate reason pain and infirmity exist.
By his death at his first coming, he has laid the foundation for the ultimate overthrow and annihilation of all disease, which will occur with the resurrection of the body at his second coming (Phil. 3:20–21). Therefore it is theologically misleading to say that Jesus bore our sickness in the same way he bore our sins. Rather he paid the price of sin in order that one day, when he returns to glorify his people, he may wholly do away with sickness.
Healing Through the Atonement
So, is there any healing in the atonement? Of course. Were it not for Jesus making atonement for sin, we would have no hope of healing in any form, either now or later. The redemptive suffering of Jesus at Calvary is the foundation and source of every blessing, whether spiritual or physical.
Perhaps it would be more accurate to say there is healing through the atonement rather than in the atonement, insofar as the atoning death of Jesus is the basis for God healing us. In this way we avoid suggesting that because of Jesus's death we are guaranteed healing in this life.
The question is not whether our bodies are healed because of the atonement of Christ, but when. We experience fellowship with God now because of Christ's atoning death, but we await the consummation of that blessed relationship when he returns. We profit immensely now from the Spirit's work in our hearts, but who would dare suggest what the Holy Spirit is doing in this age is all he'll ever do? There is a glorious harvest reserved in heaven for us, of which the Spirit's present ministry is merely the firstfruits.
The question is not whether our bodies receive healing because of the atonement of Christ, but when.
It's a serious mistake to think every blessing Christ secured through his redemptive suffering will be ours now in its consummate form. All such blessings shall indeed be ours. But let us not expect—far less demand—that we now experience the fullness of blessings God clearly reserved for heaven in the age to come (Rev. 7:15–17; 21:3–4).
So What About Matthew 8:16–17?
What, then, are we to make of Matthew 8:16–17? We're told that Jesus "healed all who were sick," and that "this was to fulfill what was spoken by the prophet Isaiah: 'He took our illnesses and bore our diseases.'"
Are these healings, performed by Jesus, the result of the atonement? Yes. To whatever degree we experience healing in this life, it is the fruit of Christ's atoning death. But it doesn't necessarily follow that where there is atonement there is immediate healing. This passage in Matthew affirms that whatever healing occurs is a result of Christ's redemptive work. But it doesn't necessarily mean that healing will always occur now as a result of that work.
We should never cease to pray for the sick to be healed. We should also give thanks that there is bodily healing for us through, or because of, the atonement of Jesus Christ. And we should acknowledge that whatever healing and health we experience now is a blessing that flows from Calvary's tree. But let us also remember there are certain blessings God intends to bestow in their consummate fullness only when the Lord Jesus returns.
Get a FREE eBook to strengthen your family discipleship!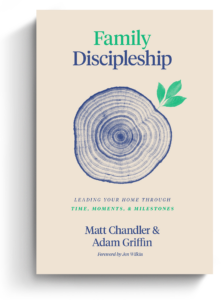 The back-to-school season is stressful for moms and dads. New rhythms of school, sports, and other extracurricular activities can quickly fill up a family's already busy calendar. Where do busy parents look for resources on discipling their family well? Aside from prioritizing church, what else can Christian parents do to instill healthy spiritual habits in their household?
Matt Chandler and Adam Griffin cover these questions and more in Family Discipleship: Leading Your Home through Time, Moments, and Milestones. And we're excited to offer this book to you for FREE as an eBook today.
Click on the link below to get instant access to your FREE Family Discipleship eBook now!