Before You Open Your Bible: Nine Heart Postures for Approaching God's Word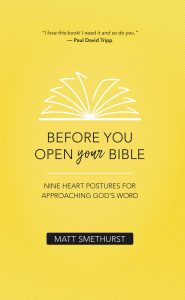 Matt Smethurst
10Publishing
96 pages
Delightful instruction for new and old Christians alike on how to read Scripture most profitably and rewardingly. This is "Bible Reading 101," but it contains important reminders of Scripture's uniqueness, importance, and value for us all. An ideal little book for church-wide distribution.
None Greater: The Undomesticated Attributes of God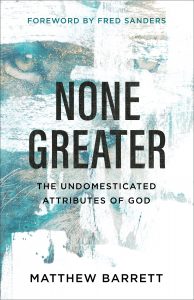 Matthew Barrett
Baker Books, 2019
304 pages
An excellent new book from Matthew Barrett on the greatness and perfection of God. It's a must-have book on the subject. You'll find your mind expanded and your heart stirred. A book of deeply informed theology, and some of the best devotional reading you've read in a long time. Really excellent.
The Doctrine on Which the Church Stands or Falls: Justification in Biblical, Theological, Historical, and Pastoral Perspective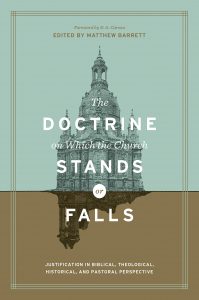 Matthew Barrett, ed.
Crossway, 2019
912 pages
This is the new "go-to" resource—a superb collection of essays on the doctrine of justification and related matters. I can't commend this highly enough. And again I have to say it: a must-have book.
40 Favorite Hymns on the Christian Life: A Closer Look at their Spiritual and Poetic Meaning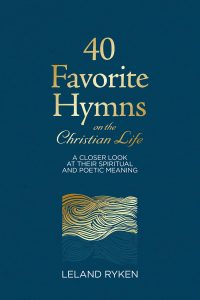 Leland Ryken
P&R, 2019
160 pages
Christian hymnody and hymnology have long been an interest of mine, but this book is a bit different. It's not your "stories of great hymns" kind of book but a brief analysis of 40 great hymns—their poetry, content, musical setting, and so on. A guide to better-informed hymn singing and a great devotional read. I bought several copies to give away. Highly recommended.
The Liberating Truth of Romans 6: Breaking Free from Sinful Habits, Thoughts, and Tendencies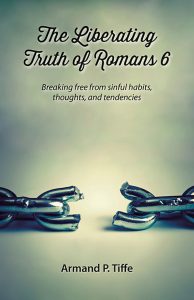 Armand P. Tiffe
Focus Publishing, 2019
28 pages
Romans 6 is a pivotal chapter for the Christian's pursuit of practical godliness, and Tiffe provides a brief but helpful pastoral exposition and application of the chapter as it relates to the believer's struggle against sin. Guided questions follow each chapter for closer personal application. Really good for discipleship and personal use and for small group study and discussion.