What do you call a mom or dad who is now childless? There are words we use, like widow and orphan, to describe others who have lost a family member. But the loss of a child is so uncommon and unexpected that there isn't an English word to describe it. A couple I know lost their daughter on Easter. In the midst of everyone's celebration of new life and resurrection, they mourned their unnamed loss.
Their baby girl, Ella, was a dear patient of mine whom I'd worked with off and on since her birth nearly a year and a half prior. I saw her roll over for the first time; I witnessed as she reached for her favorite toy, a pink Oball; I was part of the audience the first time she blew a kiss; I celebrated her progress. In fact, I fought with the other therapists to see her whenever she was admitted. But she had a complex medical situation, so when she contracted an infection, it overwhelmed her delicate body despite her brave fight.
I loved her.
I mourned. I'm still mourning, months later.
Risking Deep Connection
I am a pediatric occupational therapist. I work in a local hospital helping the littlest of patients grow, develop, play, and heal. I massage tight muscles, mobilize swelling, improve endurance, and promote strength. I have the privilege of working with amazing babies and parents in tenuous situations where length of days is not guaranteed.
How do I work in this job surrounded by sick little ones? How do I perform occupational therapy in the hospital setting knowing that some of my patients won't see adulthood, or even their first birthday? I work in faith. I know that no matter how lengthy a life is, it is full of significance.
Several years ago, I was talking to my parents about the sadness that comes with my job. My dad's wise response has always stuck with me:
As your father, I dislike your job. I hate seeing you in pain. I wish you weren't surrounded by such loss, and I want to protect you from these feelings. But as a father, I want you there. If it were my child in that hospital, I would want someone there who cared as much as you do. So, I both want you to quit your job and work there forever.
The fight between self-protection and deep connection is fierce. Some days self-protection wins out. I see signs of imminent doom in certain rooms: poorly trending lab values, sallow coloring, expanding pumps and machines, and I don't want to get too attached. There were years when I would pull away and not get too close, telling myself I had to separate to continue practicing. But more recently, deep connection has been winning in my heart and actions. This response didn't come naturally. I had to confront my own lament before I could learn to view it as an honor to sit with families at terribly tender times—to provide healing and hope. And to grieve with them.
Hope and Love amid Pain
Ella was well loved, a tiny VIP in our hospital. Her memorial service was so crowded there was no place to park. I was mentally prepared for the somber service until I saw the tiny casket and glimpsed Ella's chubby fingers grasping her pink Oball. It was the toy we'd played with so often in her 17-month-and-three-day life of significance. The toy we used to practice visual tracking, reaching, batting, grasping, and fine motor coordination. The toy I wrote about in my official records of her progress. Suddenly my tears could not be restrained.
Through my tears, I got to hug her crying mom and dad—a real, true, strong, meaningful hug. That hug said that I thought Ella was delightful, and that I really, truly enjoyed her and would miss her. Our physical embrace was the special language of people who had dared to connect to the wonder, joy, and sparkle of Ella's fragile life.
My job involves serving, showing value, and loving well, especially in times of loss. I don't believe I could endure this job without my Christian faith. I would be crushed by the weight of lament. I am better at my job when I feel a deep sense of purpose and connection in my relationships with my patients. Braving pain, showing value, and choosing connection are ways I express my faith at work. I show families through my time, actions, compassion, and therapy that their loved one is important, special, valuable, and cared for.
Ella died on Easter, but there is still hope. There is hope in the resurrection. There is hope in hugs that heal. There is hope in the weightiness of deep connection, especially when it is painful. There is hope when we sit in tender spaces full of fears and questions and choose to bravely enter into another's life and story.
Get a FREE eBook to strengthen your family discipleship!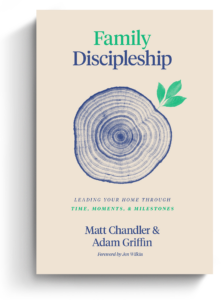 The back-to-school season is stressful for moms and dads. New rhythms of school, sports, and other extracurricular activities can quickly fill up a family's already busy calendar. Where do busy parents look for resources on discipling their family well? Aside from prioritizing church, what else can Christian parents do to instill healthy spiritual habits in their household?
Matt Chandler and Adam Griffin cover these questions and more in Family Discipleship: Leading Your Home through Time, Moments, and Milestones. And we're excited to offer this book to you for FREE as an eBook today.
Click on the link below to get instant access to your FREE Family Discipleship eBook now!