It's been a few months since we moved from our Minnesota home to southern California. My husband and I had discussed the idea of seminary occasionally, but really, he's a North Dakota boy. And while I dreamed of escaping long winters and living near the ocean, I relished our stable life—close to family and friends, invested in our church, settled in a comfortable home, supported by my husband's work as an electrical engineer.
When I realized God might be calling us away, I could see his work in my husband's heart; but as I considered the implications, my own heart sunk. How could I say goodbye to these people who faithfully taught me the gospel, who cared for us in our darkest seasons? How could I take my children away from the stability they'd known? What would I do without my mom?
When we arrived in California, I hoped for some reassurance we hadn't made a big mistake. Instead, I walked through our tiny apartment with tear-filled eyes, wondering how this could ever feel like home.
I wish I could say it's all been improving since, but, honestly, the transition has been hard. There are mornings I'd rather just stay in bed and try again another day. But the Lord is faithful; his mercies are new with every sunrise (Lam. 3:22–23).
Here are four truths he's impressed on my heart as I grapple with all the change.
1. I Am Seen
Social psychologists use the term "embeddedness" to describe the network of relationships we carry within us. Esther Sternberg writes:
Thus a person, sitting by herself in a room, may appear to others to be quite alone; but that person, if embedded, will have a world of relationships mapped inside her mind—a map that will lead to those who can be called on for nurture and support in time of need.
But, she notes, "The opposite is perhaps a more familiar term—we call it loneliness."
There's nothing quite as lonely as being unknown in a crowd.
People here have been kind and welcoming, but it takes time to know others and be known by them. Embeddedness implies our foundation of loving, supportive relationships sustains us in these moments. With every form requiring an "emergency contact," I'm reminded that my support system is now thousands of miles away.
In Christ, however, I am deeply and permanently embedded. Even if I feel invisible among strangers, I am not invisible to the God of the universe. He made me and he sees me (Gen. 16:13). He knows my every thought, my every desire. He redeemed me and he calls me by name (Ps. 139; Isa. 43:1). Jesus knows the pain of loneliness and provides grace in my time of need (Isa. 53; Heb. 4:14–16). And, because of him, I've been adopted and placed within his family (Rom 8:15; Ps. 68:6).
This may not erase the feeling of loneliness, but it reminds me that my relational network extends beyond my physical reality. Jesus is near to the brokenhearted; he's the ultimate friend who sticks closer than a brother (Ps. 34:18; Prov. 18:24).
2. I Am Sustained
In my loneliness and occasional resentment, I forget the gospel. My feelings fluctuate. Therefore, I need the objective means by which God nourishes and sustains me—his Word and his church.
We're never far from 'our people' when we're near God's people.
Homesickness tempts me to stay home on Sundays, but instead I settle into the pew each week, weary and in need of the nourishment of gospel grace. And each week, the Lord provides sustenance. I come hungry and he spreads a feast, inviting me to eat food I haven't paid for and to drink till I thirst no more (Isa. 55:1–2).
Day after day, he sustains me by his Word—the truth on which I must stand, no matter my feelings.
3. I Am Supplied
Loneliness can pale in comparison to stress. My family's once-stable life is now filled with unsettling unknowns.
But the gospel reminds me, as Charles Spurgeon wrote, that "the God who has been sufficient until now, should be trusted to the end." He has promised every spiritual blessing in Christ (Eph. 1). And he's a good Father who takes care to feed the birds—how much more his beloved children (Luke 12:24)?
My family has already experienced God's provision in many tangible ways through his providence and his people, in leaving and since arriving. Though it feels we've left our people behind, it turns out, as someone once told me: we're never far from "our people" when we're near God's people.
4. I Am Called
My husband and I sought the Lord and decided together to move our family. It would be a mistake (one I've frequently made) and a misunderstanding of God's sovereign wisdom to assume he's only called my husband here.
My children and I aren't just along for the ride, awaiting our turn. No, God has appointed good works for me in this place and in this season (Eph. 2:10).
When God called my husband here, he called me too. What that means for me may yet be unclear, but I can cling to what I do know: he who called me is faithful (1 Thess. 5:24). And he will be faithful to you, too.
Get a FREE eBook to strengthen your family discipleship!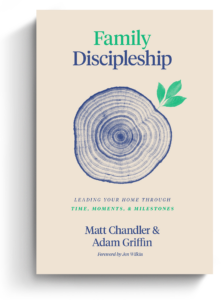 The back-to-school season is stressful for moms and dads. New rhythms of school, sports, and other extracurricular activities can quickly fill up a family's already busy calendar. Where do busy parents look for resources on discipling their family well? Aside from prioritizing church, what else can Christian parents do to instill healthy spiritual habits in their household?
Matt Chandler and Adam Griffin cover these questions and more in Family Discipleship: Leading Your Home through Time, Moments, and Milestones. And we're excited to offer this book to you for FREE as an eBook today.
Click on the link below to get instant access to your FREE Family Discipleship eBook now!