If you were hanging around an NFL locker room in the early 2000s, you'd be getting questionable financial advice.
"Everyone was saying, 'You can't go wrong with real estate,'" remembers Casey Crawford, who was a backup tight end with the Carolina Panthers and then with the Tampa Bay Buccaneers. "I stayed up too late one night to buy a house with no money down."
He laughs at himself, a little sarcastically: "How could that go wrong?"
At first, it couldn't. Crawford started flipping houses in the offseason, then investing in real estate full-time after he finished playing football. He sold his share in two major investments for a profit, though he wasn't happy about it. ("I was pretty sure I'd been taken advantage of and been pushed out of those projects.")
Turned out that bad deal was the best thing that could've happened to his bank account. In 2007, the housing bubble began to break open. ("Had I remained I certainly would've been bankrupted.") Subprime loans began to fail, lenders began to file bankruptcy, and everyone was scrambling to get out of real estate.
Except Crawford.
"I think God is telling me to start a mortgage company," he told his close friend, church planter Stephen Phelan, in 2008. "Will you fast and pray with me about that?"
"Bro, I don't even know if I need to pray about this," Phelan told him. "I just know it's a bad idea. . . . Turn on the television—there's this channel called CNN you need to watch."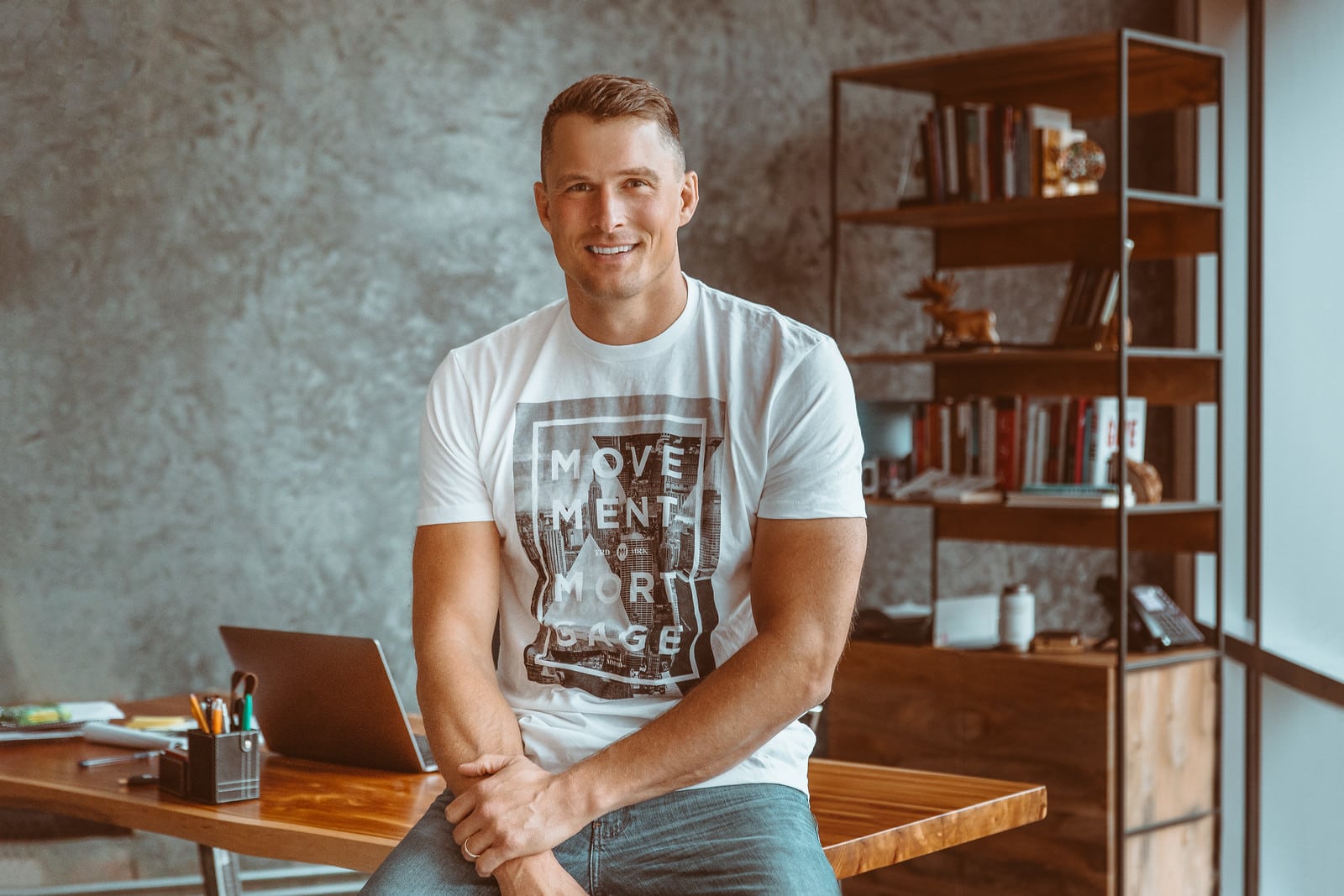 But Crawford was thinking it through. He saw more opportunity in the crisis than just buying low.
"I got more and more of a vision that this was something God was calling me to do—to be a Christ-honoring company where the profits were to see his kingdom extended, not mine," Crawford told TGC.
Crawford found a partner—a Christian real-estate veteran named Toby Harris—and two employees. Then the four of them set an enormous, impossible goal.
"The activities that brought down our economy—clearly we failed to love our neighbors as ourselves," Crawford said. "We wanted to change the way people thought about lending in the U.S."
But "with four people, it seemed pretty ridiculous," Crawford said.
It doesn't seem ridiculous now.
In 10 years, Movement Mortgage has grown to more than 4,000 employees who closed $12.8 billion in loans and brought in $600 million in revenue in 2017.
And they did it using a different paradigm. Movement loves customers by pre-approving them before they start shopping so they know what they can spend, by turning around most loan applications in seven business days, and by offering down payment grants for first-time homebuyers. It loves employees by encouraging them to pay down debt and save money, by providing access to gyms and holding fitness challenges, by hosting Bible studies and worship nights, and by providing access to chaplains and counselors.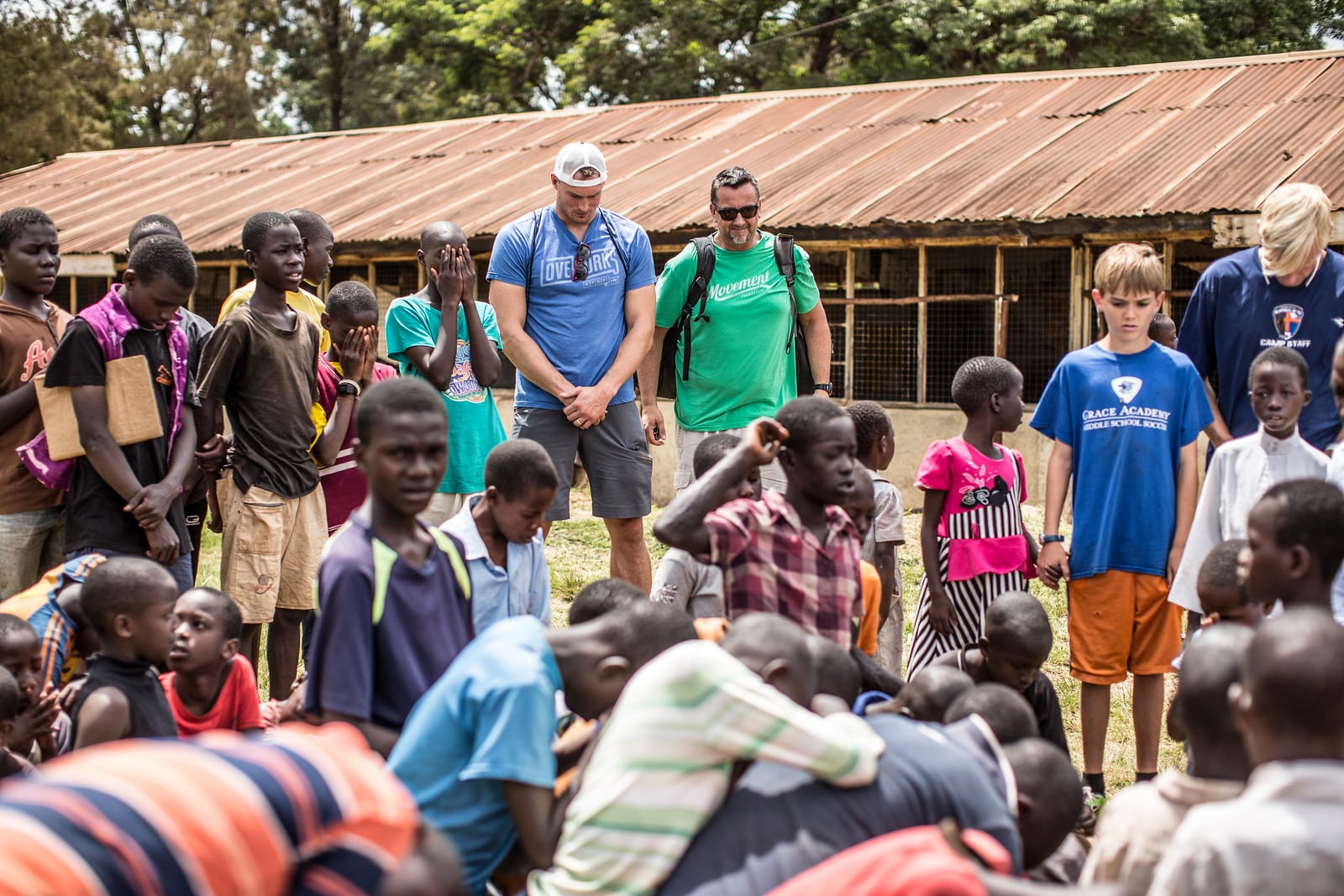 And it loves the larger community by providing a shared space for local charities to encourage collaboration, by opening a charter school for underserved children in Charlotte, and by creating agricultural jobs in Uganda.
"Virtue formation, wealth creation, job creation, and economic capacity building is very evident in Movement Mortgage, which is so very encouraging," said Made to Flourish president and TGC Council member Tom Nelson. The company's approach "reinforces how the gospel profoundly shapes work, entrepreneurship, and economic life."
"In many ways, they've been stealthy in terms of marketing themselves," said Bishop Claude Alexander, senior pastor of The Park Church in Charlotte. "They haven't done it to be known for doing it. They've just done it. Casey is doing what he's doing because he's under orders [from God] to do it."
It's not hard to believe that. Because it would have been hard to find anybody who thought it was a good idea to start a mortgage company in the United States in 2008.
Worst of Times
"A decade later, it's easy to look back and see it was a great time" to start offering mortgages, Crawford said. "It didn't always feel like a good time."
Indeed, it felt like the worst time.
When loans to people with poor credit histories started to fail in 2007 and 2008, nearly every large lender scrambled to avoid bankruptcy (not everyone succeeded). Standard and Poor's and Moody's reduced ratings on bonds backed by subprime mortgages; a sharp increase in foreclosures and surplus of new homes started to drive down housing prices; and the stock market plummeted.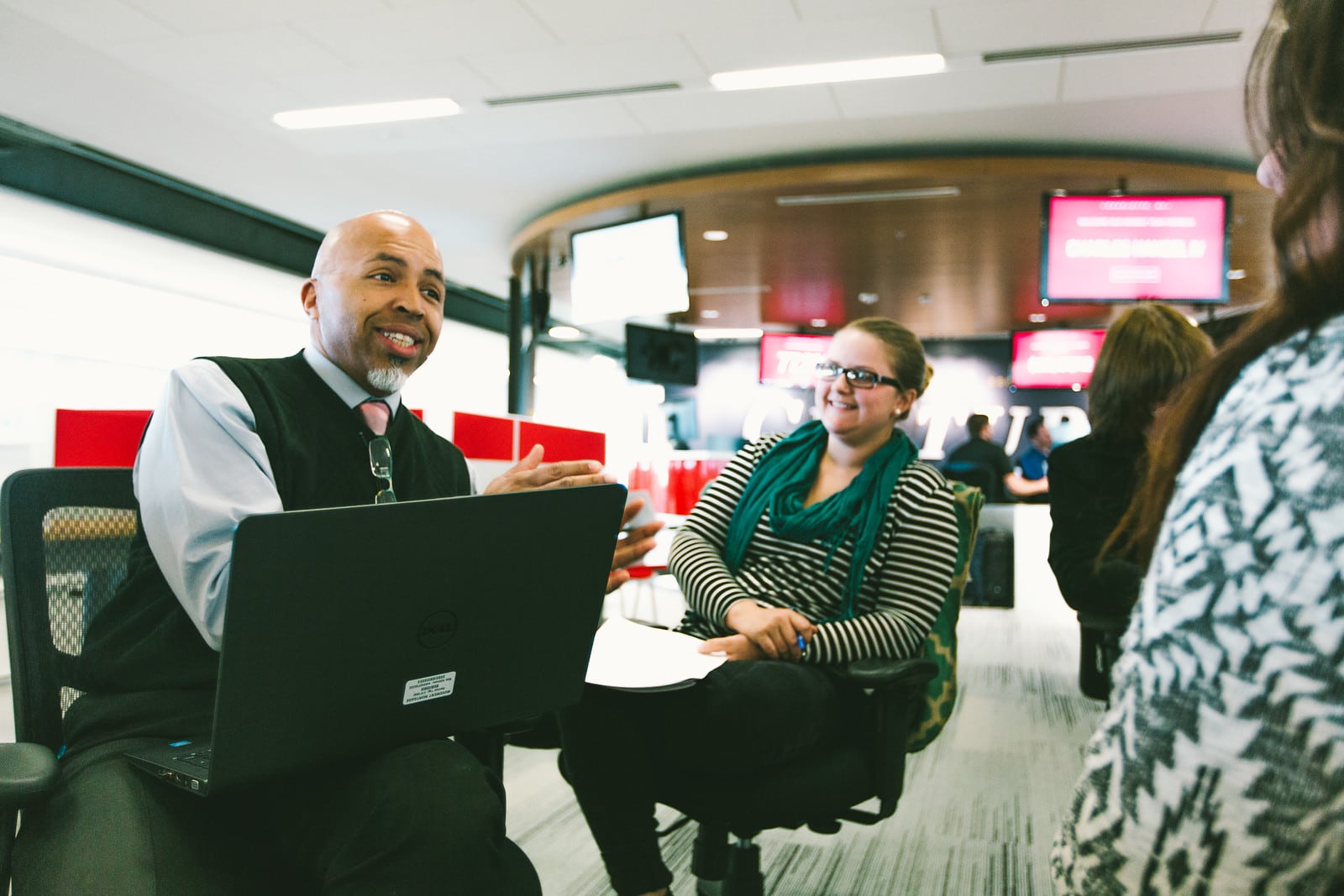 Desperate to regain some control of the slipping economy, the federal government spent $700 billion to bail out the banks. It also passed the Dodd-Frank Wall Street Reform and Consumer Protection Act, which required federal agencies to make 243 new rules, conduct 67 one-time studies or reports, and ask for 22 new periodic reports from financial institutions or advisers.
Banks and mortgage companies were flailing, scrambling to right themselves, to implement the Dodd-Frank regulations, and to distance themselves from the tanking housing industry.
Meanwhile, Crawford was typing "how to start a mortgage company" into Google.
It worked—he found the information and connections he needed. But Google couldn't help him invent a new paradigm. Crawford and Harris had to figure that out on their own.
Love Your Neighbor
Crawford and Harris started with the love-God-and-neighbor principles in Matthew 22.
"It sums up all the Scriptures," Crawford said. "As a follower of Jesus, I thought it would be a great idea to base our company on what he said was most important."
The two men thought about families buying homes.
"Home ownership is the No. 1 indicator of financial security and families staying together," Crawford said. At the same time, "the No. 1 cause of divorce is financial stress, and the No. 1 debt most families have is their mortgage."
They thought about the mortgage process.
"If my little sister is going to buy a home, I'd tell her to get all her financial information together first, and see what she can afford before she starts shopping," Crawford said. So that's what Movement does—for free, for everyone. Last year, they underwrote 40,000 loans for people who didn't end up using Movement or purchasing a home at all.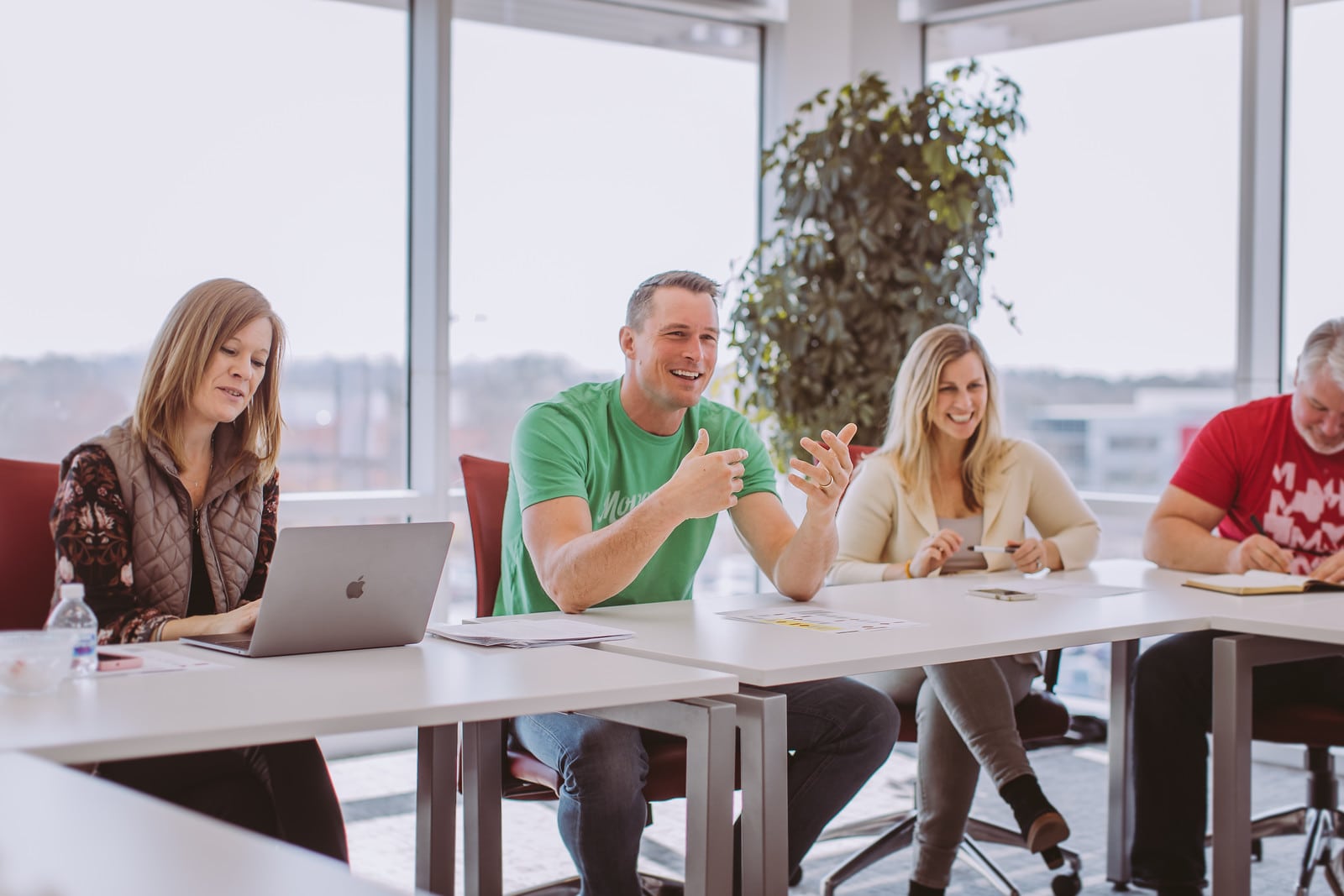 But even though it's more work, Crawford and Harris didn't want it to take more time. People buying a home are usually already worried about negotiating a price and who's going to pay for which repairs; they don't also need to worry about having their financing ready in time, Crawford reasoned.
"We came up with a six-hour underwrite and a seven-day approval process," he said. "We'll knock it out in a few days and give you a few weeks to relax."
The company was also one of the first to offer an online loan application to make things easier for clients (75 percent of them use it). And knowing that first-time homebuyers are often stymied by saving up for a down payment, last year Movement tested an assistance program, and now works with local and state housing organizations to help people access grants.
But consumers are only one category of Movement's neighbors. Crawford and Harris wanted to love just as well inside the company as outside.
Chief Pastoral Officer
After Crawford ignored Phelan's advice and started Movement, he asked Phelan to hold him accountable to keeping the company God-honoring. ("It was like asking a Navy SEAL to be your swim buddy," Crawford said.)
Now Phelan does it from down the hall; last year, he joined Movement as the chief pastoral officer.
"It smells like the kingdom here in so many ways," he said. It looks like it, too. There are Bible verses on the walls, along with Movement's culture statements:
Priorities: God, family, community, business
Faithful: By God's grace and for his glory
Love is a Verb
Servant Leadership: Giver's gain
Excellence: In all things at all times
Partners + Teammates: Invest in lasting relationships
Impact: Make a memorable difference
Profit Matters
The values are clearly Christian, but more than half of Movement's 4,000 employees aren't.
"It's like the half fish that Christians used to draw," Crawford said. "If you're a believer, there's no question in your mind that this is Christian. If you're not, you appreciate that we're living out a Matthew 22 love-your-neighbor-as-yourself."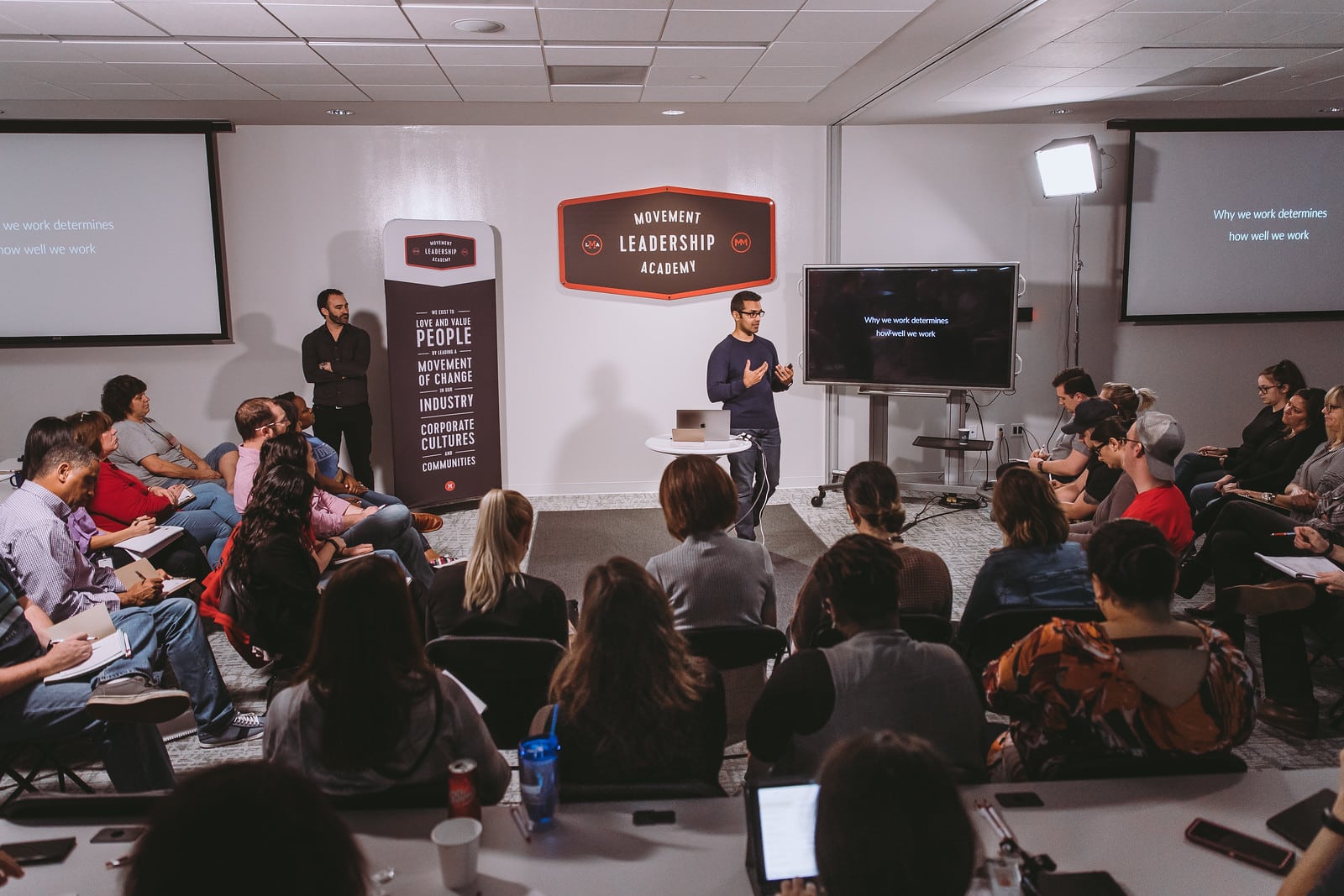 Movement offers a leadership academy to develop employees professionally. The office buildings include gyms, and employees are given a step tracker. In 2016, a "debt challenge" helped employees pay off $2.8 million in debt (mostly credit cards and student loans) and save $1.4 million for emergencies. In 2017, a "401(k) challenge" encouraged almost 70 percent of employees (up from 25 percent) to invest at least 6 percent of their income in a 401(k), which Movement matches 100 percent.
It also matches employee donations to LoveWorks, a fund for employees in crisis and patterned after Acts 2. Crawford likens it to a church benevolence fund—the money is gathered, then parceled out when needs arise. (Almost 70 percent of employees donate monthly; Love Works has given $2.5 million to employees in need since 2013.)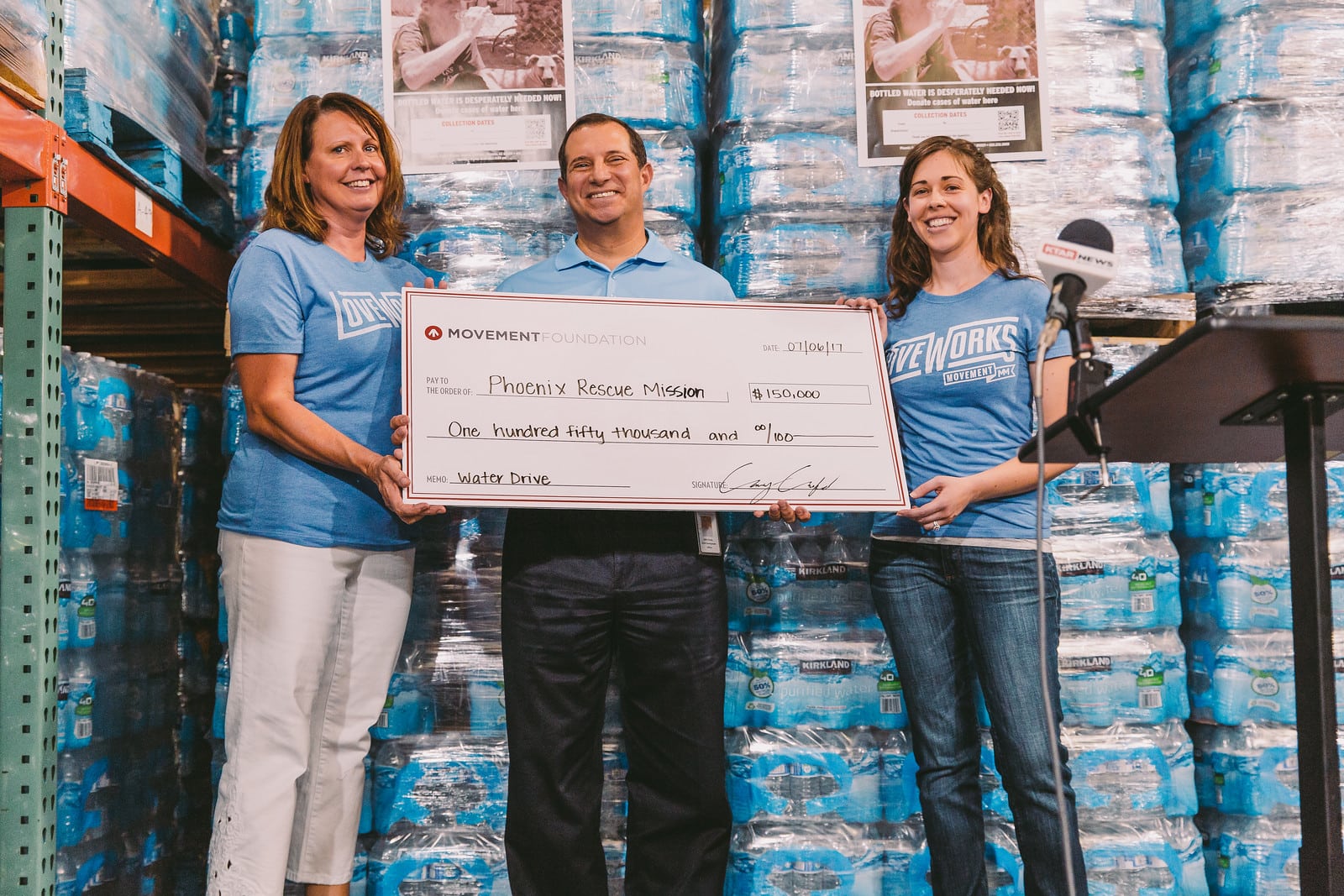 But while even secular employees are happy to get on board with paying off debt or working out more, encouraging a healthy spiritual life is trickier.
Figuring that out is Phelan's job. So far, Movement offers Bible studies, has quarterly worship nights, hired 15 chaplains from Corporate Chaplains of America, and is launching small discipleship groups.
Crawford wants to love employees as people made in the image of God. But he's also creating "natural entry points so people can ask, 'Why are we doing this?'"
Natural Entry Points
Crawford and Harris both cap their income, convinced that God wants them to build his kingdom instead of their own.
But that means they need to do something with the income they're not taking home. So in 2012, they started the Movement Foundation and made it a majority shareholder (53 percent) in the company.
The Movement Foundation gives away $10,000 every month to charities nominated by employees. It helps fund half a dozen corporate service trips each year. (When Helping Hurts is a favorite of the foundation director.) It paid for the renovation of an industrial building in Charlotte for eight nonprofits, turned a dilapidated strip mall into a charter school in an economically depressed area, and is setting up a working farm in Uganda. In the last five years, Movement Foundation has given away more than $37 million.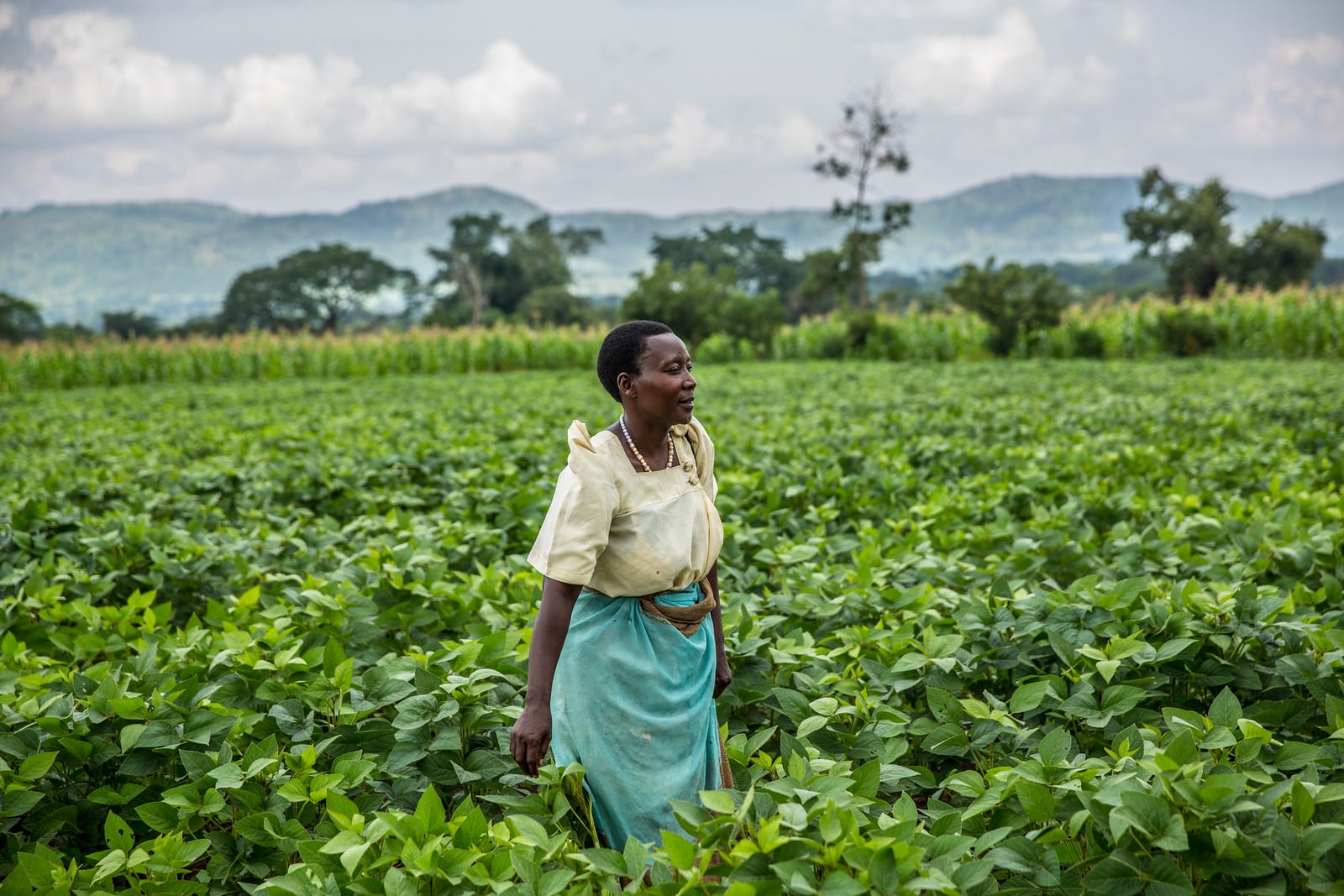 "When you're able to set the stage for ministries and organizations that would normally be operating in silos to work in synergistic cooperation, that changes the look and feel of the city," Alexander said. He's worked with Crawford to bring Movement Day (no relation)—an organization that brings ministry and marketplace leaders together at events to seek the good of cities—to Charlotte. "And when you then jump with both feet into the notion of education and provide another option for families—that helps impact the city."
"There are so many different ways we're constantly seeking to orient who we are toward the glory of Christ," Phelan said.
But that can be dizzying, especially when the growth comes so quickly.
Challenges
Inside of 10 years, Movement grew from four employees to about 4,000. It's been one of the country's fastest-growing mortgage companies for the past five years running.
In 2017, that frantic pace of growth slowed—thankfully, said chief investment officer Brett McDonough. "Last year we grew about 10 percent. We were more accustomed to 70 percent growth or more prior to that. But growth is a double-edged sword for sure."
Grow too fast, and you don't have time to be strategic in your decisions—everyone's too busy putting out "whatever fire is burning brightest," he said.
One of the biggest challenges is keeping the culture.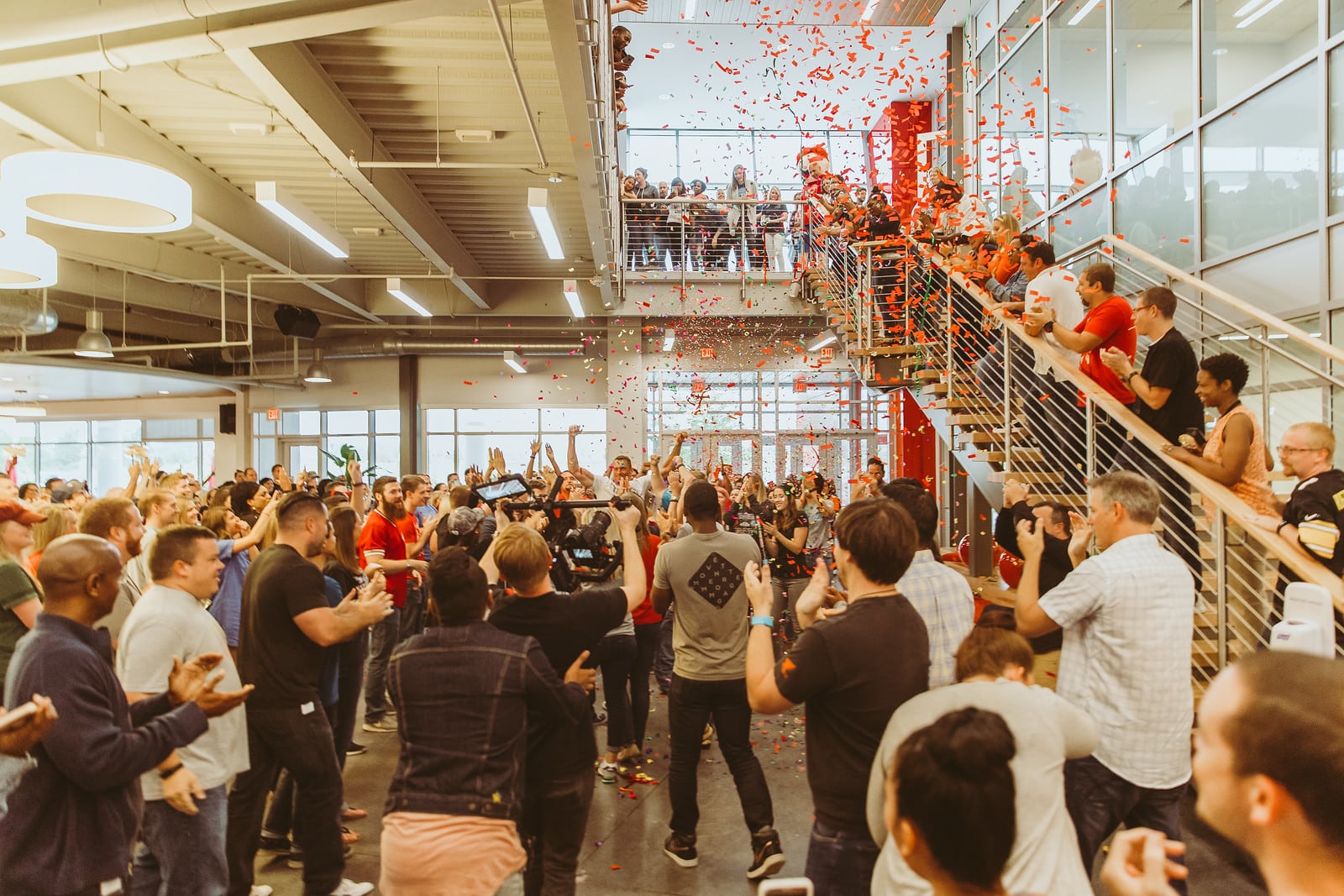 "What I hear often is that Movement feels more corporate now," he said. But "you have to put in structures and systems to grow."
Crawford likens it to the church in Acts—care that was happening naturally is eventually formalized. "It evolves over time," he said. And it's not perfect. "I could look today and find 10 ways we haven't [kept the culture well]."
But it's still worth doing: "The cool thing is that once you put formal structures and processes in place, you can start to amplify."
Convergence of Faith and Work
Movement's ministries are so holistic, you might wonder if it has left any space for the local church.
"We don't see ourselves as a replacement or alternative to the church at all," communications director Adam O'Daniel said. "We are a for-profit business, not a ministry. We do our best to operate in the secular marketplace in a way that will glorify God, treating people with love and using proceeds to love people who have been marginalized."
Movement is trying to take Sunday to Monday, for both believers and unbelievers.
"My favorite part of the job is seeing people come to life, saying, 'I never thought I could be part of a community like this,'" Crawford said. "I get the privilege of being part of a community of people trying to work out what it means to love each other and love Jesus."
Some Christian business leaders are "great devout individuals on the outside of work, but when they step into the marketplace, they feel like they have to put their beliefs to the side," McDonough said.
Movement doesn't want to be like that.
"Our desires for our success for our business is all fine—we can be comfortable with that so long as we start at the right place first," he said. "It's a pretty amazing place—that convergence of work and faith."