The latest docuseries on Hillsong shows us our tendency to elevate pastors or preachers with charismatic personalities and good looks without giving due regard to character. As a pastor, watching was a helpful caution against the temptation to savor attention and my role in the spotlight.
Pastor-centered ministries are hardly new. This distorted view of shepherding leadership has been around since the early church. In his first letter to the Corinthians, Paul addressed a long list of issues, and the presence of factions in the church was at the top. There was "quarreling" (1 Cor. 1:11) among the Corinthians over their preferred leaders. Some looked to Paul. Others looked to Apollos. And yet others looked to Cephas. What did Paul say to correct the factions driven by pastor idolatry, and how might Paul's words correct our own distorted vision of pastors?
Pastors and Deacons Both Serve
When writing to Corinth, Paul is careful to diminish the role of the gospel worker and elevate the God of the gospel. In chapter 3, he first draws from the agricultural world, identifying human gospel workers as those who plant and water gospel seed while identifying God as the One who brings growth from their labors (1 Cor. 3:6–9). He then illustrates the work of ministry as a construction project, one in which the church is God's building set on the foundation of Jesus Christ. (1 Cor. 3:9–15). These are divinely inspired illustrations that accomplish what they set out to do: elevate God's role and temper our role.
Paul is careful to diminish the role of the gospel worker and elevate the God of the gospel.
Another helpful illustration from this passage comes from the culinary world. The word "servants" is of special importance in these verses. In verse 5 Paul states, "What then is Apollos? What is Paul? Servants through whom you believed, as the Lord assigned to each" (1 Cor. 3:5). In the Greek, the word for servants is diakonoi, the same word used in other places for "attendants" (Matt. 22:13), "minister" (2 Cor. 3:6; Eph. 3:7), and "deacons" (Phil. 1:1; 1 Tim. 3:8, 12). Paul is not conflating the office of elder and deacon here. He's highlighting that both offices are characterized by serving.
One way the word diakonos can be translated is "waiter." In Acts 6:2, the term is used to describe "serving tables." In that passage, there were needs that couldn't be met by the Twelve alone. So they equipped and commissioned faithful servants to tend to the church's physical needs. First Corinthians makes clear that serving—or waiting tables—is the role of deacons and pastors alike. Deacons serve the church a feast of tangible provisions; pastors serve the church with the feast of the Word.
Don't Glorify the Waiter
In his book Dangerous Calling, Paul David Tripp cautions pastors against the ever-present danger of glory. He writes. "Perhaps there is no more powerful, seductive, and deceitful temptation in ministry than self-glory." Should we begin to think of ourselves too highly, he warns, "You'll constantly confuse being an ambassador with being a king" (167).
There are many Michelin-star chefs, but there are no Michelin-star waiters.
In the culinary world, earning a Michelin star is the greatest honor for both a restaurant and a chef. Michelin celebrates great achievements in the food industry on a scale of one to three stars. There are many Michelin-star chefs, but there are no Michelin-star waiters. Waiters are important, of course. A good wait staff is vital to making the dining experience enjoyable. They work hard, serve well, and deserve pay for their efforts. In the end, however, they aren't the chef.
Pastors who recognize their calling to serve the church's table by delivering the feast of the gospel ought to be careful not to take too much glory for themselves. Pastors should be honored and paid well (1 Tim. 5:17–18), but glory is reserved for God alone. To continue with our analogy—and Paul's imagery—you'll constantly confuse being a servant-waiter with being the celebrated chef.
So, pastors, let's deliver the feast of the gospel to our people each week and let them savor Christ. Only he is the bread of life that can satisfy the confused cravings of our starving world. Let's humbly seek to serve our people rather than seek to be served by accolades. Remember, there are no Michelin-star pastors.
Get a FREE eBook to strengthen your family discipleship!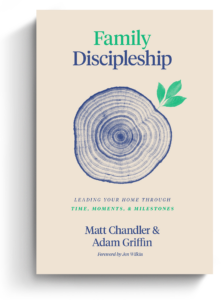 The back-to-school season is stressful for moms and dads. New rhythms of school, sports, and other extracurricular activities can quickly fill up a family's already busy calendar. Where do busy parents look for resources on discipling their family well? Aside from prioritizing church, what else can Christian parents do to instill healthy spiritual habits in their household?
Matt Chandler and Adam Griffin cover these questions and more in Family Discipleship: Leading Your Home through Time, Moments, and Milestones. And we're excited to offer this book to you for FREE as an eBook today.
Click on the link below to get instant access to your FREE Family Discipleship eBook now!