The guitar made so famous by B. B. King is now silent. Like King himself, how the guitar first got its name is a complicated story. Not yet 25, King had already earned a reputation in the Mississippi Delta, trekking from town to town to play at juke joints. These bars were sometimes called buckets of blood, because of the fights that broke out in them. On one night, as King played and growled out his blues, one of these ubiquitous fights resulted in upsetting a kerosene lantern. Fire raged through the mostly wooden structure. In the panic, King fled, leaving his guitar behind. Foolishly he ran back in to get it. The guitar was worth $30; in those days and in that place, he thought it was worth it. A woman died in that fire that night. Her name was Lucille.
The guitar he retrieved was a black Gibson. King has played them ever since.
I heard King and his guitar, Lucille, on a hot summer's night in Jackson, Mississippi. King didn't come on until 10:30 p.m. or so, and didn't finish 'till after midnight.
He sat for the concert, playing Lucille. Every once in a while, he would stop playing, tilt his head back and start swinging his hand in slow circles above his head. And as he did his voice boomed out and filled the rather large hall. No microphone. Just the voice lifted far above his band, booming like thunder.
That was seven years ago. King was 82 years old. After the concert I joined the autograph seekers who gathered around him. King waited for a while. The large crowd cleared the hall, and about 30 of us were left. King gave a slight nod to the band, and they started in on "When the Saints Go Marching In." It lasted 20 minutes. It was sheer beauty.
Church and the Bluesman
I was reminded of stories about Elvis, who, during his Vegas years, would invite his musicians and opening bands to his suite. He would sit at his grand piano and play Gospel music. Here was Elvis, drug-addled and spiraling down fast, but holding on to his past, holding on to Gospel music. Elvis first learned to sing in the church, stretching on his toes to look on to the pages of his mother's songbook. Was Elvis looking for redemption in singing these old Gospel songs?
I also thought of Charley Patton, the original bluesman from the Delta. Patton was dying and went back to the little town where he spent most of his life, Holly Ridge, Mississippi. Patton started preaching, almost preaching for two weeks straight. When Patton started out on his career, he could have tossed a coin. Heads, he'd be a pastor. Tails, he'd be a bluesman. It was tails. Now at the end, knowing he was about to die, he wanted to undo his path, make up for lost time. I think he was looking for redemption. I hope he found it.
B. B. King was born just down the road from Holly Ridge. Indianola, Mississippi, takes credit for being King's birthplace. That's an approximate truth. He was actually born in a place not even on a map. Somewhere on a plantation between Itta Bena and Berclair, Riley B. King was born on September 16, 1925. Mississippi meant a lot to B. B. King. One biographer said that above all, Mississippi meant Nora Ella King, his mother. It also meant Elkhorn Baptist Church and the preaching of Luther Henson and the church songbook, full of Gospels and spirituals. It also meant the Holiness Church, pastored by the Rev. Archie Fair, King's kin. Fair was his first guitar teacher.
Like every other black boy in the Delta, Mississippi also meant cotton. Rows and rows of cotton. King didn't hear blues first in the juke joint. He heard the blues as he picked cotton and put it in the large sack hung over his shoulder. Row after row of cotton.
Heat, family, cotton, church, and music—that's what it took to produce a legend.
King wanted to escape the plantation life in the Mississippi Delta. The guitar provided his way out.
King went straight to Memphis, soon landing a regular show on WDIA. There he got his stage name, "B. B. King."
In 1950, he walked up Beale Street and on to Union Avenue. He set up behind the microphone and began recording with Sam Phillips in the booth of Sun Studios. He escaped.
Life in the Minor Key
Now that King has died, attention will turn to his legacy. Can we not pause and honor an octogenarian who so loved his craft and calling that he didn't give up? To be in your 80s and belt out lyrics, to have that burst of energy like a racehorse out of the gate—is that not commendable? When it comes to his legacy I go back to the summer night in 2008 and a consummate performer giving it all he had.
When it comes to the legacy of his songs, many will talk of "The Thrill Is Gone," that sad tale of unraveling love. Or maybe "Why I Sing the Blues." Why? It had to do with the Delta. We really should never forget the experiences of those who lived in the Delta during these pivotal years. They deserve a place in memory. Maybe they'll remember "Everyday I Have the Blues." King lived a hard life. He witnessed the realities of our fallen-falling world. His songs remind us of life in the minor key.
I would, again, go back to that summer night in 2008, to "When the Saints Go Marching In." A curious song, this one. Theologically speaking, it lacks confidence. It's not "Lord, I want to be in that number." It's, "Because of Christ and what he has done for me, I am in that number." But is it a longing for redemption? Is that why King sang it after the crowd left?
When the crowd is gone, when even the thrill is gone, what is left? Is it not the ultimate question? Is it not about marching in with the saints?
B. B. King and other bluesmen, such as Charley Patton, do far more for us than entertain, or even impress. They remind us that along with life's hardships, inequities, and injustices, and all the harsh realities of life in a fallen world, there is the church. The cotton rows are lined up. There are the juke joints, offering a temporary escape. But there is the church, the witness to redemption in a fallen world. That longing for redemption echoes in the music of B. B. King, even now that Lucille is silent.
Get a FREE eBook to strengthen your family discipleship!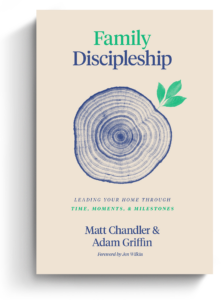 The back-to-school season is stressful for moms and dads. New rhythms of school, sports, and other extracurricular activities can quickly fill up a family's already busy calendar. Where do busy parents look for resources on discipling their family well? Aside from prioritizing church, what else can Christian parents do to instill healthy spiritual habits in their household?
Matt Chandler and Adam Griffin cover these questions and more in Family Discipleship: Leading Your Home through Time, Moments, and Milestones. And we're excited to offer this book to you for FREE as an eBook today.
Click on the link below to get instant access to your FREE Family Discipleship eBook now!