When I first read the book of Job as a preteen, I was flummoxed. Where was the God of my Sunday school who watched over his beloved children and kept them safe? I certainly didn't see a clear picture of that God in this book. Here was a God who allowed Satan to pour every type of suffering on a righteous man. For a sensitive child prone to fear, this wasn't comforting. I imagine I raised a skeptical eyebrow the next time my parents tried comforting me with God's continual presence.
But much to my surprise, the book of Job would eventually become one of the most comforting books in the Bible to me. So what changed?
Job was still in my "things I don't understand in the Bible" box when a weight of pain fell on my shoulders. My husband and I were married young, and I became pregnant eight weeks into our marriage. Few people are more hopeful about the future than a couple expecting their first child. That hope took a turn when a routine ultrasound left us with a devastating diagnosis: Our daughter would die soon after birth from a severe heart defect unless she had three open-heart surgeries.
Grief can strike as quickly as lightning, and I held my swelling stomach with love and fear for my daughter and wept.
Removing Fear of Punishment
Soon after, we decided to take a short trip to the beautiful Oregon coast to give us time to wrestle with our new reality. As we drove, we listened to John Piper's sermon series on the book of Job. Through this series, a pressing fear was quieted. It's in our nature to wonder at the pain in the world, and suffering brings those questions to the forefront. The haunting question, What did we do to deserve this? lingered in our minds.
That question can ring out in anger and self-righteous indignation, but it can also cry out in confusion, and in fear that we had brought this suffering on ourselves. The book of Job gave us comfort. It showed us we weren't suffering more because we had sinned more. Job was commended as the most righteous on earth, yet he suffered immensely.
The book of Job gave us comfort . It showed us we weren't suffering more because we had sinned more.
We're told in 1 John 4:18 that we no longer have to live in fear of punishment, because Christ took our punishment. Perfect love casts out fear. But even before Christ came to earth, he was leaving fingerprints of hope in the Old Testament. Job teaches us that while we may endure grief and suffering that's unexplainable from a human vantage point, we can cast out the fear that if we had only polished our hearts and behavior better, we could have avoided all anguish.
Learning Patience
I would glean even more from Job. Two months after the birth of our beautiful firstborn, Faith Felicity Harris, a procedure went wrong, and she passed away. She was a fighter and had a good chance for life. But a complication due to human error led to her unexpected death. As I held her in my arms, my heart shattered. I knew my sorrow was just beginning.
In my grief in the months to come, I learned how God draws near to the brokenhearted with his comfort and presence (Ps. 34:18). I also learned how suffering sometimes brings the silence of God, and how faith can feel like a flicker in the darkness.
Job and his friends talked themselves into a standstill before God finally showed up. The waiting in ashes, loss, and misery was long for Job (that's why it's such a long book!). That waiting is mirrored in Joseph's long years before he was finally reunited with his family. It's seen in the book of Ruth as Naomi returned to her hometown empty and embittered from loss. It's seen in Abraham and Sarah waiting long into their old age for an heir.
The book of Job taught me what Romans 5:3–5 also says: "Affliction produces endurance, endurance produces proven character, and proven character produces hope." Job—like Joseph, Ruth and Naomi, and Abraham and Sarah—had periods of pure endurance. What we learn from Scripture is that the gift of enduring in faith is hope. As James reminds us, "You have heard of Job's endurance and have seen the outcome that the Lord brought about—​the Lord is compassionate and merciful" (James 5:11).
Even if I felt God was silent during long nights of tears and fears, hope was sure to follow. Job taught me patience.
I learned that even if I felt God was silent during long nights of tears and fears, hope was sure to follow. Job taught me patience.
Loving Suffering People
Finally, Job's friends taught me valuable lessons on what not to say to those suffering, and also how to handle well-intentioned friends who added to my pain with words or actions.
Job had three sets of people in his life during his suffering. First, he had those who abandoned him completely (fools spit at him, and his servant won't even give him a cup of water). Second, he had his wife, who told him he was better off dead. And finally, he had his three friends. These friends appear to have made the sacrifice to travel far to reach him. They join him in his sorrow. They weep with him. They stay respectfully silent for a full week.
When Job finally speaks, however, his friends launch a verbal assault. Now, they obviously care for Job. When everyone else abandons him, they remain, and they seem like true friends. But their words rub salt into Job's wounds. Wrongly applied truth adds more burdens to his shoulders. In the heat of the argument, they end up accusing Job of dreadful things. Eliphaz accuses him of not giving water to the thirsty and withholding food from the famished, sending widows away and crushing orphans. He's sure that Job's wickedness must be abundant and his iniquities endless in light of the severity of his suffering (Job 22).
Seeing Job falsely accused has been strangely comforting to me when others assumed health issues, death, or life hardships were a reflection of our godliness. It gave me a way to understand how some who had at times shown great love and care also cut me deeply with their words and actions when I needed them most. It helped me understand the dynamics at play when a friend and I chose to vulnerably speak up about an abuser in our community, only to be ignored or labeled as bitter and divisive by people we thought cared for us.
Through Job's example, I learned it's okay to fight bad theology about suffering and to share openly the harm caused by hurtful words. Ultimately, though, God answers those arguments when he shows up in the book's climax. We may never be justified in the eyes of our own "Job's friends," but we look to the One who can truly vindicate us. Our eyes are on the righteous sufferer of whom Job was merely a shadow—Jesus Christ.
Looking to the Greater Job
I may not have all the answers for why I've suffered and experienced loss, but I do know who suffered loss and pain for me. He loves me through my suffering and is a truer friend than any other. The Bible points us through the chaos of a broken world to a God so big and powerful and mighty that he would plan a rescue for us. Jesus is a man of sorrow who wept over death (John 11), was abandoned by his closest friends in his hour of need (Mark 14:50), and suffered the agonies of fatal torture for us. Through his love and resurrection from the grave, we have a steady hope during pain.
After the agonies of suffering and the sting of abandonment, God appears to Job in a whirlwind, reminding him that he's present and working. God rebukes Job's friends and restores his health. Job's family gathers to comfort him, and he is blessed with more children and wealth. It's a small picture to us of the day when Jesus will return to right all wrongs.
That will be a glorious day! Meanwhile, Job's patience and endurance—despite all the pressures of enormous suffering—are a reminder to persevere in faith. The book of Job taught me to hope despite living in a broken world, and that is comfort indeed.
Get a FREE eBook to strengthen your family discipleship!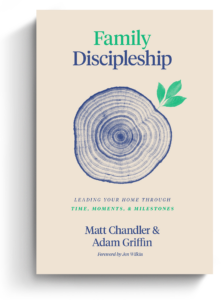 The back-to-school season is stressful for moms and dads. New rhythms of school, sports, and other extracurricular activities can quickly fill up a family's already busy calendar. Where do busy parents look for resources on discipling their family well? Aside from prioritizing church, what else can Christian parents do to instill healthy spiritual habits in their household?
Matt Chandler and Adam Griffin cover these questions and more in Family Discipleship: Leading Your Home through Time, Moments, and Milestones. And we're excited to offer this book to you for FREE as an eBook today.
Click on the link below to get instant access to your FREE Family Discipleship eBook now!