Not too long ago I spent the night at the airport. Along with many stranded passengers, my family and I—three small children included—laid our weary heads on our luggage and settled in for the night.
We weren't the only ones stuck. As the night turned to early morning I had many encounters with airline employees. Each time I'd ask, "So how long have you been here?"
"Since this afternoon," said one. (It was 3:15 a.m.)
"Since 6 a.m. yesterday," sighed another. (It was 7 a.m. the following day.)
"I left to take a shower and nap, but I've been here since yesterday," muttered one tired employee.
One by one, these airline employees revealed their work ethic and dedication to the people they served. One by one, I stood in awe of how long they were willing to work.
When we hear of someone working long hours, it's natural to assume she's the most dedicated employee in the office. We praise the person who comes early and stays late. We admire the parent who rises early to make breakfast after just a few hours of interrupted sleep with a sick toddler. We seek to emulate the salesperson who is the first to answer email in the morning and the last to send an email before bed. We like hard workers.
It's true that long hours often mean hard work. Dedication is often displayed in overtime, in going the extra mile. But hard work is not all grit, long hours, and missed sleep. Hard work also involves knowing we need rest, and then taking it.
Built to Rest
This has been one of the hardest lessons God has been teaching me lately. I need far more rest than I get. My lack of rest is more often owing to my failure to admit my finiteness than it is my hard work or busy schedule. I like getting things done, and often sleep—even though I enjoy it—feels like a nuisance, a hindrance to my productivity. But I need rest, even if I don't want to admit it.
This innate need for rest is built into us by a God who not only knows our frame, but created us in his image (Gen. 1:27). He rested on the seventh day of creation and so we, his image bearers, also rest (Gen. 2:3; Exod. 16:23; 31:17). We rest because we are finite creatures with a need for sleep, rejuvenation, and natural breaks in our lives. There's a reason we collectively groan when we hear of someone having to work long hours without a break, or when we meet an airline employee who hasn't slept in 24 hours. We might praise them for their work, as I did, but we know it's not natural. While our society might praise the early bird and the late-to-leave employee, we know a steady diet of that will starve anyone long-term.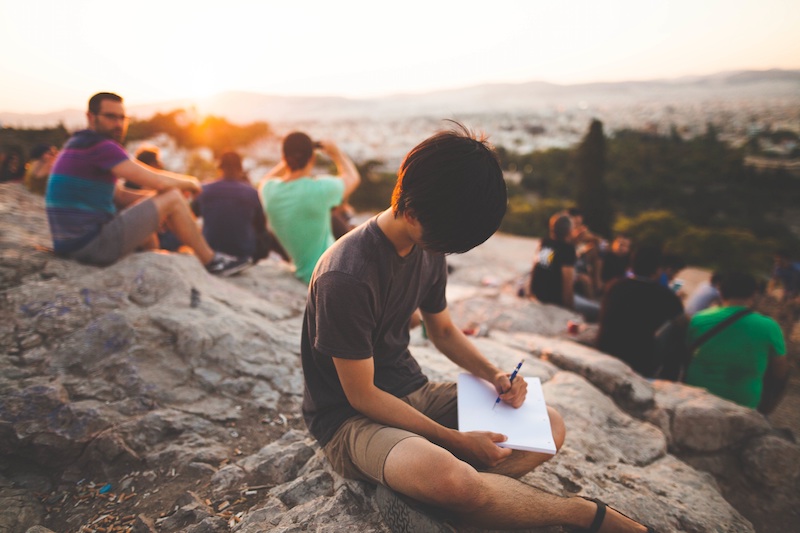 As much as what we do all day is part of our conversation about the value of work in God's kingdom, rest should be a part of our work conversation as well. And in our productivity-driven culture, it is hard for us to pull away from the work. But our ultimate citizenship is in heaven, not our current culture, so we all need to be reoriented around how we hold the tension between our work and our rest. We might be products of our culture, and therefore more susceptible to the tendency to overwork, but we must actively fight against the pull to prioritize work over the rest we were also created for.
No Rest, No Glory
There is an eternal component to our need for rest, too. Without rest we're prone to burn out, this is true. But equally, without rest we are prone to forget the God who designed us for rest. In our rest, we declare that he is God, and we are not. In our rest, we worship God for who he is by stating clearly that we are human, and that he is other than us. We need him desperately, and rest reminds us of that need.
God rested as a sign of completeness in his creation, while we get no such thing. We rest with many incomplete tasks all around us. We create, we study, we build, we write, we parent, we cook, we clean, and we do all sorts of work all throughout our days, and so often we get to the end of a long day only to be met with the disappointing reality that it's not finished. It never truly is. All of this drives us to him, the one who doesn't need rest and who always gets his to-do list done. When I put the to-do list down, or walk away from the project, or shut down my computer, I am declaring with my rest not only that I am not God, but that I need him to strengthen the work of my weary hands (Ps. 90:17).
In our rest we acknowledge that God is working always on our behalf (John 5:17). No amount of striving on our part could ever accomplish our salvation, or finish everything we need to finish in a day. But in our rest, we declare that God is our salvation, our sustainer, and the One who meets all the needs we cannot meet. In our rest, we get to see God work.
Learning to praise the person who rests as much as the one who works will take some practice on our part, especially those of us who like productivity. But it's necessary for our spiritual and physical health. We want to be faithful in our work, but let us also be faithful in our rest, living as his image-bearers, depending on him to work on our behalf, and resting in him who always finishes the work he starts.