In his eighth studio album, All Things Work Together (released in September), Lecrae Moore expresses many raw emotions. As a rapper, and also a believer, he's exhausted, angered, and confused, but also searching for hope.
His latest album is easily his most controversial, grappling honestly with complex issues and coming at a time of great cultural division. It's not an album of quick or easy answers, but it does offer important wisdom to chew on—for those with listening ears and open hearts.
Disorientation of Christian Life
On first listen, All Things Work Together left me a bit disoriented. The album leads with Lecrae's frustration at the state of racial reconciliation in the church ("Facts") and includes songs about gratitude ("Blessings"), hardship ("Broke"), depression and doubt ("Can't Stop Me Now"), but also hope ("I'll Find You" and "8:28").
The album's narrative path feels somewhat fragmentary, but maybe this is Lecrae's point. His life and faith, as of now, isn't a clean, easily navigable map.
But the truth is I started to doubt God, I started to question my purpose Lecrae laments on "Can't Stop Me Now." I ain't wanna sign another autograph or give a fake smile.
In a polarized world (and church), with both sides telling us our faith must fit into this or that box, many Christians probably resonate with Lecrae. We are indeed living in a disorientating moment. Sometimes it can be hard to see just how "all things work together for good for those who love God and are called according to his purpose" (Rom. 8:28).
Musical Shift
In a conversation with his friend Tyree Boyd-Pates, history curator for the California African-American Museum, Boyd-Pates said of Lecrae's previous work: "You have said some things that were poignant and provocative for black people, but the phenotype of your music was not black . . . sonically it wasn't resonating with our soul. . . . It's like [the] 'I Have a Dream' speech over a rock record."
But that isn't true of this album, which reflects a noticeable musical shift for Lecrae. Some songs ("I'll Find You" and "8:28") reflect a familiar style, but others signal a totally new direction. Consider the funky bass line from "Come and Get Me," which sounds like a sample from an old Roots album; or even Lecrae's use of producer Metro Boomin—who has worked with Kanye West and Drake—on "Hammer Time." This isn't "Jesus Muzik" Lecrae anymore.
The new direction is also reflected in the lyrics. Lecrae has never rapped this directly about issues of race and politics. Consider "Can't Stop Me Now," when he emphatically states: And then they killed Tamir Rice. And they just go on with they life / They tellin' me shut up talking 'bout it like, I should just talk about Christ.
Lecrae took flack in 2016 for becoming more vocal about the police shootings of Michael Brown, Tamir Rice, and others. The loss of some of his white Christian audience led to much of the depression he processes on this album. But for Lecrae, being both black and Christian is not a contradiction. He states on "Facts": And I live a multiple world, call me a hybrid 'cause I'm so black / Young theologian who educated, but still be at that Chicken Shack.
Coming from an immigrant Korean family myself, I resonate with this experience. I live with the tension of not just being raised in America in a Korean family, but also the significant tensions of the Korean-American church. My shelves are filled with books by Tim Keller and John Piper, but I eat kimchi after Sunday worship. I resonate with Lecrae's hope that the church would recognize that no ethnicity or culture has perfectly figured out the Christian life. We must embrace the tensions and, like Lecrae, be willing to articulate our experiences.
Racial Unity in the Church
One of the most controversial lines on the album comes from "Facts":
They say, "Crae, you so divisive, shouldn't be a black church." I say, "Do the math, segregation started that first!" Hey, you want unity? Then read a eulogy. Kill the power that exists up under you and over me.
In a recent interview on the Truth's Table podcast, Lecrae discussed his desire to loosen his ties from "white evangelicalism." John Piper responded to this comment with sympathy but also confusion about what exactly is meant by "white evangelicalism." This article spawned further responses from Ray Chang and Bryan Loritts, among others.
As for myself, I find a lot of wisdom in Lecrae's response, along with some questions. Questions of caution include: How can we ensure we don't place our racial identity higher than our belief in the gospel? Will we ever completely "kill the power" in a broken world? If not, does the church never unite? How does Colossians 3:11 ("Here there is not Greek and Jew, circumcised and uncircumcised, barbarian, Scythian, slave, free; but Christ is all, and in all") speak to all of this?
One thing I do resoundingly believe with Lecrae: Racial unity in the church will not come quickly or easily. It will not come from simply forcing multi-ethnic meeting times on Sunday while our Monday-Saturday lives stay segregated. It will not come from asking people to stay quiet about these issues because they "distract from Jesus." It will not come from being "colorblind."
We may see progress if we are honest about the deep wounds and unhealed scars that exist in America and in the church.
But we may see progress if we are honest about the deep wounds and unhealed scars that exist in America and in the church. We may inch toward unity if we are slower to speak and quicker to listen when confronted with the pain and frustrations of our siblings, like Lecrae, in the family of God.
In a season of sorrow? This FREE eBook will guide you in biblical lament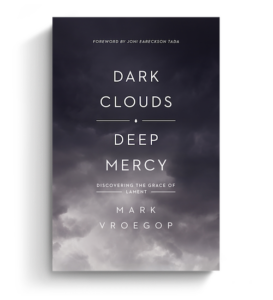 Lament is how we bring our sorrow to God—but it is a neglected dimension of the Christian life for many Christians today. We need to recover the practice of honest spiritual struggle that gives us permission to vocalize our pain and wrestle with our sorrow.
In Dark Clouds, Deep Mercy, pastor and TGC Council member Mark Vroegop explores how the Bible—through the psalms of lament and the book of Lamentations—gives voice to our pain. He invites readers to grieve, struggle, and tap into the rich reservoir of grace and mercy God offers in the darkest moments of our lives.
Click on the link below to get instant access to your FREE Dark Clouds, Deep Mercy eBook now!