Editors' note:
TGC Council member David Powlison died on June 7 at the age of 69 after suffering from pancreatic cancer. In this article, Tim Keller, vice president of The Gospel Coalition, shares his reflections on Powlison.
A friendship grew between David Powlison and me when I was teaching at Westminster Seminary from 1984 through 1989. During that time we were on the session of New Life OPC. (As a PCA minister I had no vote and was there by invitation, but I was very much part of the elder community, a formidable one that included many professors from the seminary.) I also connected with David through the practical theology department of the seminary. At that time it included David and Ed Welch and John Bettler, Harvie Conn, Roger and Edna Greenway, Bill Krispin of the Center for Urban Theological Studies (CUTS), and George Fuller, who was the president.
David was working toward his PhD at Penn, re-thinking the biblical counseling movement, of which he was (in my opinion) the "thought leader." I think David stayed true to the original vision of Jay Adams, namely, to be critical of modern psychology's presuppositions and its medicalizing of personal problems that had (yes, sometimes) biological roots but often moral-spiritual roots as well.
The trouble with biblical counseling at the time was that, when it chalked up many personal problems to "sin," it did so behavioristically. It tended to see all sin as individual, voluntary, and deliberate—something you could change with an exercise of self-discipline. I think David's groundbreaking work on idolatry showed that the Bible speaks to both (a) corporate, systemic evil in family and social systems and also (b) how sin distorts the inner life, creating denial, false identities, a "delusional field," and harmful motivations. David put the biblical teaching about the deceitfulness of the heart back into the center of biblical counseling.
David put the biblical teaching about the deceitfulness of the heart back into the center of biblical counseling.
Now, I am no expert on the history of Christian counseling, but I had many conversations with David during those years, and I realized that he, John Bettler, and Ed Welch were enlarging the foundation for the biblical counseling movement in a great way.
David's seminal article, "Idols of the Heart and Vanity Fair," was a major influence on my ministry, both as a preacher and also a pastor. After reading it I began learning about idolatry and finding a great deal about it in the Puritans, in Jewish thought of course, and in cultural critique. Counterfeit Gods grew directly out of that essay.
I can't add much to what others are saying—about how David was unparalleled as a wise, gentle, yet truthful counselor. I could go on about that, but others are doing a good job. Kathy and I often said that we would have gone to David as a counselor before anyone else we knew in the world.
He will be deeply missed as friend, counselor, and teacher.
Get a FREE eBook to strengthen your family discipleship!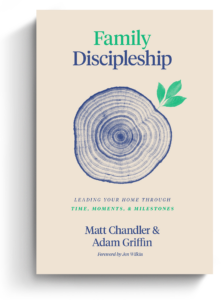 The back-to-school season is stressful for moms and dads. New rhythms of school, sports, and other extracurricular activities can quickly fill up a family's already busy calendar. Where do busy parents look for resources on discipling their family well? Aside from prioritizing church, what else can Christian parents do to instill healthy spiritual habits in their household?
Matt Chandler and Adam Griffin cover these questions and more in Family Discipleship: Leading Your Home through Time, Moments, and Milestones. And we're excited to offer this book to you for FREE as an eBook today.
Click on the link below to get instant access to your FREE Family Discipleship eBook now!