It's the end of the world as we know it. Seriously. But this is no reason to panic, worry, or stock your pantry with jugs of water and pallets of astronaut ice cream.
Sadly, when some Christians study eschatology—the doctrine of the last things—they tend to get antsy, frazzled, angry at the world, or flat-out paranoid. Others offer no more than a shoulder shrug. They don't care about seminary debates—premillennialism, amillennialism, pretribulational raptures, and so on. They'll say, "I'm a panmillennialist. I believe it'll all pan out in the end."
Some are positive their predictions are true. They make the charts our nonchalant friends ignore. They write books like 88 Reasons the World Will End in 1988. Of course, it never happens. We know the verse they always seem to ignore: "But concerning that day and hour no one knows, not even the angels of heaven, nor the Son, but the Father only" (Matt. 24:36). These professional predictors change their formulas over and over, never willing to admit they're simply wrong. They just write another book. Start another speaking tour. Dub the next president or pope the Antichrist.
Each of these postures is wrong. Eschatology isn't meant to freak us out or check us out; according to the apostle Paul, it's meant to affect us now.
Encouragement and Empowerment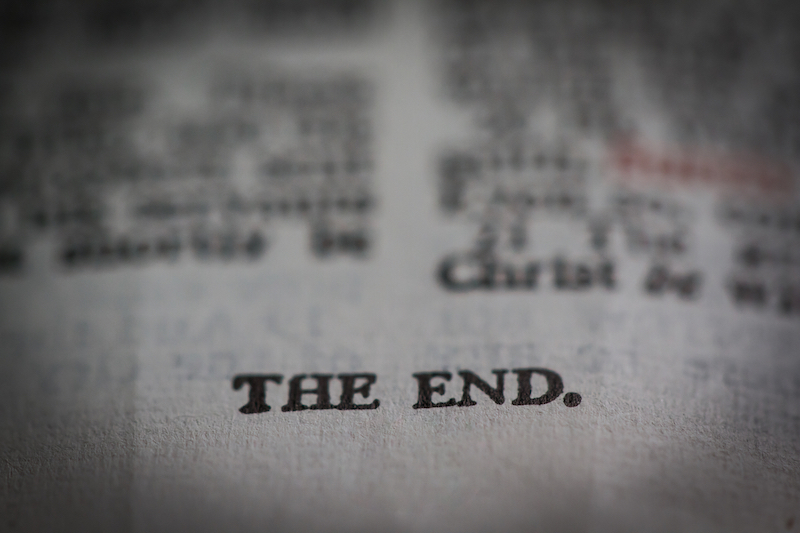 The Thessalonian church wondered about the return of Jesus, the resurrection to come, and what was going to happen to their members who had already died. Paul responded:
For the Lord himself will descend from heaven with a cry of command, with the voice of an archangel, and with the sound of the trumpet of God. And the dead in Christ will rise first. Then we who are alive, who are left, will be caught up together with them in the clouds to meet the Lord in the air, and so we will always be with the Lord. Therefore encourage one another with these words. (1 Thess. 4:16–18)
What did Paul think the doctrine of Christ's return, the resurrection, and eternal life should foster among Christians? Encouragement. Empowerment. Whatever your position on eschatology, if it doesn't foster mutual encouragement of other Christians or empower you to live an eternity-driven life, you haven't understood your eschatology.
Eschatology is not a study of disaster forecasts. No meteors or ice ages or zombie apocalypses. No charts telling us who will be left behind and when.
Eschatology's aim is that you feel encouraged, excited, and eager for the return of King Jesus.
Not Enough Nails
We're all going to die.
That statement isn't meant to be grim, morbid, or cavalier. It's realistic. We're all careening toward our last breath in these fallen bodies. Death is a reality. It's inescapable. Running from death is like a turtle running from a cheetah.
Yet Christians have no need to fear death. We're going to be raised from the dead, joining Jesus in a resurrection like his. Paul reminds the Roman church:
For if we have been united with him in a death like his, we shall certainly be united with him in a resurrection like his. We know that our old self was crucified with him in order that the body of sin might be brought to nothing, so that we would no longer be enslaved to sin. For one who has died has been set free from sin. Now if we have died with Christ, we believe that we will also live with him. We know that Christ, being raised from the dead, will never die again; death no longer has dominion over him. For the death he died he died to sin, once for all, but the life he lives he lives to God. So you also must consider yourselves dead to sin and alive to God in Christ Jesus. (Rom. 6:5–11)
Translation: You've already died spiritually. And through Christ, you've already been raised spiritually. That's where it begins, here and now. If you're reading this, you haven't died physically. Not yet. But you will.
And because of Jesus's bodily resurrection, we don't look at death with fear, but in faith that we too will rise. Death isn't the final nail in the coffin; there's a glorious eternity on the other side of a non-beating heart since Christ conquered death on its home court. One day there won't be enough nails in the coffin to hold you in.
Awaiting the Alarm Clock
That first Easter Sunday was a game-changer. The resurrection of Jesus—the death of his death—was so significant that the Bible refuses to stoop down and pander to death's scare tactics. Instead, God uses a simple metaphor to describe a believers' death—we've fallen asleep.
Our bodies are at rest, covered in a blanket of dirt, but the alarm clock of the Lord's trumpet will sound and we'll have new, glorified, eternity-ready bodies.
Jesus is the firstfruits, the first harvest of the resurrection, and another wave of remade bones and organs will rise (1 Cor. 15:20). We will live in the new earth with King Jesus and those from every corner of the planet who called on the name of the Lord:
But we do not want you to be uninformed, brothers, about those who are asleep, that you may not grieve as others do who have no hope. For since we believe that Jesus died and rose again, even so, through Jesus, God will bring with him those who have fallen asleep. (1 Thess. 4:13–14)
Grieving over someone's death is biblical, even Christlike (John 11:35). We often say, "Death is a natural part of life," but it's actually the opposite. Death is entirely unnatural. We weren't made to die, and we aren't destined to stay dead. That's why Jesus mourned over Lazarus's death, but also pumped blood back through his veins. That resuscitation was a preview of the resurrection to come.
So we don't grieve as though all is lost, since it's not.
Since Jesus got up from the dead, we can be filled with the battle cry: "O death, where is your victory? O death, where is your sting?" (1 Cor. 15:55).
---
Editors' note: This is an adapted excerpt from Brandon Smith and J. A. Medders's new book, Rooted: Theology for Growing Christians (Rainer Publishing, 2016).