Steven Spielberg, the acclaimed film producer, was once asked in a television interview if he could explain the tremendous success of his films. He said it was because nearly all his movies deal with the underlying theme of homesickness. They tap into the longings everyone has for a place where he or she feels safe and loved. Like E.T., we're pining for home.
Spielberg's observation reveals something of our spiritual homesickness as well. No matter how secular or hostile to Christianity, our culture doesn't have the power to erase the creational longings God has placed in all humans for meaning, love, purpose, identity, connection, and belonging.
"But," you may say, "people aren't open to having spiritual conversations." Yet recent studies show a majority of Americans are willing to have conversations about Jesus, including a Barna study in partnership with Alpha USA that reveals openness of nonbelievers as long as Christians listen and are respectful, seek to understand their story, and talk like a real person.
Here's the puzzle: Why do many Christians sincerely believe the gospel of Jesus Christ is the most wonderful, liberating news God has ever given our weary planet, yet struggle to talk with others about it? There are several answers, but l believe a deeper problem is often overlooked: we're too focused on ourselves in evangelism. The solution is to rely on the Spirit's strength at work in our weakness.
God-Confidence, Not Self-Confidence
My husband and I have travelled the world equipping churches, seminaries, and student ministries to be effective witnesses. In our conferences, I ask people to share their biggest obstacles in evangelism, which we then project on a screen. The comments rarely vary.
"What if I offend or am rejected?"
"What if they ask a question I can't answer?"
"I can't witness because I'm not an extrovert or gifted as an evangelist."
"I feel paralyzed by my weakness and inadequacy."
"I'm not good at debate or apologetics. I'd witness more if I had answers to their questions."
"Looking at the screen," I ask, "do you see any connections in the obstacles you cite?" They notice it immediately. Their focus is entirely on themselves. Evangelism is intimidating because they fear it's all about them, their gifts, and their skills.
Next, I ask, "Is there anything you see that's missing?" They always do: "We never even mentioned God or his role in evangelism!" We place far too much importance on our skills and gifts (or lack thereof) and not enough on God.
We place far too much importance on our skills and gifts (or lack thereof) and not enough on God.
It's heartening to know biblical heroes of the faith had similar fears. When Jesus tested the faith of his disciples by asking them how to feed the hungry crowd of 5,000, surely one of them would've said, "Lord, I watched you turn water into wine. I saw you heal a man who'd been unable to walk for 38 years. I know we don't possess the miraculous power in ourselves—but you do!"
Instead, Philip responded incredulously, if not a bit sarcastically, that it would take more than half a year's wages to buy enough bread for everybody just to have one bite (John 6:7). The disciples calculated the situation the same way many Christians do today. We see the challenge before us (in evangelism) without considering Jesus is with us. Instead, we focus on our inadequacies, which reveals our unbelief.
Relying on God's Strength
If the deeper problems in our lack of evangelism are unbelief and self-focus, the solution starts with repentance. Ask God to forgive your unbelief and strengthen your faith: "I believe; help my unbelief" (Mark 9:24). Remember what the risen Lord said to the apostle Paul after he begged him three times to take away his weakness: "My grace is sufficient for you, for my power is made perfect in weakness" (2 Cor. 12:9).
Christ answered not with a cure but with a promise that set Paul free. The apostle could now rejoice in his inadequacy: "I will boast all the more gladly of my weaknesses, so that the power of Christ may rest upon me. . . . For when I am weak, then I am strong" (2 Cor. 12:9–10). He learned not only to accept his suffering and limitations but to celebrate his weakness that showed "the surpassing power belongs to God and not us" (2 Cor. 4:7). That's why he could say with confidence, "I can do all things through [Christ] who strengthens me" (Phil. 4:13).
The final act of Christ before ascending to heaven was to command all Christians to be his witnesses (Matt. 28:18–20; Acts 1:8). But how can Jesus be so confident any of us will be an effective witness? Because he's promised to always be with us and to help us. Jesus has given us everything we need for effective witness through the power of the Holy Spirit. Our task is simply to depend on the Spirit, display Christ's love, and declare God's truth—then leave the results to him.
Just as We Are
Here's the great truth: The world desperately needs Jesus—and so do we! Our human weakness is no hindrance to God. He's delighted to use us just as we are—with the questions we can't answer, with our fears and failures.
How can Jesus be so confident any of us will be an effective witness? Because he's promised to always be with us and to help us.
The issue is our focus. A God-focus stirs our courageous action, whereas a self-focus stymies it. Remember, Jesus promises we're not alone: "I am with you always, to the end of the age" (Matt. 28:20). It's Christ's presence in our lives that strengthens our witness.
Can God use us to communicate the gospel effectively? I emphatically say "Yes!" Because even though our context and culture has changed, the power of the gospel hasn't. We can speak the gospel with confidence, knowing Christ is the answer to people's greatest needs and desires—including their profound longing for home.
Get a FREE eBook to strengthen your family discipleship!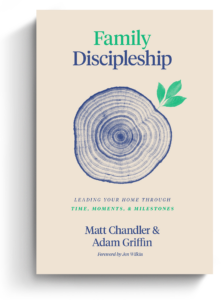 The back-to-school season is stressful for moms and dads. New rhythms of school, sports, and other extracurricular activities can quickly fill up a family's already busy calendar. Where do busy parents look for resources on discipling their family well? Aside from prioritizing church, what else can Christian parents do to instill healthy spiritual habits in their household?
Matt Chandler and Adam Griffin cover these questions and more in Family Discipleship: Leading Your Home through Time, Moments, and Milestones. And we're excited to offer this book to you for FREE as an eBook today.
Click on the link below to get instant access to your FREE Family Discipleship eBook now!