All Christians in 2019 have access to the best preachers in America.
They have access to a treasure trove of content from some of the wisest and most powerful thinkers and speakers on the planet. As soon as you read this article, you can have them piped into your home or office or car.
If you were born 550 years ago in Europe, you probably wouldn't have owned a Bible, and it's likely your parish priest wouldn't have owned a whole copy of the Latin Bible. He wouldn't have known much Latin, so he wouldn't have been able to read it anyway. The Reformation brought the Bible to the people in their own language.
Fast forward five centuries to today and not only do we, in the West, have unfettered access to Scripture, but we also have virtually limitless access to some of the best Bible teaching. What a gift!
But for an ordinary pastor like me, it raises a question: How am I supposed to compete? And why should you even bother attending your local church? Why settle for the best your no-name pastor can offer when you can watch the best that Tim Keller and John Piper and (fill in your favorite preacher) can offer?
I can't compete. I'll never be on an "America's Best Preachers" list. And frankly, I have no aspirations for that.
I'm Among You
But here's what I can offer my church that those great preachers can't: I'm here. I can shepherd you. I can (if you're patient with me) know your name and your story. I can pray for you. I probably thought about you or a friend of yours as I prepared this week's sermon. If you have a question about the sermon, or are seeking wisdom in picking a college, dating, your marriage, parenting, I promise I'll respond to your email.
I'll be there when you get married, I'll pray with you when your loved one dies, and I commit to pursue you if you go astray. I'm a flawed pastor, but if you commit yourself to Christ's church, I promise to commit myself to you.
In 1 Peter 5:1–3, Peter commands the pastors in your local church:
So I exhort the elders among you, as a fellow elder and a witness of the sufferings of Christ, as well as a partaker in the glory that is going to be revealed: shepherd the flock of God that is among you, exercising oversight, not under compulsion, but willingly, as God would have you; not for shameful gain, but eagerly; not domineering over those in your charge, but being examples to the flock.
I love that little word "among" in verse 2. That word separates me from all of the better preachers and teachers of God's Word as it relates to you. I'm among you. I'm a fellow sheep in this local flock of God. And he's gifted us with each other. You bless me with the many ways God has gifted you, and I promise to do my best to bless you with the best of how God has gifted me.
We Have One Another
And because we are among one another, you're invited to speak into my life, so I might live out Christ's calling and exercise my compulsion humbly, in a God-honoring way. My best won't win me any awards, but because of God's purpose and design, it will affect you. And I'm grateful for this: I'm the pastor God intended for you.
In a shrinking world, it's easy for a pastor to look past his own congregation to a larger context, a larger stage. We might daydream what it'd look like to pastor in a more important city or pastor more influential people. Ingratitude makes our hearts grumble. Ambition turns our eyes green. If only _______, we think. When my heart turns inward, when I allow my sin to go unchecked, I go to this place too.
But here is the reality: "among" is a two-way street. God has blessed me and my family by calling us among you! God has called us to Tucson. He's called us to New Life Bible Fellowship. He has decided to use my gifts in and for this church. He has given me the privilege of shepherding his flock, of caring for his sheep.
Best Church for Me
I'm not just the best pastor for you; you're the best church for me.
Why are you the best church in the world for me? Because you know my warts, and you still love me. You've forgiven me for the times I've acted unwisely. You've forgiven me when I spoke harshly. You've been understanding about the many gifts I don't possess.
Why are you the best church for me? Because you've invested in me. New Life has generously provided means for books, conferences, staff retreats, executive team retreats, coaching, and counseling. You've gifted my wife and me date nights, and our yard is adorned with several plants you gave me.
Why are you the best church for me? Because you've allowed me to steward my gifts. You've received what I can offer, and you've let me grow as a pastor and a leader.
Why are you the best church for me? Because you've trusted me when it wasn't easy to. I came after a church split. You had every reason to distrust a strange new face, but you've invited me into your hospital rooms as your loved ones entered eternity; you've stepped into my office and shared your hardest struggles; you've sat under my preaching with eagerness and humility.
Why are you the best for me? Because you've partnered with our congregation in ministry. You've prayed for us. You've served alongside us. You've been compelled by the ministry of Christ and have given your time, energy, and gifting to make a difference in our neighborhood. You've been generous in your financial stewardship.
Why are you the best church for me? Because you've walked alongside our family in joy and hardship. Dear friends from New Life were with us when we received one of the foster children into our home. They surrounded us with prayers and tears when our hearts were broken after the state took her to another home, despite our concerns that it was a serious mistake.
Thank you, precious flock. You're the best church in the world for me. And thank you for receiving me as the pastor God has for you.
Get a FREE eBook to strengthen your family discipleship!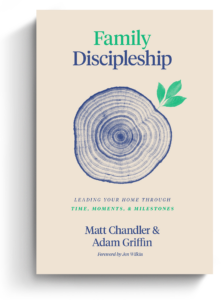 The back-to-school season is stressful for moms and dads. New rhythms of school, sports, and other extracurricular activities can quickly fill up a family's already busy calendar. Where do busy parents look for resources on discipling their family well? Aside from prioritizing church, what else can Christian parents do to instill healthy spiritual habits in their household?
Matt Chandler and Adam Griffin cover these questions and more in Family Discipleship: Leading Your Home through Time, Moments, and Milestones. And we're excited to offer this book to you for FREE as an eBook today.
Click on the link below to get instant access to your FREE Family Discipleship eBook now!