When Joel Kim's father told his five children that they would be moving from South Korea to the United States, Kim thought hard. Then he had a question.
"Do they have milk in America?" the 9-year-old asked.
Assured by his father that they had both his favorite foods—milk and bananas— Kim had no further objections. In 1982, his family left Incheon—the city where he was born (and where General Douglas MacArthur's daring landing launched the push to retake Seoul from the communists during the Korean War).
This May, Kim became the first Korean-American president of Westminster Seminary California (WSC). Five weeks later, the Presbyterian Church in America (PCA) General Assembly (GA) elected ruling elder Alexander Jun as its first Korean-American moderator.
At the same time, the nine Korean-language presbyteries of the PCA held their annual assembly at the GA, resulting in a record number of Korean-language representatives to the larger meeting.
All seem to be steps the PCA and its Korean-language presbyteries—which contain 10 percent of the PCA's congregations—are taking toward each other. After 35 years apart, will the Korean-language churches follow the path of the Dutch Reformed and assimilate into the predominately white denomination?
"That's the $64,000 question," said Julius Kim, second-generation Korean American and dean of students and professor of practical theology at WSC. "How do we go forward?"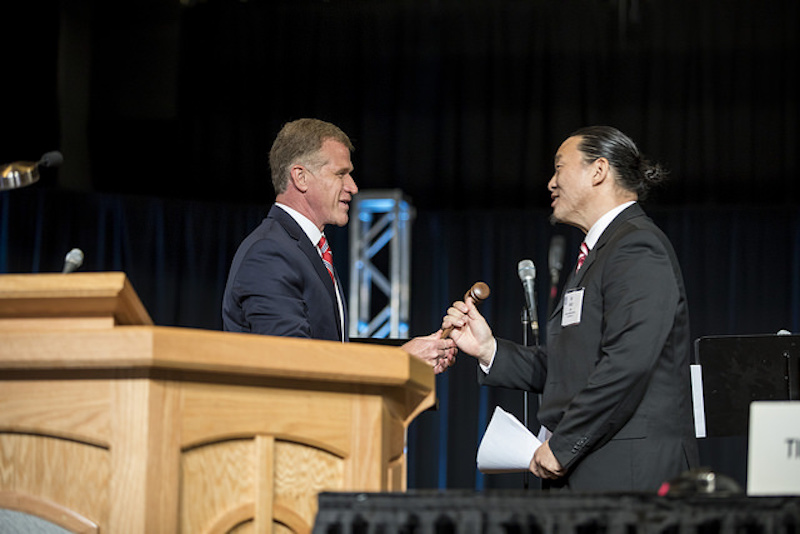 Looking Back
South Korea came to Christianity late but eagerly; the share of Christians shot up from 1 percent in 1900 to almost 30 percent in 2010, according to Pew Research Center. Thanks to the early influence of Scottish Presbyterian missionaries in the late 1800s, Presbyterians make up more than 9 million of the country's 15 million Protestants.
A dozen years after the Korean War ended, Congress lifted restrictions against Asian immigration, and South Koreans flooded across the Pacific to the United States. The number of Korean immigrants skyrocketed from 39,000 in 1970 to 290,000 in 1980, then to 568,000 in 1990 and 1.1 million in 2010.
"South Korea was a mess after the war," said Alexander Jun, a diversity and social justice professor at Azusa Pacific University and the GA moderator this year. "It was economically devastated, so people came to the United States. They brought their faith with them."
Julius Kim's father came early, in 1959, to study at the University of Southern California. Kim was born in Los Angeles, then moved back to South Korea with his family in 1970 when his father took over an engineering firm there.
His parents sent him to an English-speaking school for the children of soldiers and expats. He remembers being in kindergarten, staring in bewilderment at "a room full of kids with yellow hair, wondering how they got that."
When Kim was 12, his family moved back to the United States.
Then, like most other Korean immigrants, they joined a Korean church.
"I don't remember a Sunday when we didn't have 30 to 40 adults and kids in our home," Kim said. "We'd all eat dinner together, and then the adults would do their Bible study and the kids would play games or watch TV. . . . Monday through Friday I'd go to school with white kids, and on the weekends I'd go to this immigrant church and hang out with Korean kids who were trying to make sense of this bilingual life."
Perhaps drawn by both the faith and the community, a disproportionate number of immigrants were or became Christian—a 2012 Pew study found that among Korean Americans, 71 percent identify as Christian, most of them (61 percent) Protestant. Among the Protestants, 43 percent are Presbyterian.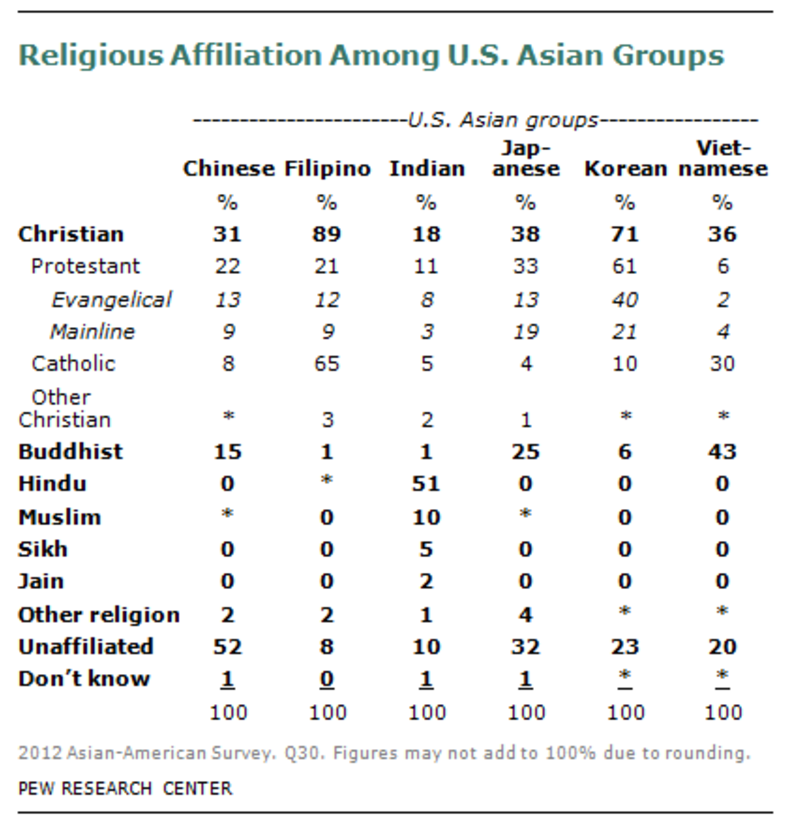 In Korea, Julius Kim attended a Baptist church, while Joel Kim's father and grandfather were both Presbyterian ministers.
But the Presbyterian denominations in Korea didn't have American branches, so immigrants like the Kims looked around for the closest equivalent. The Korean Presbyterian Church in America—now the Korean Presbyterian Church Abroad—formed in 1976. Two years later, the more conservative Korean American Presbyterian Church (KAPC) was formed.
Other immigrants, like Joel Kim's father, chose the Christian Reformed Church (CRC) or other Reformed denominations with familiar Calvinistic theology.
Meanwhile, the PCA was separating from the Presbyterian Church in the United States—now part of the PC(USA). The new denomination organized itself in 1973 and grew quickly. By 2016, the 260 founding congregations had climbed to 1,545.
The conservative PCA caught the eye of many theologically and socially conservative South Korean immigrants. (Although neither of the Kims, at least at first.)
"They were also looking for a way to be connected to American Presbyterianism," Joel Kim said. "Often times people think [Korean-language presbyteries] are a way for Korean Americans to remain separate, but I don't think that was the intention. Although they could have joined Korean-speaking denominations, many chose the PCA. It's about connecting while seeking ways to overcome practical issues of language and culture."
By 1982, there were seven Korean-language churches in the PCA, scattered from Georgia to Pennsylvania to California.
They needed "the stability of a denomination such as the PCA, but language problems make it very difficult for them to participate in the courts of the church," the 1982 GA minutes record. "Probably more important, however, are cultural differences which make many of the discussions in the church courts irrelevant to them. On the other hand, these same differences rule out discussions that would be very meaningful to them."
So the GA set up a separate, Korean-language presbytery, and said they'd reconsider it after 10 years. "As second and third generation Koreans come to positions of leadership in the Korean churches, this structure, with its built-in reconsideration plan, can be phased out if that seems needful," the minutes say.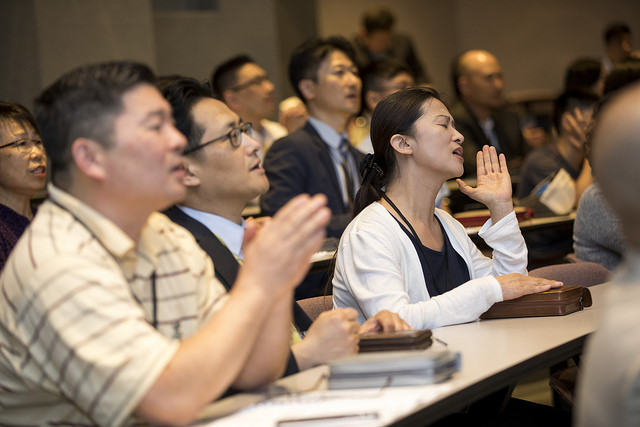 Ten Years Later
They didn't regret it.
After 10 years, the Korean-language presbyteries were booming, growing more rapidly than any other segment of the PCA. Fed by high immigration, by 1992 the single presbytery had split into five, containing 41 churches, 53 missions churches, and 139 teaching elders.
"The PCA Korean churches have been uniquely blessed by God," the 1992 General Assembly minutes read. "The existence of language presbyteries has been a most effective means of assisting growth among Korean churches and a primary bridge between the Anglo PCA and emerging second and third generation Korean leaders who come into the PCA."
From 1982 to 1992, Korean-language presbyteries grew more rapidly than any other segment of the PCA.
It wasn't perfect—there was some confusing communication between the English- and Korean-speaking presbyteries about the timely translations of denominational documents and whether it was worth the time and effort to translate the Korean meeting minutes into English and vice versa.
And operating separately felt a little uncomfortable, like there should be a way to find unity together.
The GA granted the Korean-language presbyteries another 10 years, then changed it to five. Korean-language pastors objected to the switch, arguing that the time limit put too much pressure on them to either assimilate or leave the PCA.
The GA agreed, with at least four English- and one Korean-language presbytery submitting overtures asking for a longer extension.
"The transition from first generation to the second generation will take place slowly and gradually and . . . it will take more time than we can expect," the North Georgia Presbytery wrote. "It is the privilege and responsibility of the PCA regional presbyteries to help alleviate the unnecessary tensions and frustrations of Christian brothers within the same fold and to extend warm hearts toward them."
The GA granted an indefinite extension, and hasn't taken up the matter since.
Meanwhile, the Korean-language presbyteries continued to flourish, now making up nine of the PCA's 85 presbyteries, 222 of its 1,545 churches, and 484 of its 4,761 teaching elders.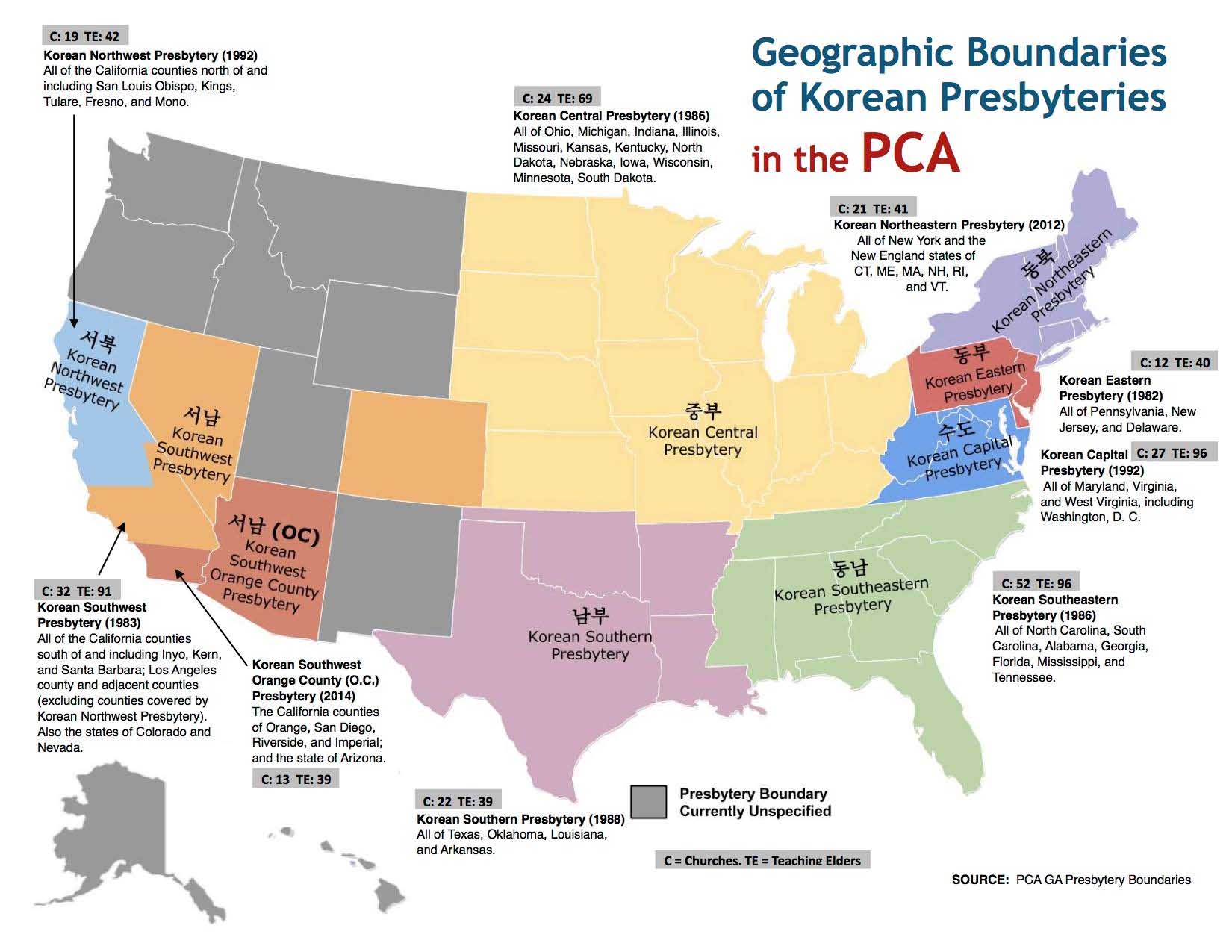 Following the Dutch
Over the past 35 years, the English- and Korean-language presbyteries—which essentially operate parallel to one another—have tried to move toward each other.
In the mid-1980s, the PCA's Mission to North America established its Korean Ministries, with the goals of training Korean Americans to lead in the PCA, encouraging PCA churches to employ Korean-American leaders, and supporting multiethnic church planting. It's still going strong.
But a proposed bilingual Korean-American presbytery didn't make it through the opposition of the Korean presbyteries, who feared it would exacerbate a "generational and culture gap."
There's no precedent to follow. Comparing the Korean experience to that of African Americans doesn't quite work. Though both are racial minorities, the African experience in America—and with American religion—has been nothing like the Korean one.
Much closer to the Korean Presbyterian experience is that of the Dutch Reformed, who immigrated to the United States as early as the 1600s.
"The Dutch were another large group of immigrants in the States, trying to figure out whether the route is greater assimilation or further separation," Kim said. Among the Dutch, like the Koreans, "there is an intense solidarity—linguistically, culturally, and religiously."
The Dutch Reformed church declared its independence from Europe when its new country did, and spent the first half of the 1800s settling into American culture, including switching more and more services to English. In 1867, the name was switched from Reformed Protestant Dutch Church to the Reformed Church in America.
The change seemed stark to the next wave of Dutch immigrants—driven from Holland in the 1840s by a potato famine, unemployment, and the clash between Calvinism and the liberal state church. But some felt their religious brothers in America weren't a much better option for cooperation. The American preachers had too little sound doctrinal preaching and too little piety; the assimilation to American culture had gone too far. In 1857, the new immigrants split off to form the CRC.
Forty-odd years later, however, the CRC itself was transitioning services to English, a move that both brought it out of isolation and also dissolved some of its unity. It wasn't a seamless transition: While the patriotism of World War I accelerated the CRC's Americanization, arguments heated up about whether Reformed ideas could only really be expressed in Dutch.
Today, the Dutch heritage of the RCA and CRC is still visible, but you have to look a little harder for it; those cultural and linguistic ties are weakening with each progressive generation.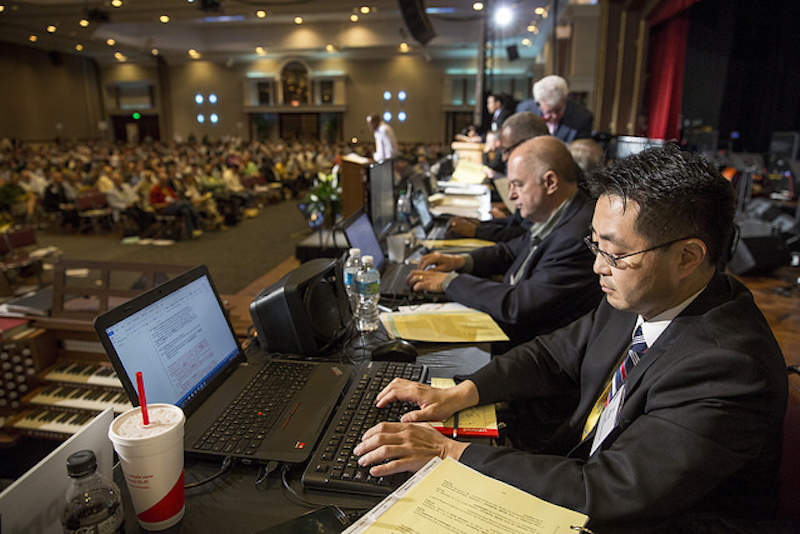 Similarities and Differences
"There are some similarities [between Dutch and South Korean immigrants] that are hard to miss," Joel Kim said. "But there are obviously significant differences."
The most obvious is that Dutch immigrants are almost entirely white. Their physical appearance and European heritage boosted them partway to assimilation before they even arrived.
"Asians don't look like the general culture here," Kim said. That was made painfully clear by the Los Angeles race riots in the early '90s, he said, when some African-American rioters targeted Korean immigrants and businesses, a harsh culmination to a conflict that been escalating for several years. During the five days of chaos, Korean-owned property sustained about $350 million of the $785 million in damage.
"That was a real awakening for a lot of Korean Americans who felt like they were assimilating into their new culture well," he said. "That sense of peace or settledness in this new country was shattered."
Another key difference with the Dutch is the motivation behind the isolation, he said. While the Dutch, dismayed by the liberal theology around them, were purposefully holding themselves apart, Koreans asked for a separate presbytery only because they didn't yet share the language and culture of their new denomination.
Only now, those walls aren't so high.
Stuck in the Middle
Second-generation Korean-American Presbyterians—those who were born in the United States and speak primarily, if not only, English—have been stuck between two cultures.
Many were raised in the Korean-language church, listened to Korean-language sermons, and observed Korean customs such as sharing a meal after every service. Those who went into the ministry mostly got internships at Korean-language churches and became assistant pastors in Korean-language presbyteries. They attended church and presbytery meetings where Korean was the only language spoken.
But most—like the vast majority of second-generation immigrants—don't speak their parents' native language well, or at all. They went to English-speaking schools, watched English-language television, and read English-language books. They are Korean, but they're also born-and-raised Americans.
To accommodate them, Korean-language churches started English-language ministries—smaller worship services and programs for those who don't speak Korean. And as the second generation entered church leadership, some of the churches began translating meetings into English.
Changes Ahead
Even bigger changes lie ahead. As South Korea developed, immigration slowed. Without replenishment, the Korean-speaking segmentis aging, and attendance at Korean-only services is slowly shrinking.
"There are 4,000 Korean churches in the United States," said Henry Koh, a first-generation immigrant who coordinated the PCA's Korean ministries for 18 years. Within 20 years, he expects that number will drop to half.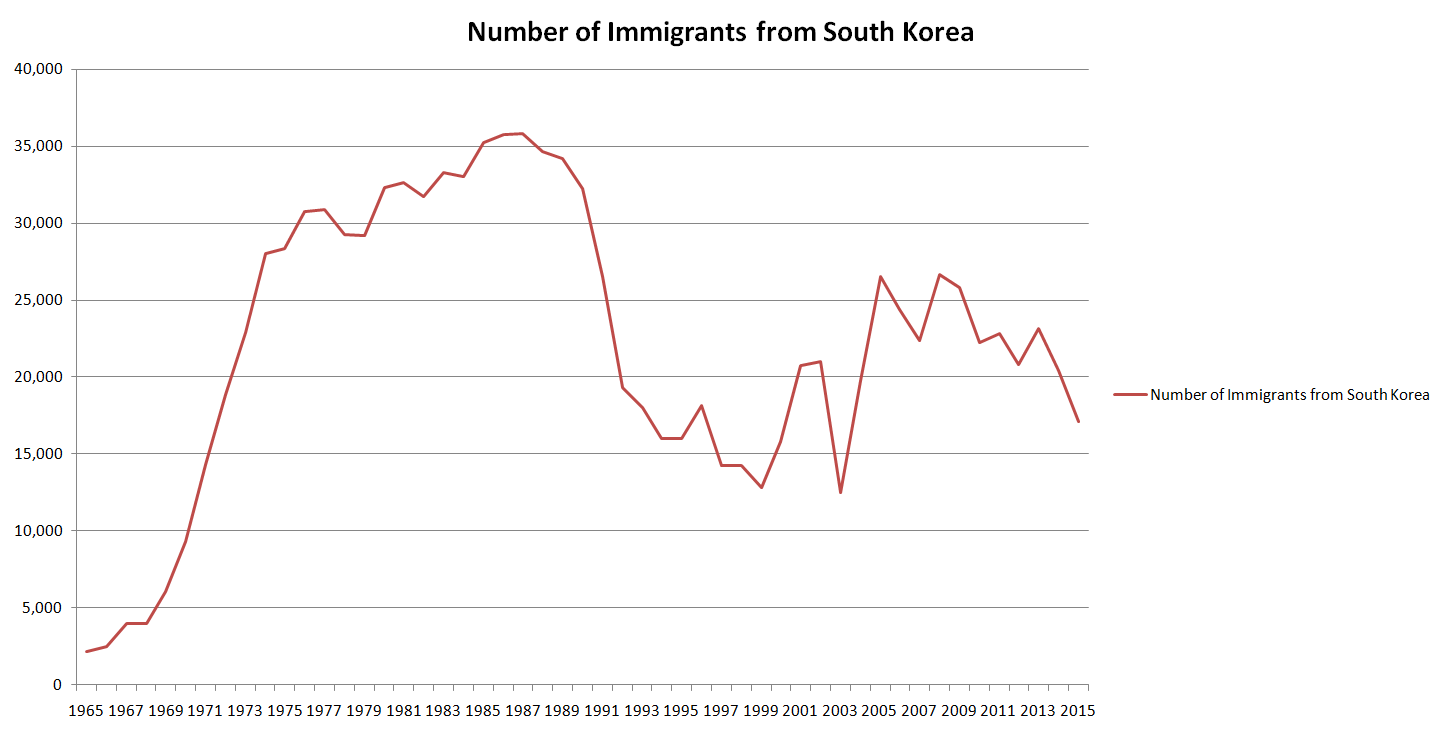 "You have to raise up the second generation and give them support," Koh tells first-generation pastors. "As the first generation shrinks, give the second generation the main sanctuary, and you use the small chapel. Let them take over the building and the finances."
Already, Korean-language churches are easing into the transition using different models. Some blend leadership, hiring both Korean-speaking and English-speaking staff. On one campus in Virginia, a Korean-speaking and an English-speaking church operate in the same space. They share resources (like English-speaking Sunday school teachers) but have separate leadership.
There is increasing fluidity between the English- and Korean-speaking churches as the second generation attends and leads in both places.
Joel Kim, for example, is a teaching elder in a Korean-speaking presbytery. But when he moved to teach at Westminster Seminary California, there were no Korean-speaking churches around, so he took his family to the primarily white New Life Presbyterian Church.
When a Korean-speaking church 80 miles away needed help, Kim spent six years serving in both its English- and Korean-language ministries. After the church was more established and growing, though, the sheer distance prompted the Kims to transfer back to New Life.
"For someone like me who's bilingual and bicultural, the movement back and forth is quite fluid," he said. "I simply want to serve and be where the needs are."
As more second-generation leaders join him in moving between the presbyteries, they are taking a greater interest in the larger denomination. And as they do so, "it lifts the interest of the first-generation pastors," Kim said.
You can see this at the GA, which has been attracting more and more Korean Americans every year, he said. Previously, attending the GA seemed fruitless to many in the first generation. The discussions generally didn't involve them or need their input, and waiting for translation all the time was wearying and frustrating.
So the Korean-language presbyteries invented an umbrella group—the Coalition of Korean Churches (CKC)—and held their own mini-assemblies, which dealt with Korean-relevant issues in Korean.
This year, the CKC held its meetings in conjunction with the GA, running its own track during breakout sessions and holding its meetings during conference breaks. That helped push up the number of Korean-language representatives to around 80 or 90—a record showing, roughly 10 percent of the representatives gathered.
A record number of Korean-language representatives attended this year's General Assembly—roughly 10 percent of those gathered.
The GA's willingness to supply time and space for the CKC was "a wonderful way to work together," Julius Kim said.
And for Korean Americans taking a step toward the GA, the election of a Korean-American as moderator felt like the GA taking a step toward them.
"It was very encouraging," Kim said.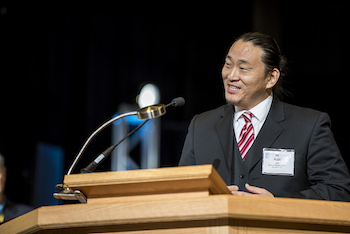 Not the End
While the two parts of the denomination are sliding closer together in some ways, that doesn't mean the end of Korean-language presbyteries is imminent. In fact, the number of Korean-language presbyteries is still growing—two of the nine were added in the past five years. A solid 10 percent of the PCA's churches—and teaching elders—are in Korean-language presbyteries.
Jun, who never lived in Korea but speaks the language, is part of an English-language ministry in a Korean-language church. ("We figured that worshiping in English with our children—who are less bilingual than we are—would be most beneficial," he said.)
By the time Julius Kim finished college, his Korean fluency was "rapidly deteriorating from lack of use." In fact, he was so assimilated that while he was a teaching assistant at Trinity Evangelical Divinity School, the two classes he was asked to teach were speech and American church history.
When the time came for ordination, he chose an English-language presbytery. "I knew I wanted to be a faithful churchman," he said. "How would I participate if I only understood 20 percent of what they were talking about?"
About 100 other Korean Americans have also made that transition to primarily white or multiracial churches in the English-speaking presbyteries.
"We're in this limbo period right now," Joel Kim said. The Korean-language presbyteries "still exist and are still necessary. But will they always be necessary? I don't know. And if they're not necessary, what are our options? What systems and structures do we need to put in place to allow some of the minority to feel comfortable in our Anglo presbyteries?"
Maybe the PCA needs to reimagine presbyteries, which were drawn geographically when the denomination was monoethnic, Jun said. Should an African-American presbytery encourage and support black PCA churches? Should future Latino and Spanish-speaking pastors of PCA churches join a Latino presbytery? Would their very existence encourage more African Americans or Latinos to join the PCA, as demonstrated by the success of Korean presbyteries attracting more Koreans?
While it's interesting to think about, Jun doesn't believe presbyteries should be split along ethnic lines in the long run.
"That connectionalism to a larger body not only serves [the Korean-language presbyteries] better, but serve the church of Christ better," Joel Kim said. Rather than view the presbyteries as a problem, Presbyterians should consider the gifts they bring, he said.
Korean Americans, by virtue of their heritage, think globally, something the PCA is keen on as they widen their ministry in the world, Kim said. The Korean-language churches have raised up leaders like Mission to the World head coordinator Lloyd Kim and executive director and Lausanne Movement CEO Michael Oh.
Korean Americans also add depth to a sometimes narrow discussion of race, he said. The churches the second-generation leaders plant are overwhelmingly multiethnic, and their presence on any leadership team helps to diversify ethnic representation, thinking, and experience.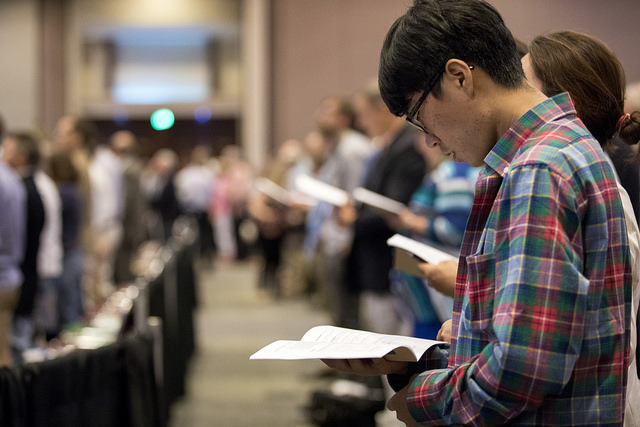 What's Next
No one has been thinking about the future of the Korean-language presbyteries more than the Korean Americans themselves, although so far there has been no "vision casting," Jun said.
"At the next CKC meeting, we have to say, 'What are we doing about the transition for Korean presbyteries? How are we second-generation Korean Americans given leadership? Can we sit with the first generation and talk about it?'" he said.
"If we're thinking that the way things are will stay that way forever—well, the word of the Lord, yes. But everything else will adapt."