"This is so boring!"
I didn't say it out loud, but I thought it several times. It was my first time hunting, and I had sat still for 10 hours. Apart from the occasional leaf rustling, a couple squirrels, and a bird or two, I saw nothing.
But I've since realized something: I didn't see anything that day because I wasn't really looking. No, I didn't see the animal I was hunting, but I missed out on something far greater: God's glorious creation. The problem wasn't with his creation. The problem was with me. The sky hadn't taken a 10-hour vacation from declaring divine glory that day. I was just oblivious to it.
I suspect I'm not alone.
A couple years ago I overheard two summer campers talking as they watched squirrels play. One said, "It's not like squirrels ever glorify God!" The other replied, "Yes they do; they glorify God just by being squirrels." Both campers were seeing the same squirrels, yet their experience of God's creation in that moment was vastly different. One saw glory, the other did not.
Summer looms. We modern people often prefer the comfort of air conditioning to the afternoon breeze on a hot summer day. Much like that young camper, even when we are outdoors, it's far too easy to miss the majesty of God's creation.
David spent many nights in a field with no one to talk to but his father's sheep—uninspiring company for a teenage boy. But at some point, the companionship of the night sky slowly—or perhaps suddenly—broke through to him. David saw and heard something that captured his attention. The skies spoke, and he wrote.
Four Reasons to Look Up
In the first four verses of Psalm 19, we encounter four truths that encourage us to look up from our phones and soak in God's creative splendor.
1. Creation speaks (v. 1).
David declares that creation is revelatory. The skies unveil and proclaim God's glory. They testify to his existence, his beauty, his power. Having heard creation's voice, David challenges us to perk up our ears. Psalm 19 is a clarion call to lean in and listen to the chorus of voices, for it is not only the skies that speak, but all of God's creation.
2. Creation speaks constantly (v. 2).
David also tells us creation is speaking day and night. The heavens and skies take no vacations. They are unrelentingly doing what they were created to do. Their speech pours forth abundantly—like an overflowing fountain, not barely noticeable droplets.
3. Creation speaks our language (v. 3).
David tells us no matter what language we speak or what culture we inhabit, God's created order communicates in a way we can understand. It crosses all cultural boundaries.
4. Creation speaks everywhere (v. 4).
David implies there is no place we can go to remove ourselves from the speech of God's creation. One thinks of his question in Psalm 139: "Where can I go from your presence?" The natural world everywhere declares God's glory.
Enrich Your Bible Reading
But are we listening? That's the question, isn't it? Like an ostrich, my head was buried in the sand of technological distraction for far too long. But I've come to see how profoundly this matters because of the innate complementarity between God's world and God's Word. A heart attuned to creation's song is better positioned to comprehend and cherish the truths of Scripture. This is true even with the simplest of terms. Humor me for a moment and read this list aloud to yourself. Shut your eyes after each word and let your mind make the biblical connections:
Sheep. Green grass. Stars. Sun. Tree. Branch. Seed. Root. Light. Sky. Rock. Stream. Sand. Wave. Storm. Cloud. Lightning. Thunder. Mountain. Field. Cliff. Dust. Stone. Locust. Flower. Sparrow. Desert. Sea. Fire. Water.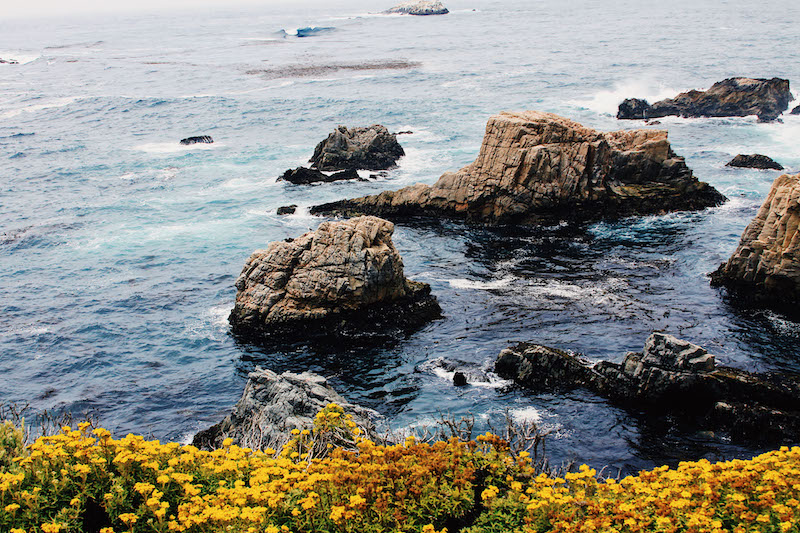 Since we understand God more deeply through both his Word and his world, withdrawing from creation hampers our understanding of God. To be on a hike and seek refuge from the wind in a rock cliff is to experience Psalm 71:3: "Be to me a rock of refuge." To fall out of the boat while whitewater rafting and be safely pushed into an eddy is to experience Isaiah 43:2: "When you pass through the waters, I will be with you." To walk in a garden and ponder Jesus's words about birds and flowers in Matthew 6, or his discussion of vines and branches in John 15 is to see those passages come alive.
God's creation is not just background music to his redemptive hymn; it is the harmony that adds beauty to the whole melody.
God's creation is not just background music to his redemptive hymn; it is the harmony that adds beauty to the whole melody. In a pivotal moment of God's redemptive plan, as Christ hung on the cross, we read:
There was darkness over the whole land until the ninth hour, while the sun's light failed. . . . Then Jesus, calling out with a loud voice, said, "Father, into your hands I commit my spirit!" And having said this he breathed his last. Now when the centurion saw what had taken place, he praised God.
The dark sky magnified the truth that the judgment we deserved was applied to the Son. The darkness of the heavens declared God's glory, and the black skies proclaimed his handiwork on that dreadful and wonderful day. When the centurion saw the Word made flesh magnified by the dark skies, he gave the only appropriate response: praise.
Develop Eyes to See
That our culture is simultaneously drifting from biblical moorings and retreating from meaningful interactions with God's creation is not coincidental. David linked the two. Cultivating eyes to see and ears to hear God's revelation in both Scripture and nature is of great value in knowing him more intimately.
The truth is we will not likely change our cultural patterns and indoor tendencies. More winter skiing, more hikes in the woods, more fishing trips will not, in themselves, make any difference. Again, the difference comes to those who listen. The reward comes to those who, like a young shepherd, cultivate the ears of their heart to hear their Maker's magnificence. Psalm 19 invites us to marvel anew at God's Word and God's world.
As a director of a summer camp, I've seen rich fruit in young people who have learned to view creation with wonder. We train our summer staff to see all of life through the lens of Scripture. We also train a smaller group to lead campers on a "creeking trip"—wading and climbing through a mountain creek. I love teaching the staff to look with fresh eyes and listen with fresh ears to everything around them. On many occasions, the very way we experience God's world—including the way we read his Word—has been changed as we've encountered our Maker in a small creek that continues to do what he created it to—proclaim his glory.