One of the great honors of my ministry is opportunities to preach across the United States. I've been privileged to visit all kinds of churches with varying assumptions and convictions on how Sunday morning should run. I've preached to thousands and to 15. I've preached through sound-system failures and complete electrical failures with phones lighting the worship center.
I've experienced generous hospitality and the opposite. I've made mistakes and have received loving feedback from pastors who've helped me become a better guest.
I've learned that church leaders aren't always sure what to do when hosting a guest preacher. Here are some suggestions from my experiences.
1. Protect the Church
Be careful whom you invite to speak. The New Testament has numerous examples of churches allowing false teachers in their midst. If you let a false teacher in, unsound doctrine could spread like an infectious disease (2 Tim. 2:17).
Jesus threatened to shut down the church at Pergamum for hearing dangerous teachers (Rev. 2:12–17). Elders should vet a speaker. This isn't difficult in an age when sermons, articles, and books are online. One mistake can create many headaches and heartaches.
2. Assign Someone to Be in Charge
Develop a protocol for hosting outside speakers. Assign someone to the speaker who has gifts for service and administration. This person should know the schedule, answer all questions, and help with logistics, from gathering reimbursable receipts to providing transportation. Express love for your speaker by funneling all communication through one or two people.
3. Give Him Some Background
It's always helpful to know what's happening in the church. Guest preachers can address topics as an outsider in edifying ways. Tell him what you've been preaching and where you're heading.
A common mistake leaders sometimes make is to assume people are working from the same shared knowledge bank. That's almost never the case. Assume the speaker knows nothing about your history or culture or lingo. This will help him love your church and speak with sensitivity.
Assume the speaker knows nothing about your history or culture or lingo. This will help him love your church and speak with sensitivity.
4. Work Out Some Specifics
Tell him what Bible translation the church uses and the length of a typical sermon. If your church is sensitive to a particular version and the preacher starts by reading from the one you've told people not to use, a hurdle is created immediately.
If you're taking the speaker to lunch or having him in your home, find out what he likes to eat. It can be awkward to learn of an allergy that prevents him from eating anything you're serving.
5. Discuss Fundraising and Add-Ons
Many guest speakers come raising support, either for themselves or their organization. Your church can help the visit go smoothly by preparing ahead of time ("The speaker needs support and we support them") and giving the speaker boundaries for discussing money. Some churches don't mind if there's an appeal from the pulpit; others feel uncomfortable about it. Inform the speaker of your church's policy and plan the best path.
Also, be specific about "add-ons." Do you want him to teach Sunday school? Talk to the youth? Have dinner with certain families? Engage with the staff on a specific topic? I was once asked to talk to staff about a particular topic. I didn't understand what they were expecting and mishandled the meeting. My friend, the senior pastor, was beside himself. The staff, who'd never met me, thought I was proud and standoffish. Not good.
Defining terms of engagement beforehand helps your guest communicate with your people effectively and can rescue the guest and members from unnecessary offense.
6. Be Generous
Don't make the preacher pay for the honor of preaching at your church. Most churches I visit want to be generous, but many don't take travel expenses into account. Preaching far away requires a flight, often a car rental, and a hotel.
That can cost a lot. A church may offer a $500 honorarium and think it generous, but that doesn't cover travel expenses. Be sure to think through all costs—travel, food, and accommodations.
It's often deemed humble if the speaker doesn't ask about the honorarium. I never have. Save your guest the trouble and state up front what you can pay.
Don't make the preacher pay for the honor of preaching at your church.
If you're having a hard time trying to figure out your honorarium, consider giving the speaker one percent of your pastor's salary. Ninety-nine percent of speakers are not making significant money preaching at churches or conferences. Whatever you're thinking about giving, offer more. The guest speaker's family will appreciate it.
7. Give Him Space
Some speakers may prefer a hotel to someone's house, so have a conversation about that. I've appreciated the space a hotel room gives me, but I've also had wonderful hosts with whom I've become friends. The best way to practice hospitality toward your guest is to find out how best to help him rest and sleep.
8. Handle Wives and Children Well
A speaker's family will sometimes accompany him, which could mean navigating issues for young children. While the speaker's duties require visits with multiple people, childcare falls to his wife. Help the family by connecting with the wife ahead of time and asking how the church can host her and the children.
If the speaker travels alone, consider what he has left behind to serve you. Wives and children pay a silent cost when Dad travels. Consider getting the family a card that simply says, "Thank you!"
9. Be Sensitive to Cultural Differences
Expressing hospitality to someone from a different culture is challenging, but it can be a great blessing to your church. To make it work, you'll need to research how hospitality is expressed in his culture. It could be a great offense to put him up in a hotel or not make time for him to meet with your senior leadership or even sit a certain way (like legs crossed with the bottom of your foot facing the congregation).
Smart businesses go to great lengths to train employees in cross-cultural intelligence. Don't assume you share things you think are common knowledge and practice.
It's About Hospitality
These suggestions are practical ways to express hospitality, to be a good host who is other-centered and aware of the your guest's needs, while helping them understand the people they've come to serve.
Most speakers want to be effective in the lives of others. Help them serve your people—which is precisely what they desire to do.
Get a FREE eBook to strengthen your family discipleship!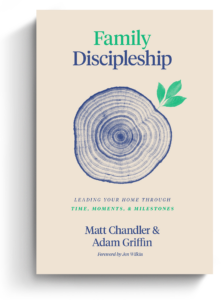 The back-to-school season is stressful for moms and dads. New rhythms of school, sports, and other extracurricular activities can quickly fill up a family's already busy calendar. Where do busy parents look for resources on discipling their family well? Aside from prioritizing church, what else can Christian parents do to instill healthy spiritual habits in their household?
Matt Chandler and Adam Griffin cover these questions and more in Family Discipleship: Leading Your Home through Time, Moments, and Milestones. And we're excited to offer this book to you for FREE as an eBook today.
Click on the link below to get instant access to your FREE Family Discipleship eBook now!