Scott and Melissa Terry knew they were in trouble when the tornado hopped the Mississippi River.
"I thought that would break it up," Scott said. "It didn't. At that point, I was like, Okay, this thing is real."
The news was specific: the tornado would hit Benton, Kentucky, around 9:45 p.m. on Friday, December 10. "Sometime between 9:15 and 9:30, my wife told the girls to get anything in the house they can't live without," Scott said.
The girls found their cats, and the family tucked themselves into a safe room they'd built five years ago when adding onto the house. Made of cinderblock, concrete, and rebar, the room had a metal door held shut by three deadbolts.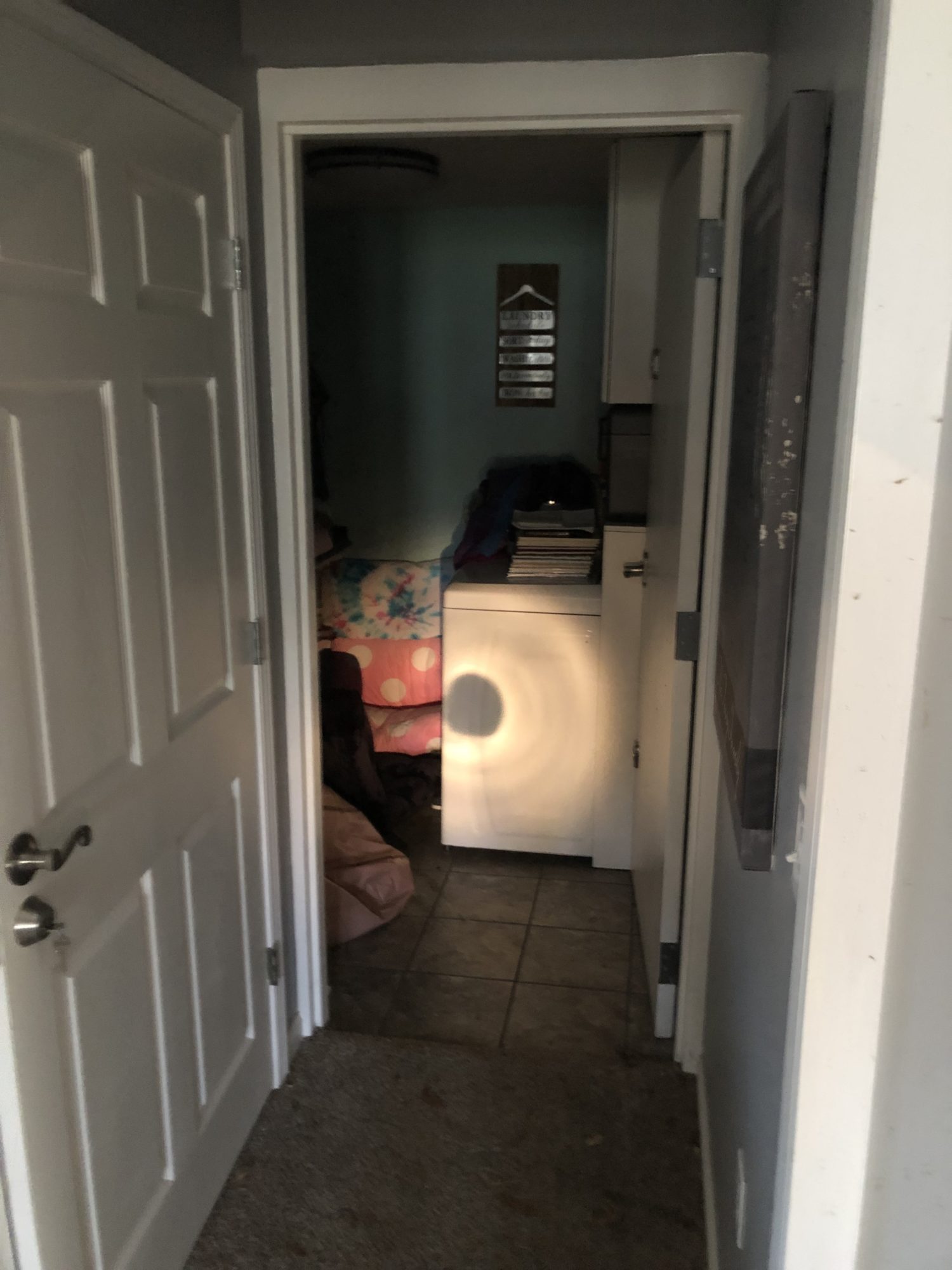 "We got in there and closed the door," Scott said. After a few minutes, "I could feel the pressure change. It was like landing in a plane, except you felt it in your whole body."
They heard glass breaking and wind blowing. They smelled dirt on the air—like when farmers are breaking ground in the spring. Then it was still.
"We were only in there about 15 minutes," Scott said. They walked out to their living room, and Scott's flashlight caught water coming in from the ceiling. Maybe they'd lost a few shingles? Or had a broken window?
"You could see the walls of the kitchen, so I thought maybe it was going to be okay," Scott said. "But when I got into the kitchen and looked up—it was gone." There was no ceiling—only empty night air and rain.
The Terrys grabbed some clothes and ran to a neighbor for the night.
In the morning, they could finally see what had happened: "We had a two-car attached garage, which is completely gone," Scott said. "All that's left is the cars and the concrete pad. The tornado picked up that end of the roof and the trusses and pivoted it on the middle of the house 90 degrees, then set it down. It blew out the back wall—it's just gone."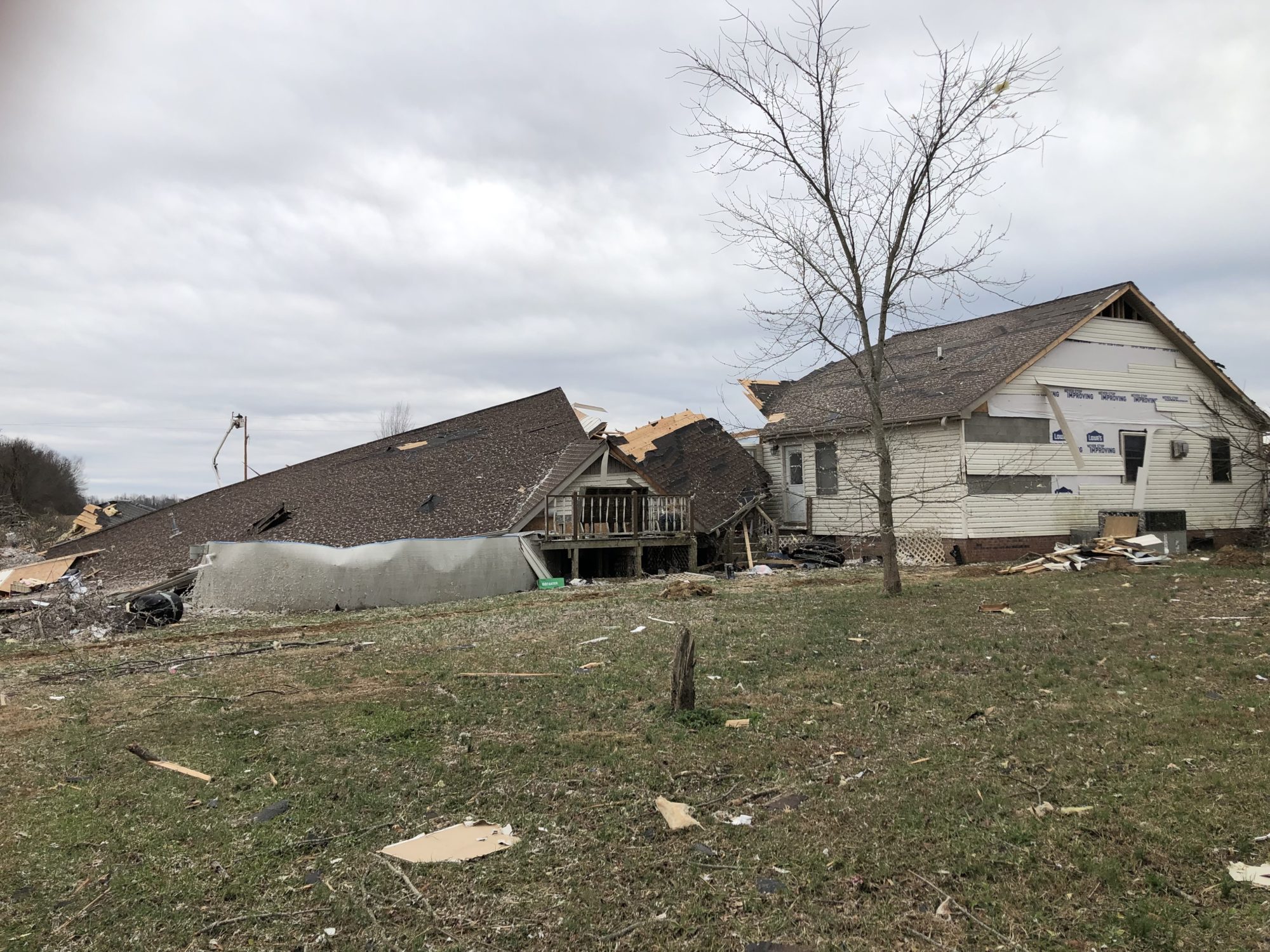 Almost everything that wasn't blown away was soaked with rain. "The debris you see in those pictures on TV—they don't do it justice," he said. "I thought, What do you do with all this? Then I found out: the church shows up."
Over the past few weeks, churches in Kentucky have housed disaster relief volunteers, cleaned up debris, helped the newly homeless move into resorts and hotels, made meals, handed out hundreds of Christmas presents, organized distribution centers, cried, prayed, had gospel conversations—oh, and held worship services.
"Advent has taken on a new meaning for us," pastor Charles Frazier said. "We aren't worried about the presents and the dinners, but about the most important things—the gospel that gives us hope and joy and peace."
Dawson Springs
First Baptist Church pastor Trent Keeton lives in Dawson Springs, about 55 miles from Benton.
"The sirens had been going off," said Keeton, who doesn't have a basement. He and his wife Christina headed to church, where they hid under the baptistry.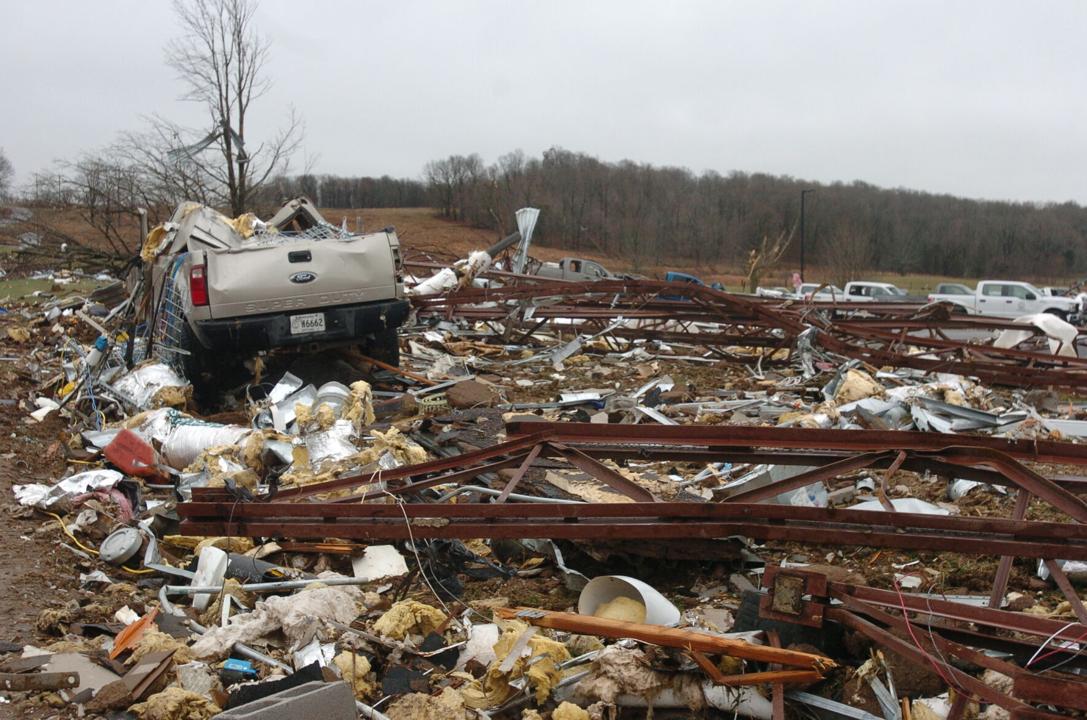 "The electricity went off, and all we could hear was screeching metal," Keeton said. "I thought the roof was coming off."
Afterward, he made his way to his office to try to put batteries into a radio to find out what was going on. His phone reception blinked back on, and it immediately started ringing. It was a deacon from his church, telling him a member's house was gone.
"What do you mean, gone? Like, their roof is gone?" Keeton asked.
"No, their whole house is gone," he said.
Later, Keeton would find out that a First Baptist member had died. Three neighbors—all members of Keeton's church—lost entire houses. One member emerged from his basement and heard yelling. He ran next door to lift debris off of his neighbors.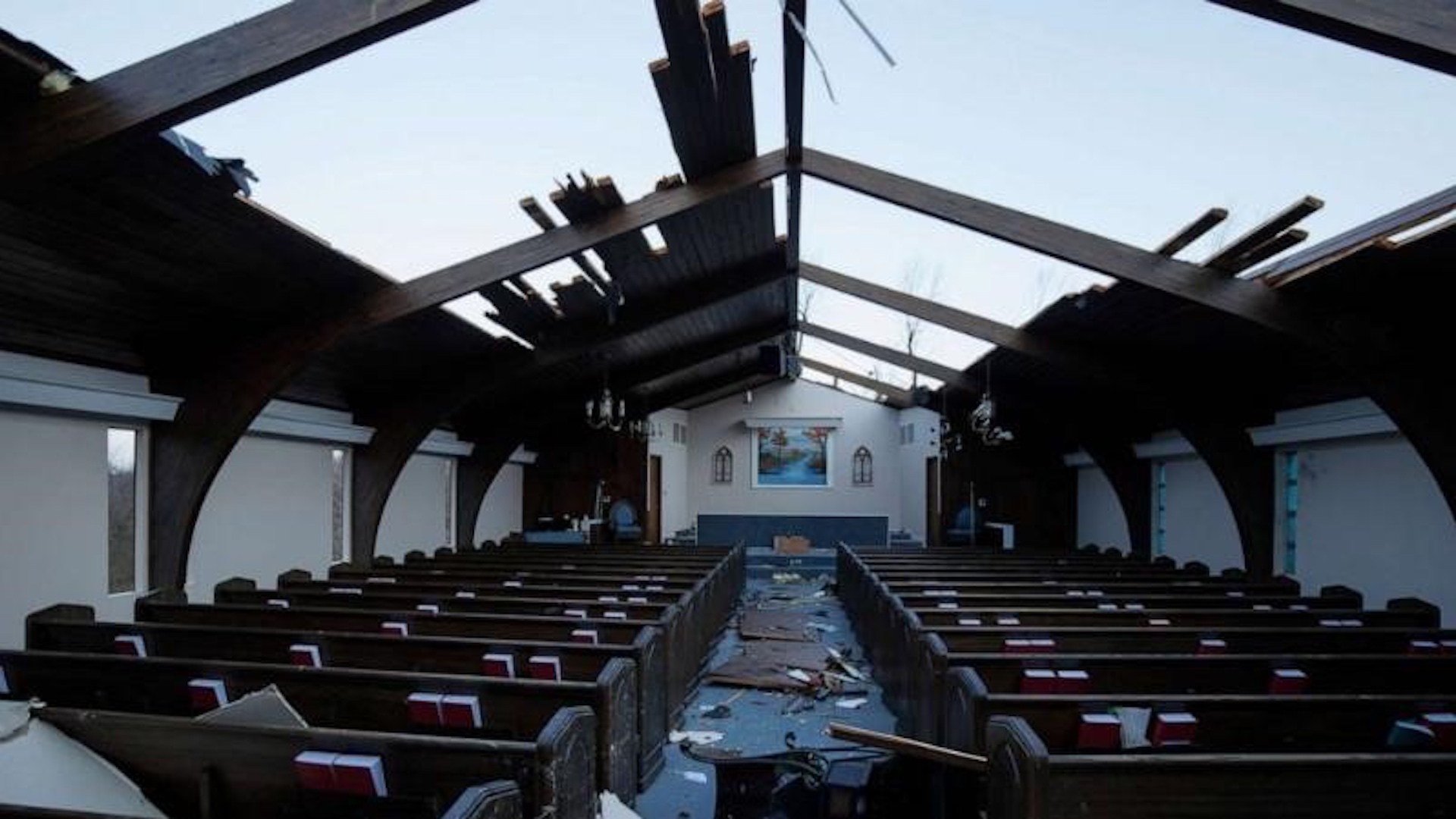 "We spent the night waiting for daylight," Keeton said. "Then, I don't think anybody was prepared for what they saw."
Buildings were gone. Cars were twisted around and smashed up. Roofs had collapsed. Trees were uprooted. Keeton spent Saturday driving around, checking in on as many people as he could. Even those without wind damage didn't have electricity, heat, and sometimes water. It was impossible to know what to do and how to help.
On Sunday, Keeton heard from a woman in his church. "I'm not trying to be bossy, but we need to do something," she said.
Generosity
She didn't mean that Keeton should start a disaster relief station. With the electricity off, the breakfast meat in First Baptist's freezers—meant for communal meals each week—wasn't going to last.
So on Sunday, congregants started frying it up. The youth group made posters and flagged down cars. People began to stop, grateful for a meal.
Then somebody remembered the backpack ministry and pulled out the leftover soaps and deodorants and toothbrushes from that. Somebody thought of the Awana Christmas party they were planning and pulled out the food and supplies they had for that.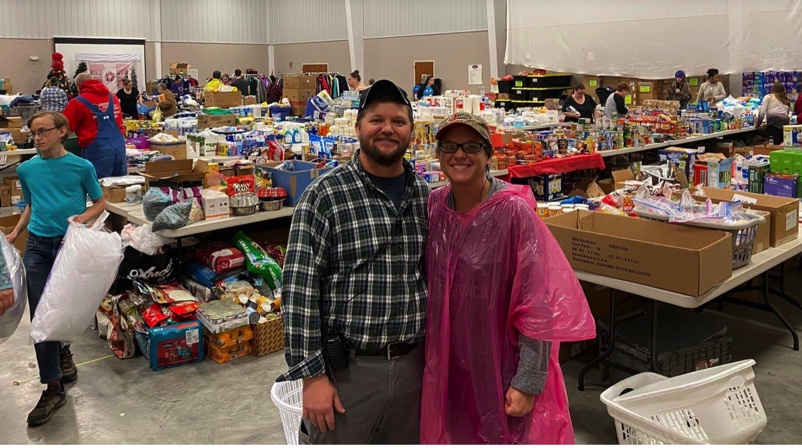 Before long, "people started asking if they could donate," Keeton said. Over the next week, First Baptist Church in Dawson Springs received everything from toothpaste and toilet paper to kerosene heaters and blankets to food and water. The donations came from organizations and corporations, from Operation Blessing and God's Pit Crew and YAIPAK. Churches from Lexington to Louisville sent generators. A tractor-trailer delivered a load of lumber.
"We took every table we had and started lining them up," said Keeton, whose activity center now looks like a free Walmart. "The generosity of people is overwhelming. We're asking people not to bring any more donations. We're out of room."
Samaritan's Purse also called, asking if they could use First Baptist as a base. Keeton agreed, handing over his Sunday school rooms for bedrooms.
"This is a small town—you can get from one end to the other in five minutes," Keeton said. "So Samaritan's Purse calls the homeowners to let them know they're leaving the church and will be there in a few minutes. But before they even get there, another group got there first and started doing the job."
That situation happened at least five times, Keeton said. Sometimes it's an organized group, and sometimes it's some individuals or a church group driving in to help. A couple of men who stopped by the church said they were going street to street, asking homeowners if they needed a hand.
Keeton met one Christian couple who wanted to donate a vehicle and asked if he knew someone they could help. He connected them with a single mom in his church who lost her mobile home and vehicle in the storm. They came on Sunday with the car, handing it over to her after the service.
"She wept," Keeton said. "She was so thankful she had a way to get to work on Monday. You couldn't have given her anything she needed more right now."
Benton
The night of the storm, Zion's Cause Baptist Church pastor Charles Frazier was watching a local high school basketball game. "We were in the fourth quarter when the announcer—who is my church member—said, 'Folks, just want to let you know we have a serious storm coming. You may want to go ahead and leave,'" Frazier remembered.
He and his wife took off for a neighbor's basement. (The game got down to 0:16 seconds before players and fans had to take shelter in the school's hallways.)
Frazier was only in the basement about 25 minutes, coming out when he heard the hail stop. In the dark, he couldn't see what had happened.
"I'm three miles from where the tornado went across our area," he said. "I could see debris on my car." He found leaves and branches and—more worrying—bits of pink insulation. He hopped on his phone, checking in with church members. Three had damaged houses—one "you can't even find what used to be the neighborhood—it's gone."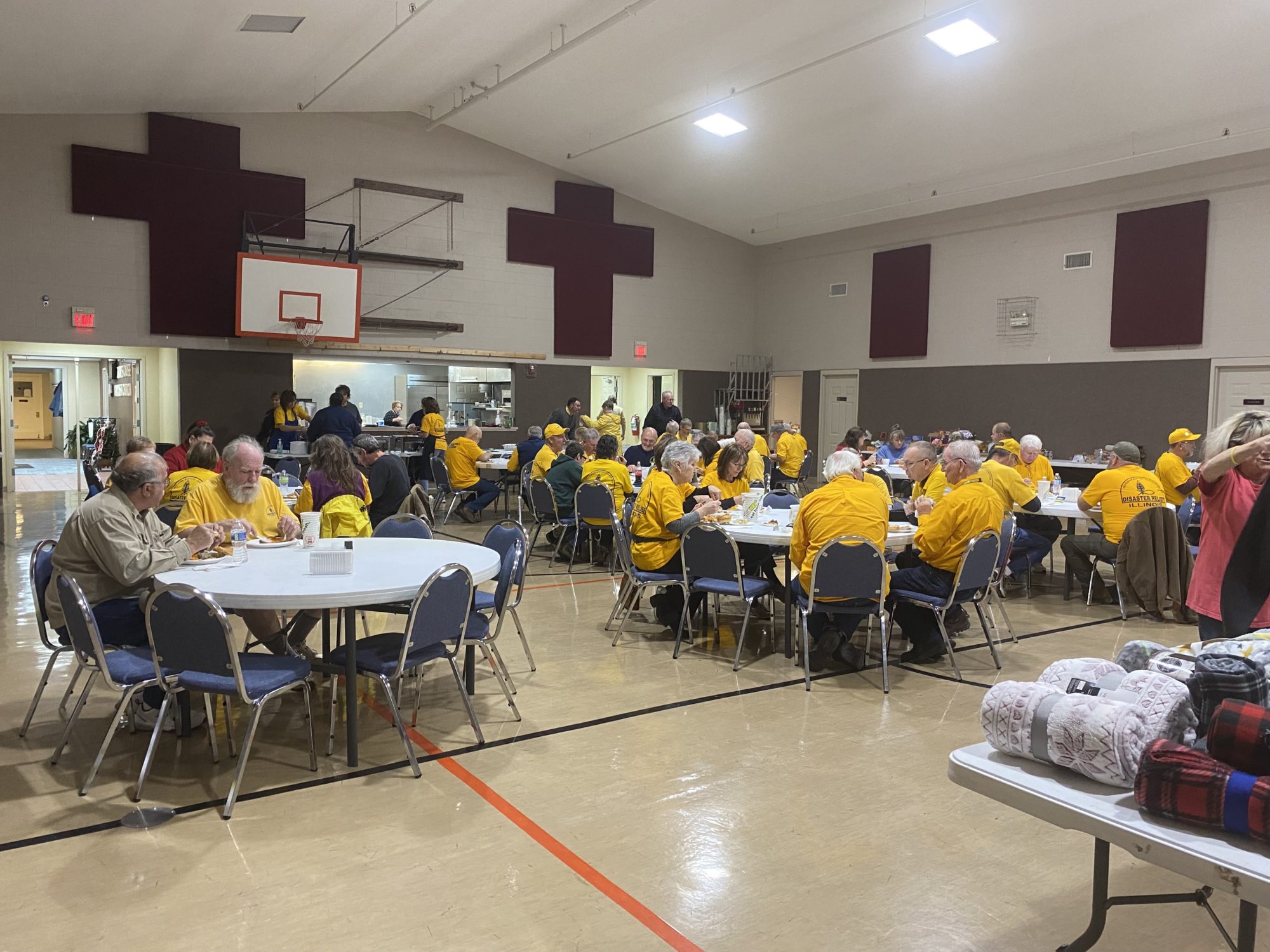 One of Zion's Cause's members is the regional director of disaster relief for the Southern Baptist Convention. By Sunday evening, volunteers were rolling in.
"Back in 2012, we built a new sanctuary, and we put in complete bathrooms with commodes, sinks, and showers, because we wanted to be a Red Cross emergency facility," Frazier said. Instead, he's an SBC facility, housing up to 70 volunteers a night.
During the day they run chain saws and stack debris, while Frazier coordinates supplies. He's served almost 30 years in Kentucky, and knows a lot of pastors. "This tornado hit several counties," he said. "So what I've been doing is calling other pastors asking what they need."
He feels like Elijah's widow—every time he gives away a trailer full of supplies, it's replaced with twice as much. The donations come from all over. One woman drove down from Michigan with her car full of donations. "I got off the interstate and just drove until I saw the first steeple," she said. She pulled in and gave everything to Frazier, then turned around and drove back home.
"We've got story after story like that," he said.
Gospel Conversations
Kory Cunningham, associate pastor at Hardin Baptist Church, spent the morning before the tornado in North Carolina, receiving his DMin from Southeastern Baptist Theological Seminary. "We had an awesome morning," he said.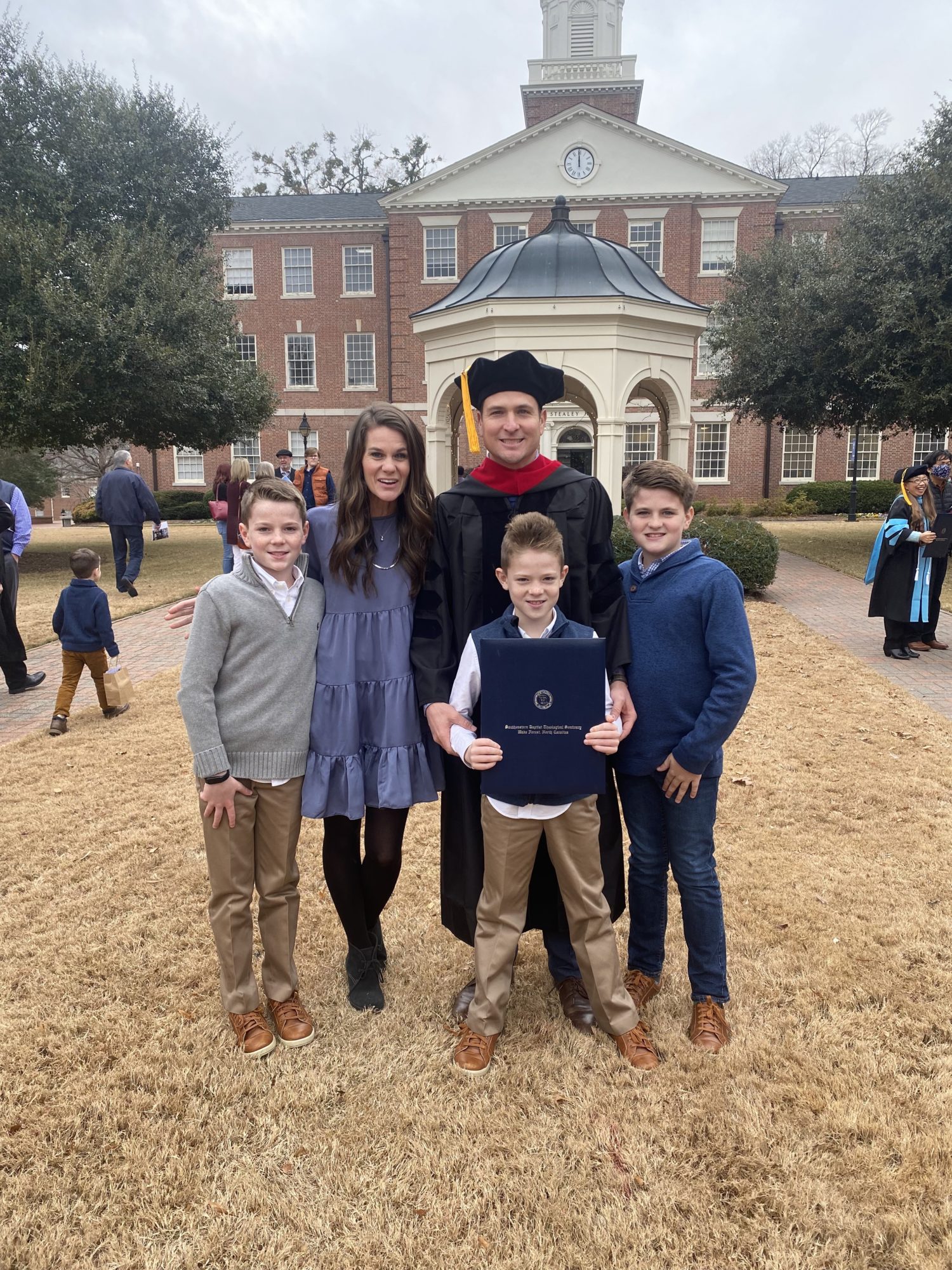 But by the evening, he was following news reports of a tornado heading directly toward his community in Kentucky, where his 5-year-old daughter was staying with his sister's family. "It was not a good day as a father to have left your daughter behind," he said. "I turned to my wife and said, 'We are never leaving any of our kids again. We will always be together from now on.'"
He reunited with his daughter Saturday night. "We didn't get home until after dark. Usually the area is lit up with lights, but all the electricity was out and it was pitch black. It was an eerie feeling."
A couple at Hardin Baptist Church are missionaries with Eight Days of Hope, a faith-based disaster relief organization formed after Hurricane Katrina. By Wednesday, close to 200 volunteers were sleeping in the church's Sunday school rooms and using the church kitchen. One day, Cunningham pulled on a yellow shirt and went out with them. He'd never done anything like that before.
"It's kind of like going to camp as a kid," he said, chuckling at himself. "I've got all these jitters: Am I in the right group? Is my friend going to be there? What am I going to do?"
He ended up spreading tarps across the roofs of five houses with a local crew headed by a man from his church named Jeff Green.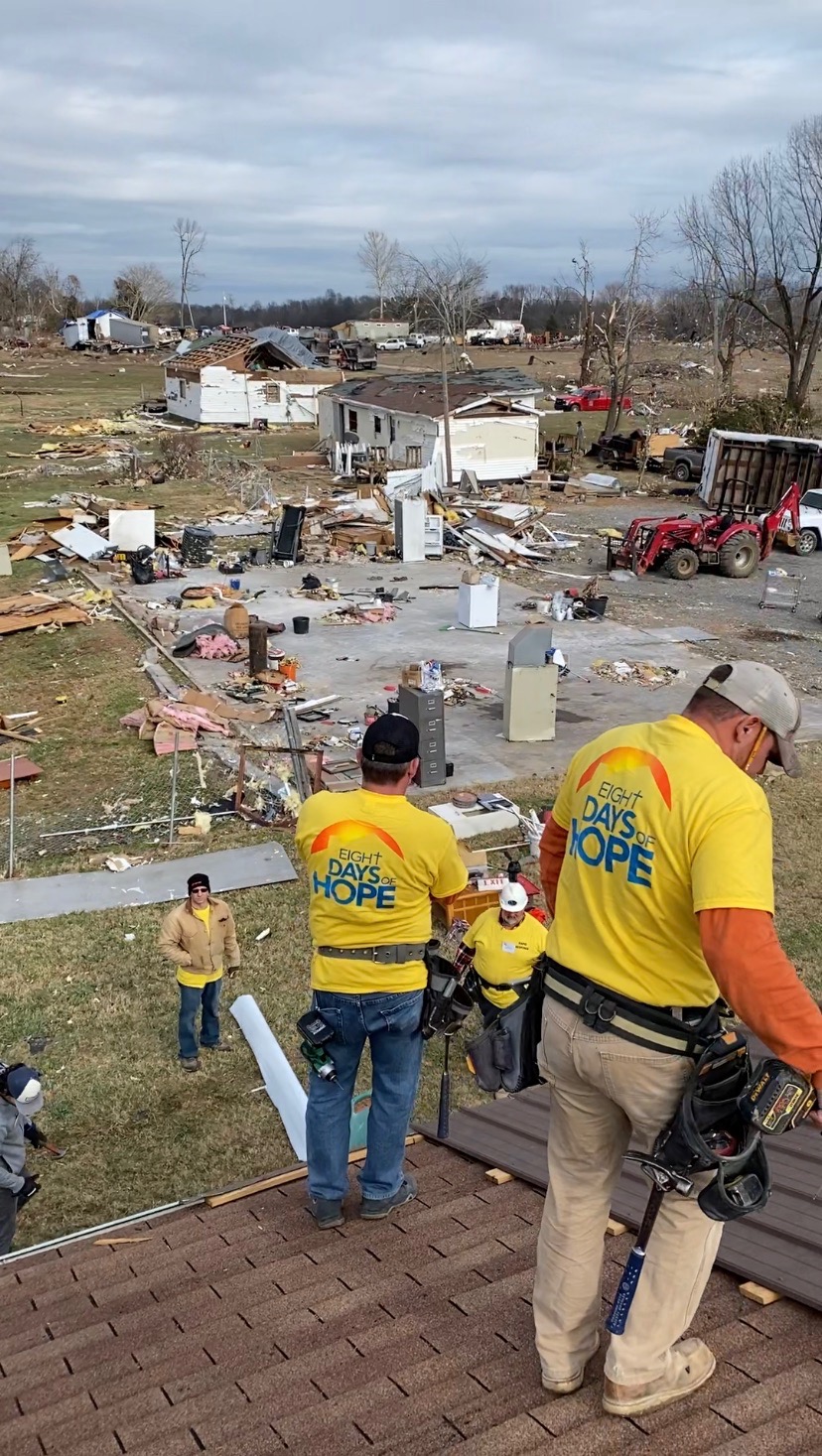 "At the last house, I was chatting with the homeowner, along with two 20-something guys in our crew," he said. The man didn't have insurance on his home or two cars, all of which were destroyed.
"I've been sober five years, but a day like today makes me want to go back to my old ways," he told them. Cunningham didn't know what to say.
"The guy next to me said, 'Hey, I know your struggle. I'm three years sober,'" he said. "Then the other guy said, 'I'm two years sober.'"
They called Green over. "I'm five years sober, too," he said.
"What's your day?" the homeowner asked.
"March 28," Green answered.
"The guy's face almost burst into tears," Cunningham remembers. "His first day of sobriety was March 28, too. It was just like the Spirit was all over that little circle of guys. I literally took a step back."
The crew encouraged the homeowner, making plans to meet him at his next recovery meeting. Both of the young guys, who hadn't been to church in a while, showed up to Hardin Baptist Church on Sunday.
"God sent a crew of guys in recovery to the house of a guy who was in recovery," Cunningham said. "It was like watching a miracle. . . . I was a little unaware, but the staff at Eight Days of Hope said, 'Hey, y'all get ready. When a storm happens, God shows up and moves in the brokenness.'"
Hey, y'all get ready. When a storm happens, God shows up and moves in the brokenness.
Southern Baptist relief workers have shared the gospel with almost 200 people, reported Send Relief president Bryant Wright. Eighteen have made professions of faith. "Who knows how the gospel may take hold in the days ahead?" he said.
Pastor Keith Inman, whose church is housing about 180 disaster relief volunteers from Send Relief, WaterStep, and Tunnels to Towers, knows of seven who have prayed to receive Christ. His church members have been busy making meals, taking people to the store or doctor's appointments, and working at the state park lodges opened up by the government. But he tells them, "If you've got a chain saw and you're making good progress, but you've also got a person who needs to talk, put down the chain saw and talk to that person."
Sundays After the Storm
The Sunday after the tornado, nobody in the area had electricity. Many congregations didn't meet—some of the sanctuaries were pitch-black, some of their buildings were structurally unsafe, some of their members didn't have a way to get to church.
But between 150 and 200 gathered in the First Baptist Church of Mayfield, which had sustained a direct hit. "I had a deacon tell me afterward that when I announced we were meeting, he thought it was a terrible idea," pastor Wes Fowler said. "But afterward, he said being here was the exact right thing for us to do."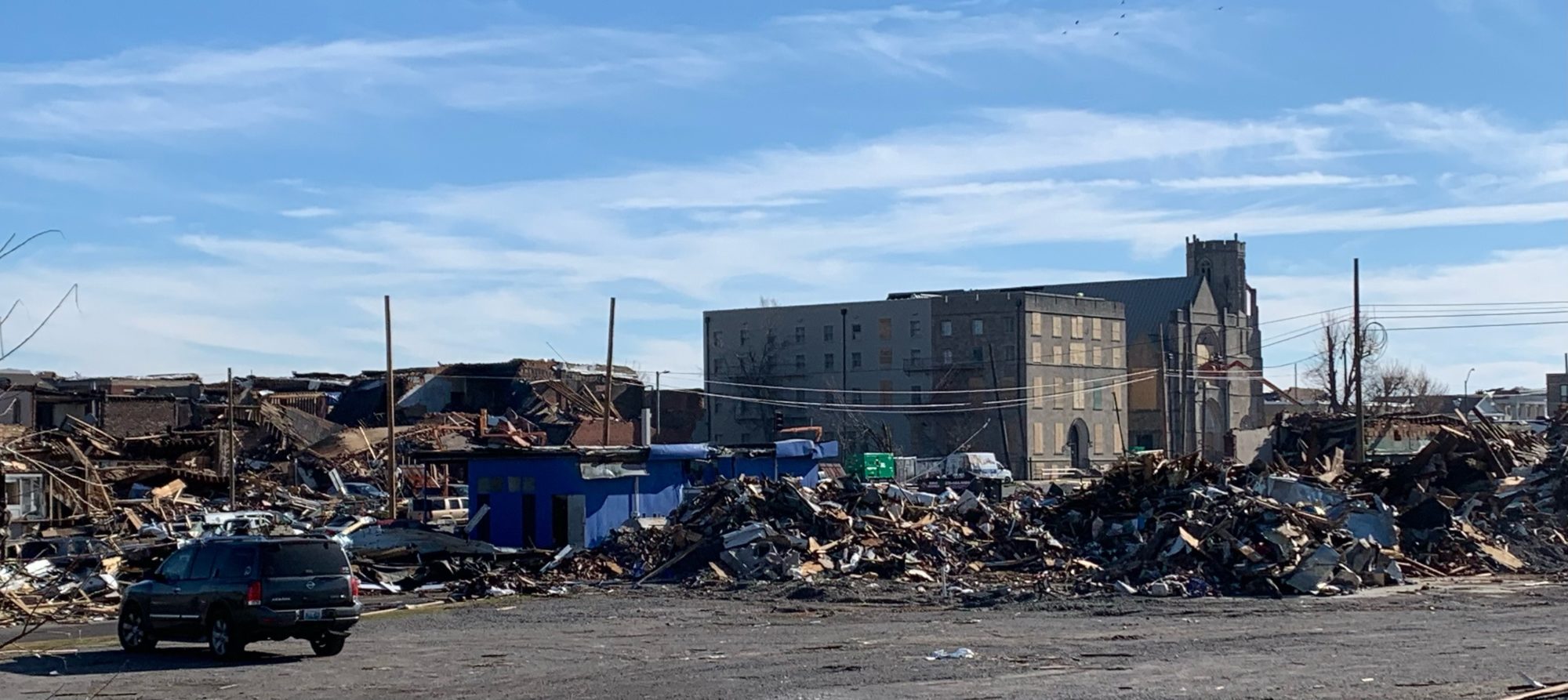 The tornado had killed one of their members. A dozen families had lost their homes. Some survived in basements, others by grabbing onto doorknobs as the wind tried to suck them down the hallway. Less than 48 hours later, without heat, microphones, or running water, the people gathered for 45 minutes to pray and sing. "It was very emotional, very moving," Fowler said.
Hardin Baptist pastor Ricky Cunningham drove 40 miles to the home of his tech guy, who still had power, to broadcast out a short sermon. Trent Keeton held services in person, even though the church had no heat. ("I didn't take off my Carhartt jacket," he said. "It was pretty chilly.")
He didn't preach a sermon. "We really just prayed and sang, 'It Is Well With My Soul,'" he said. "I tried to remind people the Psalms tell us God is close to the brokenhearted. And a few people shared how grateful they were to be alive."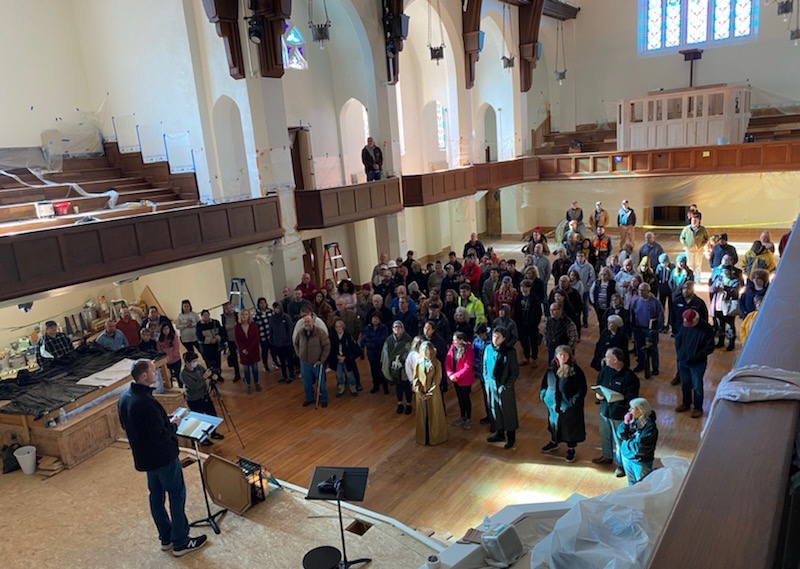 A week later, the electricity was back on and most churches were meeting in person, though some weren't in their own space.
"I preached on not missing the truth of Christmas," Keeton said. "If you haven't seen Christmas in the past week, then you haven't understood the truth of it. God's love is being displayed right before our very eyes."
Inman preached on Mary and Joseph, how their world totally turned upside down when they learned Mary was pregnant, and how they responded in faith. Frazier thought he'd scuttle his planned Advent message in favor of something else, but couldn't think of anything more encouraging than the birth of Jesus, and so went back to Isaiah 9:6–7. Fowler preached John 9:1–7, where Jesus tells his disciples that the man was born blind so that the work of God would be displayed. "I wanted the church to know this tragedy can be used to display the works of God," he said. "That's what we're trying to do."
Kory Cunningham preached on "Christmas in the Curse."
"A lot of times life is great, and our Christmas celebration feels normal," he said. "But the reality is, we celebrate every Christmas in the middle of the curse. It's just this year, we're really feeling how all things are broken."
The timing of the tornado—two weeks before Christmas—seems terrible. And yet, there is nothing more comforting than remembering Jesus's first coming while looking forward to his second coming.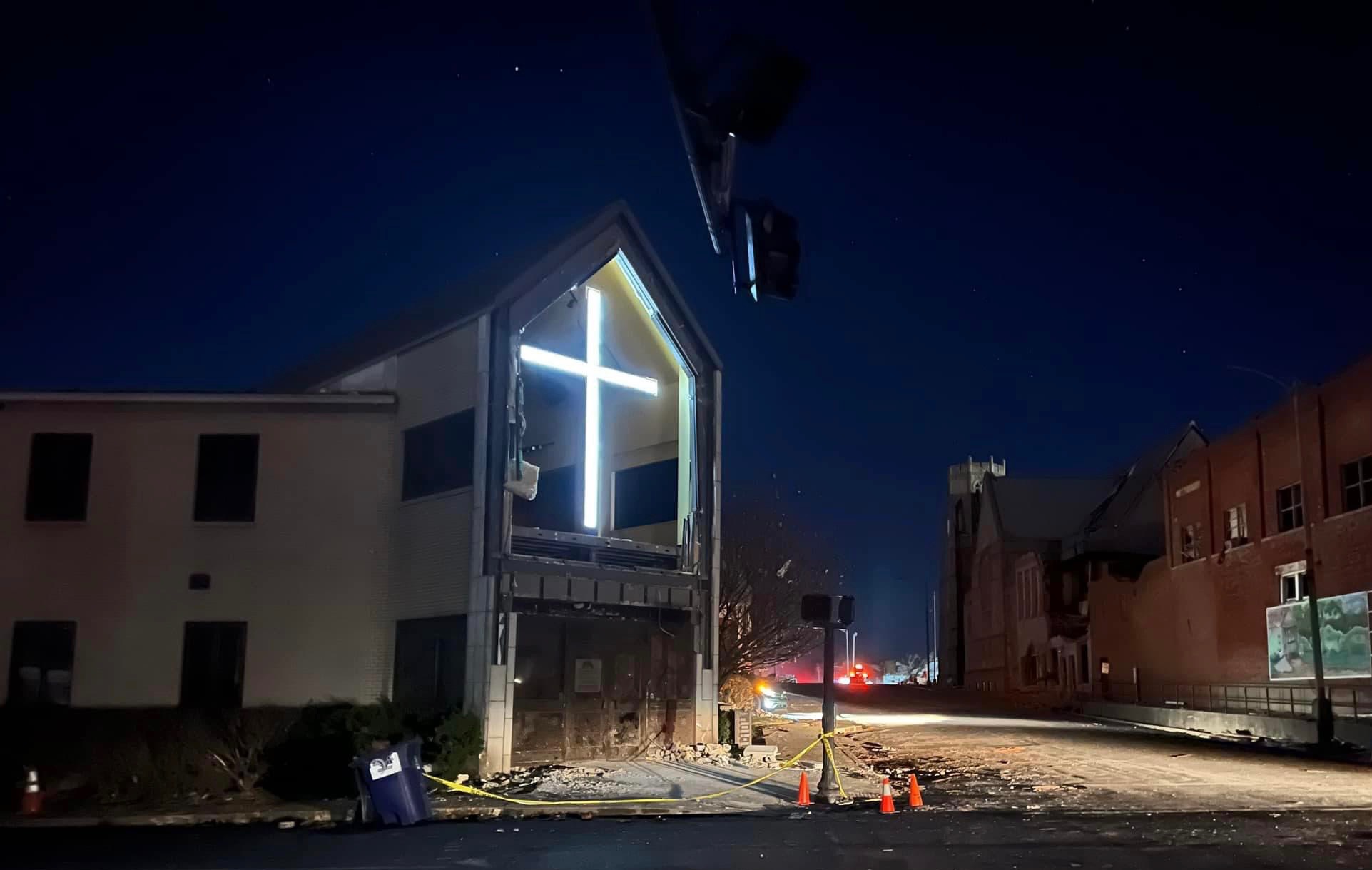 "Then there really will be joy to the world, and his blessings really will flow as far as the curse is found, and all of this is going to be undone," Cunningham said.
Post-COVID, Cunningham's church averages about 800 people a Sunday. Last week, joined by out-of-town disaster relief volunteers and local visitors, he spoke to around 1,200.
"There were grown men crying," he said. "It was very heavy, very emotional. It was one of the more Spirit-filled services I've been to. You rarely get to preach in a situation where everybody is going through the same thing—to speak directly to that. I think the Lord really used it in a mighty way for our church and for those coming in."
Safe Room
Scott Terry had never heard of Eight Days of Hope before they pulled into his yard after the tornado. "They did an unbelievable amount of work in one day for us," he said. "I can see my front and back yard now." But what makes him tear up is remembering when they gathered around him, laid hands on him, and prayed.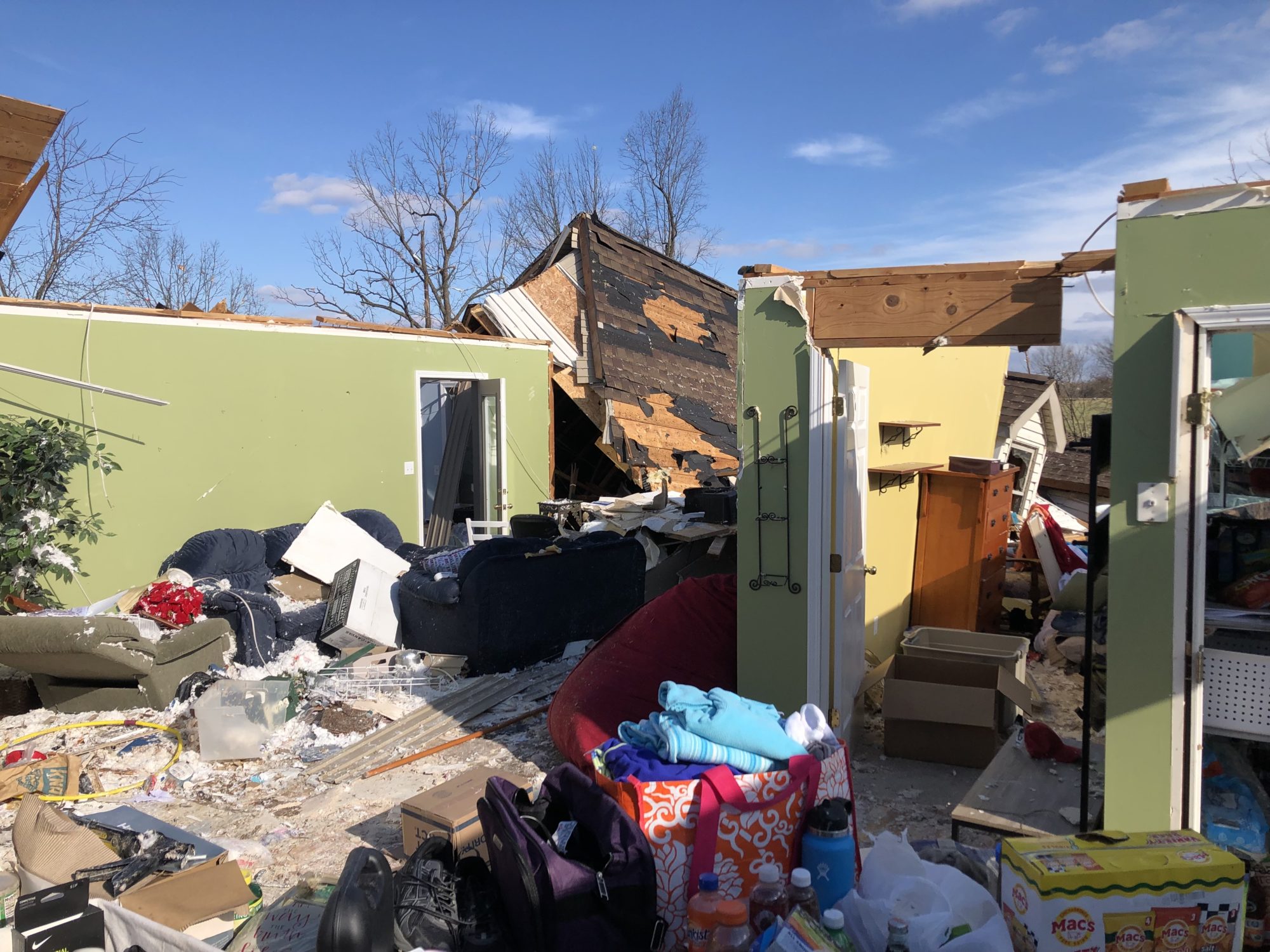 So many church members came out to help that when Terry made it back to services, more than a week after the storm, "I felt like I'd been at church for three days already. . . . They say the church isn't the building. Well, that week, the church wasn't the building."
Terry retired from public school administration last year, but has been back in the classroom of a small Christian school, teaching two Bible classes to middle schoolers. One of their assignments was to write an essay on how God showed his faithfulness to the folks in Genesis.
"We talked about Joseph, and about God working in the bad stuff to get people where he needs them to be," Terry said. "God's going to work good around the bad. It's hard to match sovereignty and free will, but I believe God has our best interest at heart.
"I can see that here. I never asked, 'Why did God steer that tornado right at my house?' But the people showing up have been working in our life. . . . I've seen the presence of God through his people walking up and standing in front of me."
Looking Ahead
Samaritan's Purse staff estimate the Kentucky cleanup will take six to eight weeks. Keeton said he'd keep the distribution center in his family life center through the end of January. By then, most people should be settled somewhere. Church classrooms will turn back from makeshift bedrooms into Sunday school spaces. The crisis will be past, and the community will be into a rhythm of rebuilding.
Local churches won't be done working. "The next phase is to identify families that didn't have insurance and see if we can funnel some of these donations and volunteers to rebuild their lives," Cunningham said.
Seven families in his congregation lost everything, but "with our size church, we can rally around them pretty easily," he said. "The next question is to look farther out into the community and ask, What is our response? What does that look like?"
And years from now, when everything is put back together, the local church will still be there—a safe room amid life's storms.