Your church isn't perfect. You probably know this. Just as our physical bodies have aches and pains, often the body of Christ is weary and wounded. Every congregation has failings and frustrations.
While the odd ache is no cause for concern, what if it that persistent throbbing is something serious? What if it's life-threatening? Jesus gives step-by-step instructions for calling a straying believer back to health (Matt. 18:15–20), but how do we call back an entire congregation?
My family has been in ministry for four generations, and we've seen our share of unhealthy churches. We've seen pastors fired without biblical grounds. Congregations split by musical preferences. Doors slammed in the face of racial minorities. Reputations ruined. Marriages broken. And that's just in my comparatively short lifetime.
I'm no stranger to unhealthy churches. But thankfully, neither is Christ.
From Laodicea to Corinth, the Bible is littered with unhealthy churches, sick with everything from materialism to heresy. But the very presence of these churches in Scripture proves we follow a God who doesn't give up on unhealthy churches, but patiently works to heal them. The same power that raised Christ from the dead lives in you and in every believer alongside you (Rom. 8:11), and that power is sufficient to bring dead churches back to life.
Here are five ways to be a healthy member in an unhealthy church.
1. Pray
More than anything, an unhealthy church needs the Holy Spirit. He guides believers in righteousness (John 14:26) and brings the lost to saving faith (1 Cor. 12:3), and he alone can bring true and lasting vitality to a dying congregation.
"Prayer," in the words of Oswald Chambers, "does not equip us for greater works—prayer is the greater work." Prayer transforms, not merely our circumstances, but ourselves. Prayer keeps us focused, not on our suffering, but on our Savior. Prayer keeps us fighting for our churches when everything in our flesh screams out in anger, bitterness, fear, and apathy. So start praying, and never stop.
2. Seek Godly Counsel
Don't render a diagnosis without pursuing a second opinion. Proverbs is stuffed with this advice (Prov. 12:15; 11:14; 19:20–21; 28:26). We're all fallen and finite, after all, and might be misinformed or simply wrong. So if you believe God has opened your eyes to a serious defect in your church's heart, make sure you're seeing clearly before you whip out a scalpel.
If you believe God has opened your eyes to a serious defect in your church's heart, make sure you're seeing clearly before you whip out a scalpel.
The next church business meeting is not the time to take this step, and the church malcontent is not the person from whom you should seek counsel. Public diatribe and private gossip will only wound your church further (2 Cor. 12:20). Instead, approach a fellow church member or two whom you know to be wise and theologically sound, and take them aside quietly and in confidence. Cover the conversation with prayer, laying your anxiety and frustration before the Lord. This is not only your church that's hurting you; it's Christ's bride who's hurting him.
3. Tell Your Leaders
When the early church realized their benevolence ministry was being hampered by racial prejudice, they took the problem to their leadership (Acts 6:1–7). So should we, with prayer and godly counsel, take our fears for the body directly to the head.
But I would I ask you, as a minister's daughter, granddaughter, great-granddaughter, niece, sister, and sister-in-law: please do this with gentleness and grace. Your church elders have the Holy Spirit, too, and they probably see the same sickness you do. Satan is likely already tearing into them with accusations of incompetence and failure, so don't join the attack. Be their ally. Defend them in prayer. Let them know you'll support them as they lead the church toward health.
4. Be a Part of the Remedy
If your leadership is willing and able to address the problems you've brought before them, then lend a hand! Healing will almost certainly mean change, and change is scary. So speak up with encouragement and affirmation at every opportunity. Gently and humbly help your fellow members see the same reasons for change that you do. Join the new Bible study. Volunteer in the new service project.
But even if your leadership can't or won't address the sickness you see, you can still be a part of the remedy. Concentrate on nourishing what's already strong, building up what's weak, and communicating a call to repentance with your own lifestyle. If your discipleship program is lacking, then dig into the best Bible study group you can find at your church. If your preschool ministry is under-resourced, then volunteer to help out. If your church has lost its love of fellowship, then start inviting people over for cookouts. Feed what's healthy. Fill what's lacking. And again, never, never, never stop praying.
5. Don't Leave Too Soon
Now, after months, perhaps even years, of prayer, discussion, and faithful service, you may see no improvement. Indeed, your church's health might continue to decline. You may be forced to sorrowfully conclude that your church has gone further into heresy or willful, unrepentant sin than you can righteously follow. And God may come and remove your church's lampstand from its place (Rev. 2:5) and call you to break fellowship with your congregation in the same way we're called to break fellowship with an unrepentant brother or sister (Matt. 18:17). But as someone who has experienced the worst wounds of my life at the hands of unhealthy churches, I would ask you: let this be a last resort.
Don't give up before the fight is truly over. If your unhealthy church proves itself to be a false one, the above steps will better prepare you to make that painful distinction. Be "quick to hear, slow to speak, slow to anger" (James 1:19), "abounding in steadfast love and faithfulness" (Ps. 86:15). Just as you would persist in calling an individual brother or sister back to the faith, persevere in calling your church back to health. Our Savior believed they were worth dying for. Keep believing they're worth fighting for.
Get a FREE eBook to strengthen your family discipleship!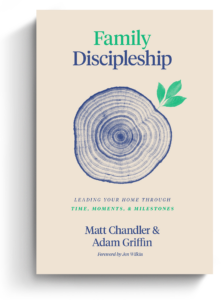 The back-to-school season is stressful for moms and dads. New rhythms of school, sports, and other extracurricular activities can quickly fill up a family's already busy calendar. Where do busy parents look for resources on discipling their family well? Aside from prioritizing church, what else can Christian parents do to instill healthy spiritual habits in their household?
Matt Chandler and Adam Griffin cover these questions and more in Family Discipleship: Leading Your Home through Time, Moments, and Milestones. And we're excited to offer this book to you for FREE as an eBook today.
Click on the link below to get instant access to your FREE Family Discipleship eBook now!