Editors' note:
The weekly TGCvocations column asks practitioners about their jobs and how they integrate their faith and work. Interviews are condensed. Below is a short film for ENDcrowd.com, which was produced and directed by author and filmmaker Carolyn McCulley.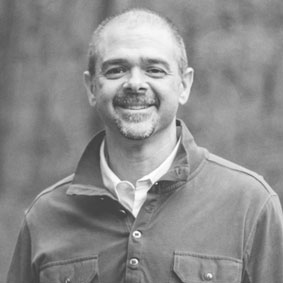 Joe Schmidt is the co-founder of Canvas on Demand, a company that puts your personal photos on canvas. Taking it from a startup in 2003 to being one of the fastest-growing companies in America in 2008 earned him a finalist spot in Ernst & Young's Entrepreneur of the Year Award. In 2010, Joe sold the company to Cafepress.com, where he continued his role as its chief marketing officer until 2013. Today, he serves as the founder of the Audacity Factory, a think tank/incubator focused on applying internet marketing and technology to underserved humanitarian needs. His first project out of the organization is ENDcrowd.com, an innovative approach to funding the fight against human trafficking.
---
How would you describe the origin of Audacity Factory?
The creation of Audacity Factory came from a question I was asked while I was at Cafepress.com: "When was the last time you did something truly extravagant for God?" I ran through everything that came to mind regarding my family, my local church, and my friends—but were these things truly extravagant? This question rattled around in my mind as I considered the blessings God had placed on my life at the age of 42, not just business success but everything he had given me—all of my "talents." The best response I could think of was that I needed to transition my life to chasing truly audacious dreams for God. I then quit my job and started the Audacity Factory to focus my "talents" on things I believe break his heart.
How does your work reflect some aspect of God's work?
Christ's message tells us to love God and love others. He speaks very clearly of this point, and it's what I believe he expects of us. Since we are his hands and feet to the world, working on humanitarian needs is a key element for us as Christians—to work with the same God-honoring intensity on those needs as we would do for anything else in our lives.
Human trafficking is a heart-breaking example of the brokenness of this world. How does your work with ENDcrowd offer a solution?
ENDcrowd.com is our first project out of Audacity Factory, and it is 100 percent focused on ending human trafficking. As we studied the topic, we found a couple of key elements we felt we could attack using the internet. First, there is a major lack of funding for this battle, and that must be resolved. Second, the topic itself is not clear and does not define a clear enemy upon which to build a movement. We believe all great movements need an identifiable enemy. Finally, through a crowdfunding platform on ENDcrowd's site, we invite people to get involved in lots of specific projects focused on this issue.
How does your work provide an opportunity for you to love and serve others—and equally important, how does your work invite others to do the same?
We focus on serving non-profit organizations that have some of the most amazing and courageous people I've ever met. We also serve those currently being held in bondage all over the world through our daily efforts to raise money for this cause. The coolest part about our work, however, is that we get to serve others by activating them in the fight with us. It's pretty amazing when you see someone's eyes opened for the first time on an atrocity that breaks the heart of God—and their response is, "I'm in!"