What just happened?
Russian Patriarch Kirill's blessing of Moscow's invasion of Ukraine has divided the worldwide Orthodox Church and drawn criticisms from Christians of every tradition.
In a recent sermon, the head of the Russian Orthodox Church justified the Russian invasion by saying the conflict is part of a struggle against sin and pressure from liberal foreigners to hold "gay parades" as a "test of loyalty."
Bishops in the Ukrainian Orthodox Church have authorized the significantly symbolic act of having their priests not commemorate Patriarch Kirill in their prayers during public worship services.
A worldwide group of 275 Russian Orthodox priests and deacons have also called for "the cessation of the fratricidal war" and affirmed the right of the people of Ukraine to their political self-determination. Additionally, an ecumenical group of more than 100 U.S. Christian leaders also sent a letter to Kirill asking him to use his influence to help stop the invasion of Ukraine and to "prayerfully reconsider the support you have given to this war."
What is the Russian Orthodox Church?
Within Christianity, the three broad traditions are Protestantism, Catholicism, and Eastern Orthodoxy. Within Eastern Orthodoxy there are several self-governing ecclesiastical jurisdictions known as patriarchates that are headed by a patriarch.
Orthodox churches have historically been organized along national lines, notes Peter Smith, with patriarchs having autonomy in their territories while bound by a common faith. The Russian Orthodox Church (ROC), also known as the Moscow Patriarchate, claims exclusive jurisdiction over all Eastern Orthodox Christians who reside in the former member republics of the Soviet Union, excluding Georgia. About half of the world's Orthodox believers—around 150 million people—are part of the Russian branch, and about one in three (36 percent) ROC parishes are located in Ukraine.
The current patriarch of the ROC is Kirill I (original name Vladimir Mikhailovich Gundyaev), who was elected to the office in 2009. Kirill was the first head of the ROC to be elected after the fall of the Soviet Union.
What is the Orthodox Church of Ukraine?
In 2019, a group of Ukrainian Orthodox churches broke away from the Moscow Patriarchate, triggering the greatest schism within Orthodoxy for centuries.
Patriarch Bartholomew of Constantinople, considered by most to be the Orthodox church's highest authority, gave the Ukrainian church a tomos, or holy scroll, granting it independence from the ROC for the first time since 1686. (Although the patriarchates are self-governing, the Ecumenical Patriarch of Constantinople is recognized by them as primus inter pares ("first among equals") and is regarded as the spiritual leader of many of the eastern Christian parishes.) In response, the ROC severed ties with Constantinople.
By breaking away from the Russian Orthodox Church, the new Orthodox Church of Ukraine was seen as being a threat to the 'spiritual security' of Russia.
This split within Orthodoxy has had geopolitical ramifications. Ukraine's former president Petro Poroshenko said in 2018, "The independence of our church is part of our pro-European and pro-Ukrainian policies." And as Max Seddon points out,
It was a blow to Vladimir Putin, for whom the Russian Orthodox church had come to symbolize Moscow's sphere of influence in its near abroad. While Ukraine hailed receiving the tomos as "an event no less substantial than our goals to join the EU and NATO," Putin convened his security council in the middle of the night to discuss a response.
By breaking away from the ROC, the new Orthodox Church of Ukraine was seen as being a threat to the "spiritual security" of Russia. Putin even used it as a part of his pretext for invading Ukraine. In his February 21 speech, Putin said,
[The Ukrainian government] continues to prepare the destruction of the Ukrainian Orthodox Church of the Moscow Patriarchate. This is not an emotional judgement; proof of this can be found in concrete decisions and documents. The Ukrainian authorities have cynically turned the tragedy of the schism into an instrument of state policy. The current authorities do not react to the Ukrainian people's appeals to abolish the laws that are infringing on believers' rights. Moreover, new draft laws directed against the clergy and millions of parishioners of the Ukrainian Orthodox Church of the Moscow Patriarchate have been registered in the Verkhovna Rada.
What is 'spiritual security'?
"Spiritual security" is a subset of Russian national security that includes protecting traditional Russian values using the power and authority of both Putin's regime and the ROC.
In 2000, the Putin administration issued a National Security Concept, a blueprint for a "system of views on how to ensure in the Russian Federation security of the individual, society and state against external and internal threats in any aspect of life and activity." Included was an explanation of a concept that has become known as "spiritual security":
Assurance of the Russian Federation's national security also includes protecting the cultural and spiritual-moral legacy and the historical traditions and standards of public life and preserving the cultural heritage of all Russia's peoples. There must be a state policy to maintain the population's spiritual and moral welfare, prohibit the use of airtime to promote violence or base instincts, and counter the adverse impact of foreign religious organizations and missionaries.
Numerous observers of Putin's government have expressed concerns that this focus allows the state to increase its power over Russian citizens. "Ostensibly, the government's focus on spiritual security is designed to preserve and strengthen ancient traditional Russian values," says Julie Elkner. "When viewed in historical context, however, the discourse of spiritual security reveals greater affinities with Soviet-style attitudes towards ideological subversion."
Why does Kirill support Putin's war on Ukraine?
Kirill is a close ally of Putin. While the two Russian leaders may disagree on some areas, they're united in their desire to protect the "spiritual security" of the "Russian World"—which they believe includes Ukraine. When the World Council of Churches recently wrote to Kirill asking him to "intervene and mediate with the authorities to stop this war," the patriarch responded that "forces overtly considering Russia to be their enemy came close to its borders" and that the West was involved in a "large-scale geopolitical strategy" to weaken Russia.
Since he took power, Putin has made numerous attempts to portray himself as the protector of Christendom. Kirill appears to be willing to support Putin's grand ambitions since they align with his own agenda. While the patriarch maintains that Ukraine is still under his spiritual jurisdiction, Putin sees Ukraine as part of the Russian empire that was lost after the fall of the Soviet Union. "What Putin sees as a political restoration," says Philip Pullella, "Kirill sees as a crusade."
What's the significance for Christians in the West?
Over the past decade, an increasing number of American Christians have praised Putin and his allies because of their criticism of Western decadence. The Russian president has publicly spoken out about homosexuality and divorce, and expressed support for the "traditional family." But Christians in the West are often unaware that Russia is far from a haven of social conservatism. The country has one of the highest abortion rates in the world, and their authoritarian leader is "pro-choice." In 2017, Putin said, "In the modern world, the decision is up to the woman herself," and added that making abortion illegal would only push the practice underground, causing immense damage to women's health.
Christians in the West are often unaware that Russia is far from a haven of social conservatism.
Expressing a sentiment shared by many experts on Russia, Alexis Mrachek says that "Putin's use of traditional Christianity is calculated for political effect. American and European observers would do well to see through the charade."
Similarly, Moscow Patriarch Kirill is not a champion of Christian values such as religious liberty. He also has little tolerance for Russian Christians who don't want to be under his spiritual leadership. Kirill has said "there can be no place in Russia for a free market in religious life" and called "foreign missionary activity a sinister threat to the nation's security." But it's his failure to oppose an unjust war that makes him a threat to Christians in the West and to those in Ukraine. Whether out of fear or deference, he's allowing Putin to use the authority of the Russian church to discredit the Christian faith.
Get a FREE eBook to strengthen your family discipleship!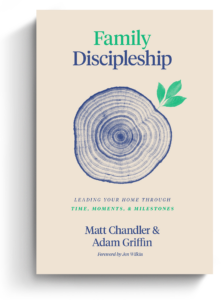 The back-to-school season is stressful for moms and dads. New rhythms of school, sports, and other extracurricular activities can quickly fill up a family's already busy calendar. Where do busy parents look for resources on discipling their family well? Aside from prioritizing church, what else can Christian parents do to instill healthy spiritual habits in their household?
Matt Chandler and Adam Griffin cover these questions and more in Family Discipleship: Leading Your Home through Time, Moments, and Milestones. And we're excited to offer this book to you for FREE as an eBook today.
Click on the link below to get instant access to your FREE Family Discipleship eBook now!