"I do." With those two words, my life was forever changed. It was a cold but sunny December afternoon. About 200 family members and friends smiled as the pastor who'd mentored me asked me if I would take Melanie as my lawfully wedded wife.
I still remember standing there in my suit, more excited than I'd ever been in my life, and experiencing something rare: a calm nervousness. I was calm because I was looking into my bride's radiant eyes. But I was nervous because I knew I was stepping into something bigger than me. I knew my life would never be the same. My calm nervousness welled up into thrilled joy when she looked at me with a huge grin and exclaimed those two words as well.
We were married.
What I couldn't articulate at the time, but what I've experienced day by day since, is that I needed the gospel to be a picture for my marriage but also the reality that supports my marriage. I wanted our marriage to point others to the gospel, but I also knew we'd need a power outside ourselves to sustain us over the long haul of covenant love.
What I needed, what I continue to need, what you need, is the gospel as a picture for marriage, resulting in marriage as a picture of the gospel, all sustained by God's omnipotent strength.
Gospel Contemplation
God has created an incredible dynamic between the gospel and marriage. The gospel is for us to look at and emulate, but as we look at this incredible painting, an amazing thing happens. Our marriages begin to become a picture themselves that point others to the gospel.
This back and forth between the gospel and marriage is one reason that, in Ephesians 5:22–33, the apostle Paul seems to go back and forth between talking about marriage and the gospel. The two are intertwined by design.
You have to begin by looking to Jesus—to how God loves you in covenant relationship—before you can share this kind of love with your spouse. Because one aspect of the gospel is this incredible picture of the marriage relationship, we can grow in our marriages when we look to the love of Jesus for his bride.
I like to call this gospel contemplation, since basking in the rays of what Jesus has done for you and beholding the gospel in all its intricacies is helping you to better understand true covenant love. Every married person should think about questions like: How—specifically—does Jesus love the church? What is unique about the way he loves her?
Gospel Reflection
But you also need to see how your marriage is a picture of the gospel. I call this gospel reflection. A reflection in a mirror isn't the reality, but it's a good likeness of it. The mirror might be bright and clear, or smudged and dirty. But the reflection points to the reality just as our marriages point to the covenant relationship of God with his people. So we need to evaluate periodically what kind of picture of Jesus we are portraying in our marriages.
There is a problem I have every autumn. We live in Vermont, and I will see a mountain bursting with gold and orange and red, and try to get a photo with my iPhone 7. Invariably, it doesn't even come close to capturing the jaw-dropping display of colored foliage. I need an upgrade to a real camera. I can see the beauty, but my equipment doesn't have the power to reflect it.
You may feel the way I do about my smartphone camera when you think about trying to reflect the gospel in your marriage. You see its beauty, but you lack the equipment to accurately reflect it. So the problem, and the solution, is plain: you need Jesus in order to point to Jesus.
Trying to reflect God's design for marriage without leaning into Christ is like trying to drive 75 miles an hour with your radio blaring and wipers going, but not stopping to put gas into your tank. Try loving your spouse like Jesus loves the church without returning to the source of gospel power, and your marriage will soon run out of gas. In fact, it's like trying to drive your car without an engine at all.
I've noticed almost a direct parallel between my walk with Jesus and how I treat my wife. When I'm in the Word daily and talking to Christ in prayer, I tend to reflect more clearly his love for my wife. But when I'm surviving on spiritual fumes, it's so easy for me to grow impatient, selfish, and rude.
The gospel is the engine for your marriage. So look to Jesus, and as much as possible, look to him together.
Get your FREE 7-day devotional!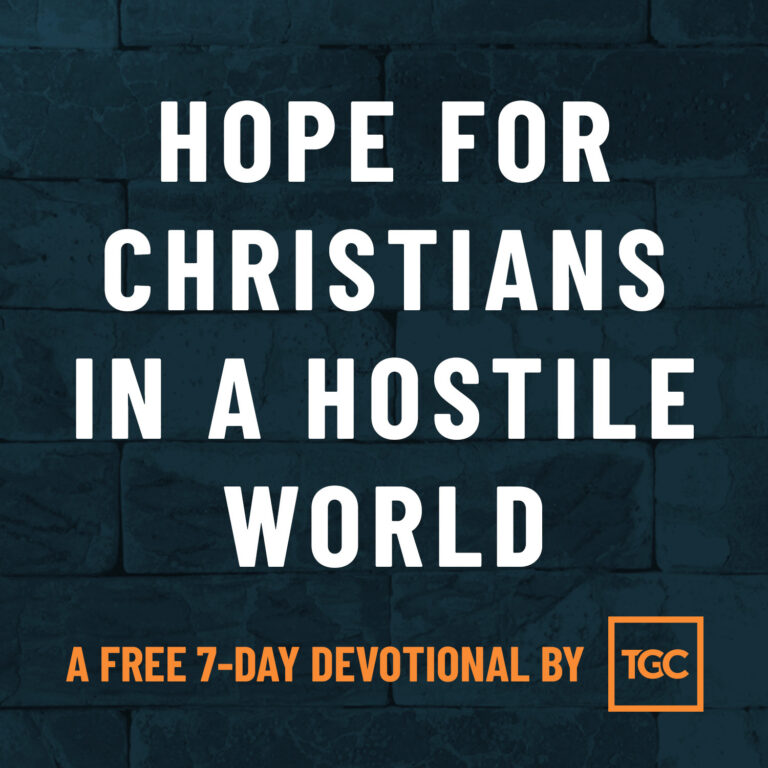 God's people have always been strangers and sojourners in this world. Do you feel that way, too?
You're not alone. Since the church's beginnings, Christians have often felt ostracized. And the Bible offers great encouragement for how to live with hope.
If you're feeling the weight of cultural exile today, our new 7-day devotional, Hope for Christians in a Hostile World, will encourage you.
If you sign up for this FREE resource, we'll send you an email each day for a week with a daily devotional featuring Bible readings and reflections written by TGC staff and friends.